What to Drink Now: Spring Cocktails
Raise a glass to warmer weather.
Whether you like rum, tequila, vodka, or whiskey, these seasonal sips are perfect for toasting spring. (Some spirits were sent for editorial consideration.)
From floral to fruity to spicy, the mix of tequila, lime, and a selection of seasonal ingredients make margaritas the perfect anytime cocktail.
MANGO HABANERO MARGARITA
2 parts Milagro Silver Tequila
1 part Mango Purée
1/2 part Patrón Citrónge Mango
1 part lime simple syrup
2 or 3 slices of fresh habanero pepper, to your taste
Preparation: add habanero to a cocktail shaker and muddle lightly. Then add ice and remaining ingredients to the shaker. Shake until chilled. Strain into an ice-filled rocks glass and serve.
*For the simple syrup, add the juice of a lime with 1/2 cup sugar and 1/2 cup water to a saucepan. Heat over medium-low heat, stirring until the sugar melts. Cool. Refrigerate any remaining for another use.
GRAPEFRUIT BASIL MARGARITA
2 oz Roca Patrón Silver
3 oz fresh grapefruit juice
4 Basil leaves
Kosher salt rim & lime wedge
Preparation: add ingredients to an ice-filled shaker. Shake until cold. Strain into a salt-rimmed, ice-filled rocks glass. Garnish with lime.
BBQ SMOKED MARGARITA
The perfect margarita for a Texas barbecue lover.
1 1/2 oz Patrón Reposado
1/2 oz Patrón Citrónge Lime
1/2 ounce Montelobos Mezcal
Juice of 1/2 lime
1 oz Agave syrup
1:1 BBQ rub & salt rim
Preparation: in a shaker tin with ice, add all ingredients and shake until very cold. Strain into an ice-filled rocks glass rimmed with a 1-to-1 mix of barbecue rub and Kosher salt.
These rum cocktails will transport you to the land of white sands and palm trees.
MAI TAI
2 ounces Flor de Caña 4 Year Rum
1-ounce pineapple juice
1/4 ounce Orgeat
1/2 ounce Cointreau
1/2 ounce each lemon and lime juice
Myer's Original Dark Rum float
Preparation: shake all ingredients, except the dark rum, together in an ice-filled shaker. Strain into a rocks glass and float the dark rum onto the top. Garnish with fresh pineapple and a cherry.
PINEAPPLE GINGER MOJITO
2 ounces Sailor Jerry's Spiced Rum
1/2 cup pineapple juice
2-inch piece of ginger, sliced
6 mint leaves
1/2 lime
Club soda
Lime round and additional mint for garnish
Preparation: make a syrup by adding the pineapple juice and sliced ginger to a saucepan over medium heat. Bring to a boil, then simmer for 10 minutes, reducing by 1/2. Strain and cool. To make the cocktail, add the mint and lime to a cocktail shaker and muddle lightly. Add the rum, syrup, and ice. Shake until cold. Strain into an ice-filled Collins glass. Top with soda. Garnish with lime and mint.
 The London No 1 Original Blue Gin has just the right blend of botanical and floral notes to make it the ideal pair with premium Fever Tree tonic, or a mix of St. Germain and cucumber for a highly refreshing springtime toast.
CUCUMBER FLOWER
2 parts The London No 1 Gin
1/2 part St. Germain Elderflower Liqueur
2-inch piece of fresh cucumber, chopped
1 oz lime simple syrup
Preparation: muddle the cucumber in a cocktail shaker until completely smashed. Add ice and the remaining ingredients. Shake until cold. Strain into a frozen martini glass. Garnish with cucumber slices.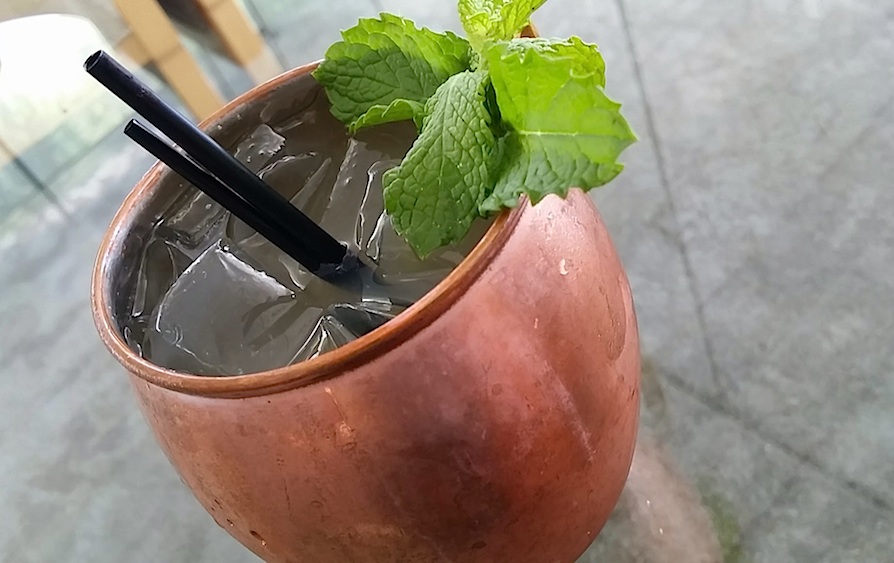 I'm a ginger fan, especially in cocktails, like this one using Reyka Icelandic Vodka, made with arctic spring water and filtered using 4000-year-old lava rock.
ICELANDIC MULE
2 oz Reyka Icelandic Vodka
1 oz ginger infused syrup*
Juice of half a lime
3 oz ginger beer
Preparation: add the vodka, lime, and syrup to an ice-filled mule cup. Top with ginger beer, stir and serve.
*For the syrup – make the previous recipe, swapping out lime for ginger.
GINGER MONKEY MULE
1 1/2 oz Monkey Shoulder Scotch Whiskey
1/2 ounce ginger syrup
1 teaspoon applesauce
4 oz ginger ale
Sliced apples for garnish
Preparation: Add all ingredients to an ice-filled mug and stir. Garnish with sliced apples.