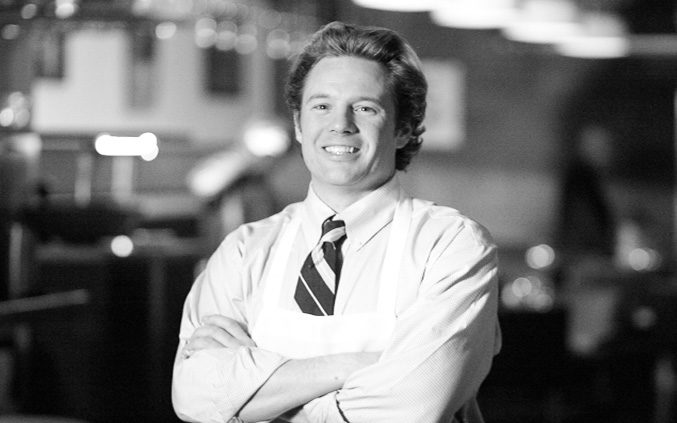 Nick Badovinus' Perfect Union Pizza Co. Opens Tonight
Expect pies with verve.
Just two months ago, I wrote about prolific and high-profile restaurateur Nick Badovinus eyeing a spot in the developing area east of downtown for a future project. Now, his pizzeria in Highland Park Village, a delayed team-up with Julian Barsotti named Perfect Union Pizza Co., is opening for its first service tonight.
The spot is a casual, street-level pie shop animated by Badovinus' signature sense of dynamism.
"We wanted the pizza to be light," Badovinus says. "But we still wanted the flavor and vibrancy."
The team opted for a style that differs from Fireside Pies's pillowy, generous Neapolitan style. "[Perfect Union is] a little bit more restrained and tailored," Badovinus says. "It's more of a New World style," crisp, but still with a bit of chew—"a pizza that can really carry its own weight."
The dough is a punch-twice, 24 hour-fermented, soft, semolina-dusted round that does a quick in and out of the 700-degree deck oven, three minutes, and it's done.
Aside 12 pizzas and a build-your-own option, the menu includes oysters, rotisserie chicken, crudos, chopped salads, and pasta. Libations take the form of wine on tap, beer, granitas, spritzes, and half a dozen cocktails.
Set in a glitzy shopping destination, Badovinus describes Perfect Union as having "kind of a popular sensibility to it and a lot of verve. Part of what I like about pizza in general [is that] by its very nature, it's social. We wanted to create a place that honors that tradition a little bit, without creating a temple of reverence to an art form."
"There's joy in it," Badovinus says of the pie-slinging project.
"It's been a lot," he says of opening a handful of other locations in the last 14 months that include a new branch of Neighborhood Services, and more. With this one, he says, "We're really trying to bring something fun and casual to the party. Something you can use on the regular."