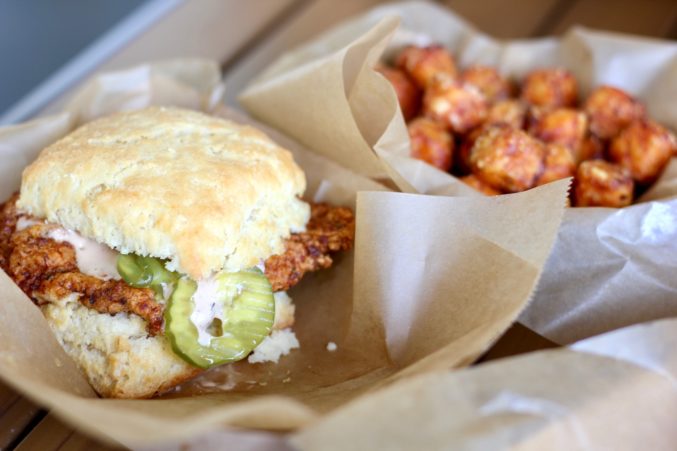 Head to The Biscuit Bar for the Fried Chicken Sandwich
And stick around for the banana pudding.
By Daniel Walker
Published in Food & Drink
April 30, 2018
11:45 am
Biscuit-centered restaurants are not a new concept. You'll find them across the country, and in my experience, they seem to be some of the most popular seats in the city. Places like Biscuit Love in Nashville, Pine State Biscuits in Portland, Denver Biscuit Company in Denver, and Callie's Hot Little Biscuit in Charleston come to mind immediately. People pack into these places, all in search of a hot, fluffy, and buttery bite of a deeply Southern tradition. People love biscuits, and it's hardly a surprise that a restaurant doing them well will easily draw crowds.
Dallas has its share of restaurants serving excellent biscuits, but there aren't too many joints entirely dedicated to the art of biscuit making. So I, for one, would like to give a warm welcome to The Biscuit Bar, a brand new establishment that recently opened at the lovely Boardwalk at Granite Park in Plano.
Truth be told, this was my first visit to the Boardwalk at Granite Park. I was impressed. This 3000-square-foot waterfront development is beautifully laid out with lounge areas, fire pits, children's play areas, patios, and a number of restaurants. Biscuit Bar, like the other restaurants here (which currently include Hookline, Union Bear Brewing, and Chip's Hamburgers) features large, covered patio areas all sitting shoulder-to-shoulder and overlooking a small lake.
We arrived at Biscuit Bar for lunch on Saturday. It was already packed with a line of at least 20 people extending out the door. It's an order-at-the-counter joint with a large menu posted on the wall. You place your order, take a number, and find a seat at any of their many outdoor tables or from within their small indoor space. We ordered, grabbed our drinks from a self-serve fountain, and waited. We received our food surprisingly quickly considering the number of people filling the restaurant and the fact that they're such a new restaurant.
The menu is comprised of around 15 biscuit plates (mostly sandwiches), a couple salads, tater tots (which can be customized in a variety of ways) and a few sweet offerings.
We began with a couple biscuit sandwiches. "The Hoss" finds a thick, buttermilk biscuit stuffed with a thin cutlet of fried chicken, bacon, jack and cheddar cheeses, honey butter, and a healthy dose of peppery sausage gravy. We were more than satisfied. Thankfully, they do excellent biscuits. Soft and flaky interior with just the right amount of golden, crunchy exterior. They can easily stand alone even without the fillings. The sandwich was hearty but not overwhelmingly heavy. The sausage gravy was particularly good. Next we went with a simpler option, the "Fancy Chicken" with fried chicken, dill pickle, and a creamy house sauce. We enjoyed it, too. Simple, but tasty.
Perusing the menu, there's lots to return for. Here's some of the more intriguing offerings: The "Monte Cristo" with ham, turkey, cheese, strawberry preserves on a "french toast biscuit". The "FABB" with fig preserves, arugula, brie, and bacon. The "B-Bar Burger," honestly, I can't say I've ever eaten a burger on a biscuit. The menu goes on.
We tried both the sweet potato tots and the regular. They're fine, nothing groundbreaking. They're served with ranch, which is sufficient. You can doctor up your tots if you feel so inclined, adding things like bacon, egg, cheese, sour cream, or sausage gravy. Or get a little crazy and go "Holiday Style" with pecan strudel, brown sugar, and toasted marshmallow (presumably, this works best with the sweet potato tots).
We finished with both of the sweet treats offered on the menu. The "Biscuit Nuggets" are deep fried bites covered in vanilla caramel and whipped cream. Quite good, but the texture was more akin to a scone or even a donut than a biscuit. The banana pudding was nothing short of fantastic, and I'd honestly put it in the running for best banana pudding in the city. It's thick and creamy, packed with bananas and cookies. Far better than the generally gummy, goopy, artificially flavored mess you get served at most restaurants. Do not pass on the pudding. It's the perfect ending to a wholly satisfying meal.
In the end, The Biscuit Bar gains high marks where it matters most. Solid biscuits, interesting menu, good service, and a great environment. The people of Plano should take kindly to this place.