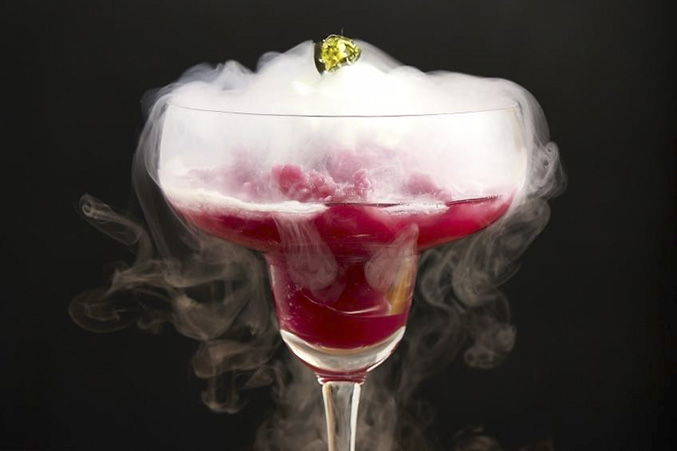 8 Tableside Dishes to Order in Dallas
It's like dinner and a show.
By Lauren Seip
Published in Food & Drink
April 12, 2018
11:40 am
Who says you need magic tricks or glitzy salsa dancers to enjoy dinner and a show? From prickly pear margaritas that are frozen with liquid nitrogen tableside, to "flaming pasta," Dallas really knows how to bring inextinguishable flare to your table.
Beto & Son
Liquid nitrogen margaritas
Beto & Son, which is tucked away in Trinity Groves, truly knocks the margarita up a notch. Frozen with liquid nitrogen at your table, this boozy treat, which comes in several flavors like strawberry, hibiscus, and mango, is topped off with boba tapioca pearls.
Da Mario
Flaming pasta
Frisco's dining scene is on fire. Literally. Da Mario, located at The Star, offers unique and family-style twists on Italian dishes. To make the Fettuccine alla Fiamma con Tartufo, a server brings a cart to the table holding an 80-pound wheel of Parmesan, which is lit on fire with the help of vodka sauce. Pasta is mixed in the melted middle of the wheel, plated, then topped with black truffles. Can you say "favoloso!"
Javier's Gourmet Mexicana
Café Pierre
This he dessert cocktail is sure to add some spark to your already delicious meal. Made with brandy, amaretto, coffee, Kahlúa, and topped off with homemade whipped cream, the cocktail is then lit on fire at the table. It's a drink and a show.
La Duni Latin Cafe
Baked Alaska
Step into a dessert-lovers dream. La Duni offers unique, Latin-inspired treats that will surely satisfy your sweet tooth. The Four Leches ala Baked Alaska features spongecake topped with vanilla bean ice cream, and is flamed at the table with a Kahlúa-vodka mix. And since everything is bigger in Texas, you can even order a larger portion of this dessert that serves four to six people.
Mercat Bistro
Cheese wheel
Mercat Bistro brings a contemporary, European-style flair to Uptown Dallas. The fresh tagliatelle pasta is one dish that will fan your food-loving flames. Offered only Monday through Wednesday, this one-of-a-kind pasta dish is cooked inside a cheese wheel and set on fire right at your table. The beginning of your week just got a whole lot brighter.
Mi Dia From Scratch
Extreme guacamole
It's no secret that Texans worship their guacamole, that's why Mi Dia is amping up the guac-game. Made from scratch at the table, the harmonious blend of avocados, freshly squeezed lime juice, Serrano peppers, sun-dried tomatoes, and cilantro, is sprinkled with smoked Applewood smoked bacon. Try it for yourself.
Stampede 66
Modern Star Margarita
Okay, we know there's already a margarita on the list, but Stephan Pyles' Modern Star Margarita is a Dallas staple. A modern twist on the prickly pear margarita, Stampede 66 blends tequila, prickly pear purée, lime, and a candied jalapeño with liquid nitrogen in a stainless steel bowl. It gives the term "smoke and mirrors" a whole new, delicious meaning.
Tillman's Roadhouse
S'mores
S'mores have been crushing the dessert scene for years, but Tillman's Roadhouse is unlike anything you've seen before. We're talking cinnamon-sugar graham cookies, thick slabs of dark chocolate, and puffy marshmallows offered in flavors like maple, coffee, and orange, all roasted at the table. Take our word for it, this dessert will transport you back to your childhood days of hanging around the campfire with the family.