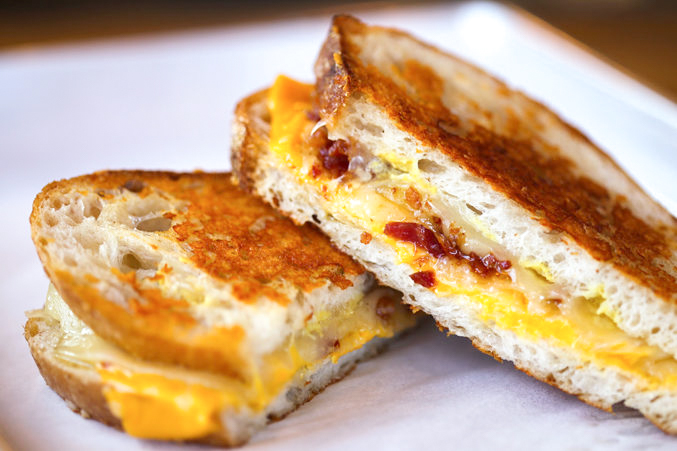 10 Dallas Grilled Cheese Sandwiches to Eat Now
These sandwiches aren't just for kids anymore.
By Megan Ziots
Published in Food & Drink
April 10, 2018
11:30 am
Grilled cheese sandwiches have long been a staple of childhood comfort food, but these sandwiches aren't just for kids anymore. Dallas chefs are putting their own spins on the classic cheddar and white bread recipe to create gooey grilled cheese masterpieces. For National Grilled Cheese Day (April 12), we've rounded up ten local spots that take grilled cheese sandwiches to the next level.
Dallas Grilled Cheese Co.
This Bishop Arts grilled cheese-focused spot has recently expanded to a second location at Mockingbird Station. The favorite here, appropriately named The Favorite, is a Parmesan-crusted grilled sourdough with American, aged cheddar, and Gruyére cheeses, crumbled bacon, and Dijon mustard.
Overeasy
Located Downtown in The Statler Hotel, Overeasy's take on the grilled cheese sandwich is just delightful. The sandwich includes apple, honey, and P'tit Basque cheese. You also get a cup of soup with it.
The Common Table
If you're looking for something more hardcore, try the pork grilled cheese at The Common Table in Uptown. The recipe includes roasted pork tenderloin, cheddar, provolone, and parmesan cheeses on sourdough bread. Dunk it in the marinara dipping sauce it comes with for extra flavor.
The Porch
The grilled cheese sandwich at this Henderson Ave. restaurant is more classic, with Gruyére, cheddar, and American cheeses. But it's the brioche bread that takes it up a notch. (Bonus: the tomato soup pairs perfectly.)
Glazed Donut Works
You wouldn't expect to find a great grilled cheese at any ordinary donut shop, but Glazed Donut Works isn't ordinary. This Deep Ellum, and now Legacy Hall, gem offers up a Donut Grilled Cheese with bacon. It provides that perfect combination of sweet and savory.
AllGood Cafe
If you like some heat with your cheese, try the version with roasted green chiles at AllGood Cafe in Deep Ellum. Cheddar and pepper jack cheese, roasted green chiles, tomatoes, and chipotle mayo, is all squished between two slices of sourdough bread.
CBD Provisions
Mushroom lovers have to try the grilled cheese and tomato soup at this modern Texas brasserie in The Joule. For lunch, the sandwich is made with Texas gold cheddar, Gruyére, and cremini duxelle.
Knife
Knife is technically  a steakhouse, but Chef John Tesar also cooks up a mean grilled cheese. JT's Grilled Cheese melts together white cheddar, sharp cheddar, and goat cheese all sandwiched in between two slices of Mrs. Baird's Texas white bread.
Melted
This restaurant's primary focus is grilled cheese. They've melted together various meats, cheeses, and veggies to create a menu full of mouthwatering bites. But it's the Blaise N' Chicken that's a must-try. It comes with grilled buffalo chicken, mozzarella, and carrot-celery slaw.
The Libertine Bar
This little bar on Greenville Ave. serves craft beer, cocktails, and a stellar grilled cheese. The sandwich is made with white cheddar, muenster, and smoked gouda, all squished between white farm bread. You can also add tomato, avocado, or bacon for a little extra if you're feeling adventurous.