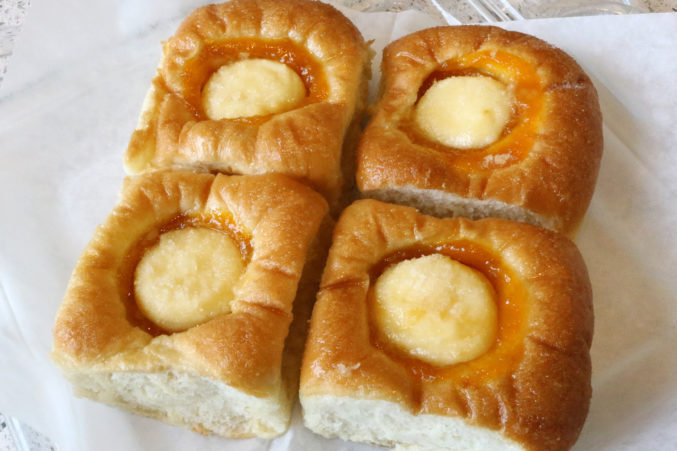 The Localist: Zamykal Gourmet Kolaches
This bakery serves more than 20 sweet and savory kolaches, and traditional klobasneks.
By Melissa Tate
Published in Food & Drink
March 27, 2018
10:00 am
Zamykal Gourmet Kolaches may be new to Dallas but its history in Texas spans all the way back to 1918. That was the when the special family recipe for authentic Czechoslovakian pastries was brought over by owner Tara McGraw's great grandmother.
The recipe was passed down from generation to generation and made popular by Tara's late mother, Jody Powers. Jody was known all over Texas, especially in Calvert where her bakery stood, as the "Crazy Kolache Lady." The pastries speak for themselves but Jody always had a great time standing out in front of her Calvert bakery with her white hat, waving her white towel and singing jingles like "Oh Zamykal kolaches, it came from my grandma and if you come to Calvert you gotta get you some. Oh Zamykal kolaches, one taste and you'll agree, it's the best kolache cause the Lord gave it to me!" Jody passed away in 2015 from multiple myeloma, a rare blood cancer, and since then Tara has been dreaming of bringing her family recipe to her home here in Dallas.
That dream came true last year when Zamykal Gourmet Kolaches opened off Keller Springs near the Dallas North Tollway. The bakery serves more than 20 sweet kolaches, several savory kolaches, and traditional klobasneks (sausage rolls). They're all from the exact recipes passed down from Tara's great grandmother. The bakery also has other items like quiche, fudge, dinner rolls, tea breads, and most recently, pecan pie.
The pastries can also be purchased online and shipped straight to your door. They make perfect gifts or ready-to-eat items for parties and holidays. To find out more about Zamykal Gourmet Kolaches and to see their full menu, visit their website or stop by the bakery at 5181 Keller Springs. If you're lucky, you may even catch Tara out front with her white hat, waving her white towel, singing her mother's jingle.