In 1998, a few weeks after Bill Rossell bought the Lakewood Landing, he was in a courtroom fighting a damn ticket. The health inspector fined him for not having some sort of lock over an outside spigot. The city employee probably didn't expect for the guy to be such a stubborn sumbitch that he would take the matter all the way downtown to fight it. But here they were, the inspector explaining himself while the judge peered over his glasses at the ticket.
And now it was Rossell's turn.
 "What bar is this, young man?" the judge asked.
"Lakewood Landing, sir," Rossell answered.
The judge smiled and took his glasses off: "And how is Lucille?"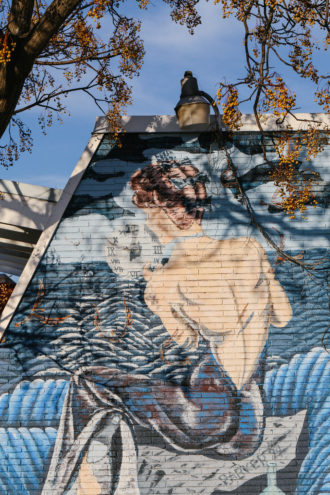 If you've stepped inside the Landing, you know Lucille Mathews. Either you literally knew her, or you've seen her face from the enormous, framed drawing of her on a blown-up Landing menu, which has hung from a partition near the entrance since the day after her memorial in 2001. She looks out over the tables and the booths. Lucille worked there for 33 years before her death from cancer. She's still a fixture of the place, in many ways, and especially so if you talk to Rossell. He'll tell you about her propensity to leave cigarettes in four or five different places along the path she followed while bussing tables—one behind the bar, one on the cigarette machine, another in an empty booth, "and, rumor has it, another in the lady's room."
He bought her a car once, too, a Ford Taurus that replaced her creaky old Buick. One night, she dropped her cigarette somewhere in her car as she was driving away and leaped out and ran inside the bar. She kept stacks and stacks of newspapers in the seats, and she knew how fast they'd turn to kindling. (They found the cigarette before the papers turned to anything more than smoke.) Her boss had had enough. This was around her 29th anniversary, Rossell said, "so I got her the new car."
You're reading these words because of an anniversary—on Sunday, Rossell's throwing a party to commemorate the 20 years since he bought the place. In Dallas bar parlance, that's forever, especially in red-hot Lakewood. It's almost unfathomable that the building has stood at Live Oak and Skillman since 1940. It started off as the second location of Goff's hamburgers. Its next life was as a bar, and it went through a few different owners before Don Webb sauntered in one night in 1997 to Live Oak's now-shuttered Tipperary Inn, where Rossell worked as general manager. Webb owned the Landing at that point, and, a few rounds in, Rossell brought up buying the place. He tried this from time to time. But this night, Webb bit. Rossell called over a witness, and it's been his ever since the loan went through.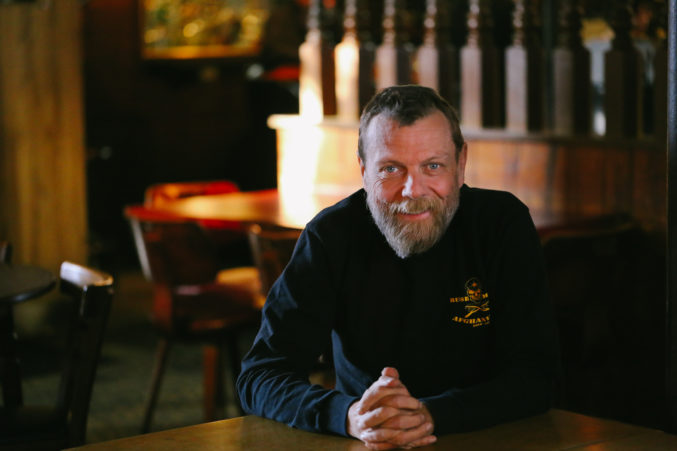 These stories are the types that are born on barstools, tales fit to be told and told again between swigs of Lone Star, shots of whiskey, maybe bites of after-midnight jalapeno corndogs. Rossell can talk about the weeks leading up to the smoking ban, when it was pretty certain to go through. He says he had the smokiest bar in town; the place was so thick in it that it scared off non-smokers. In fact, when the city came by to survey bar owners about the impact of a ban, Rossell was one of the few who told them he supported it—he anticipated business to jump by 25 percent from people who loved the bar but couldn't stand the smell. He says it went up 23. And he used the smoking ban as leverage with the landlord to build that patio out front.
He's got plenty of stories about people you'd know. I'll tell you two. A little before the ban went through, two regulars were perched at the bar puffing away on cigars. As Rossell tells it, then-Mayor Laura Miller was sunk into a booth, minding her own business. The regulars walked over and started blowing smoke in her face to make a point; Rossell booted them. "She's not at work guys," he told them.
Another: When the Dallas Observer gave Landing its best burger award in the late '90s, in stomped Harvey Goff demanding that Rossell make him a burger to prove that his was better. He says he took a bite and marched out the front door. "Harvey's crazy," he says now. "That statue of Lenin in front of the restaurant, that tank in his front yard."
The Landing, in plenty of ways, carries the institutional knowledge that newer places can't. This is a city of distinct neighborhoods, but few of them have a bar that holds the tales that the Landing does. When Rossell bought it, he massaged it more than he changed it. He did away with the stained drop ceilings, extended the bar, put in a pool table. A graduate from the Culinary Institute of America, Rossell re-did the food menu. He roasted some jalapenos, de-seeded them, then threw them in some corn dog batter. He started selling these after midnight when the kitchen was closed and started a cult following. He says he put up the sign outside that calls the place "an upscale dive." He got rid of the "rotten cigarettes and beer stench"; now it just feels lived-in. He's used to seeing the children of regulars coming by—that's something Lucille noticed, too.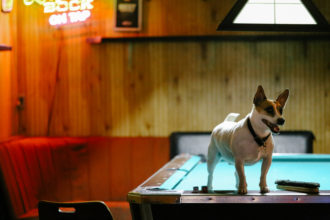 He calls the building "a magical place," one that's provided comfort for city council members and higher-ups in the district attorney's office, writers, artists, and working class folks from the neighborhood. It is, as it always was, a place for everyone. And so Rossell, who two years and three days ago received a life-saving liver transplant, is giving back. (He no longer drinks.) At 3 p.m. on Sunday, March 4, he's roasting a whole pig in the parking lot. He's got a buddy who's cooking up ribs and pulled pork. He said he was planning to go Lake Texoma to catch enough striped bass for a fish fry. The food is free, and it's happy hour all day. Rossell says 10 percent of the bar sales will go toward liver transplant research.
When he bought the bar 20 years ago, he had three employees. Now he has 11. Last year, he did over $1 million in sales. The humble bar that could. But still, Rossell insists it isn't him that'll help this place stay open another few decades.
"No, no this isn't about me," he says, "This is about Lakewood and East Dallas."
And, oh yeah—he beat that ticket, by the way.
Get the SideDish Newsletter
Dallas' hottest dining news, recipes, and reviews served up fresh to your inbox each week.