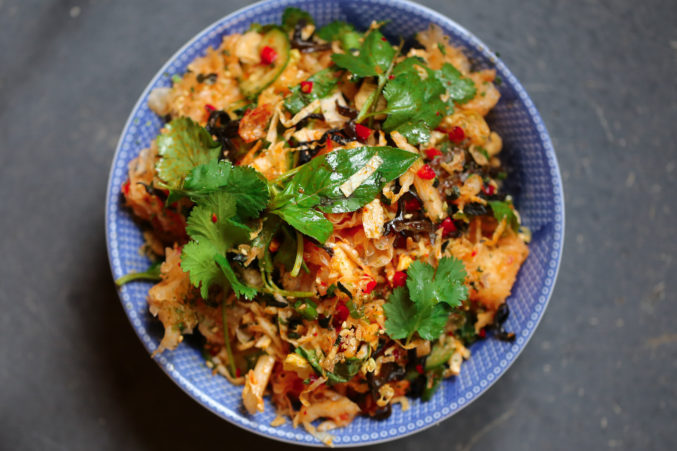 Eat The White Cloud Tiger Cry at Gung Ho
Get to know cloud mushrooms. And a chili oil that takes two days to prepare.
Kirstyn Brewer, the executive chef at newly-opened Gung Ho, stumbled across white cloud mushrooms at Yin Wall City, a specialty food pharmacy in Plano. "I originally thought it was dried seaweed, but after evaluating it and doing some research, I discovered the true identity," she says. "After that, I discovered the fun spongy texture and knew it would make a great salad."
Her instincts were spot-on. The White Cloud Tiger Cry salad at Gung Ho is, in fact, a great salad.
The savory and slightly acidic mix of chilled white and black cloud mushrooms, cucumber, house-made vinaigrette, and crunchy fried garlic and shallots offers a forceful yet refreshing whop of umami to the mouth.
The mushrooms are soaked for five minutes in a large bowl that's filled with cold water, then the chef squeezes the excess liquid from the fungus. The core, which is relatively tough, is cut out of the center of the mushrooms and the rest of the flesh is diced into bite-sized pieces.
The house-made chili oil takes two days to prepare. Brewer steeps spices, dried shiitake mushrooms, dried orange peel, garlic, and sesame seeds in warm oil for a few hours, until the garlic becomes soft. The liquid is strained over Korean and Chinese chili pepper flakes and then sits overnight before the chili flakes are removed and the oil is set aside for another use.
The following day, she sautés ginger, garlic, Fresno chilis, and sesame oil. It's deglazed with sherry wine. Brewer then adds the chili flakes that were strained from the oil. She then adds dried fermented black beans, sugar, salt, fried garlic, and fried shallots.
This oil is combined with aged rice vinegar and then tossed with the mushrooms, cucumbers, and then topped with furikake and more crispy fried shallots. This dish is delightful. Go eat it.