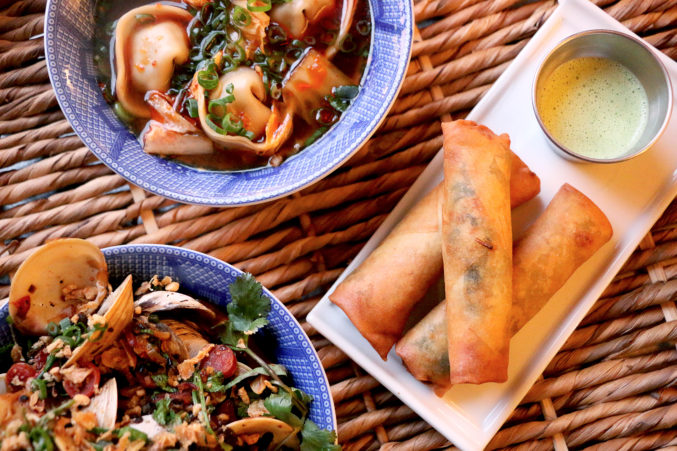 Chinese-American Places Taking Center Stage
How will they change our view of modern post-fusion dining?
Last year, Chinese Tuxedo opened on Doyers Street in the heart of New York's Chinatown. Inhabiting the bones of a former opera house, elbow to elbow with traditional dim sum shops and grocers, it offered a take on the modern Asian trend, specifically serving up sleek, satisfying American Chinese. It wowed.
When many people stateside were communing over Lazy Susans for family dinners of lo mein and Kung Pao Chicken, I was in Europe. So, I came late to American Chinese food. But the appeal is clear. We love to find familiar childhood comforts in new guises. Which is what a crop of neo-Pan-Asian restaurants is aiming for, while their chefs take inspiration in the creative eddies of Asian flavors.
We haven't had our fill of these, yet. For two hot seconds, we had Hot Joy, and that was rocky at best. We have long had the fixtures of traditional Chinese cuisine—the Kirin Courts and Royal Chinas and First Chinese Barbecues.
But the newly-opened Gung Ho and the soon-to-open Fine China aim to fill a different niche, with high-powered executive chefs Kirstyn Brewer and Angela Hernandez acting as latter versions of Danny Bowien of New York's Mission Chinese. These restaurants are not, like Manhattan's Chinese Tuxedo, located on a street in the heart of an historic Chinatown. They are, instead, plunked down in the middle of some of the what might be seen as some unlikely locales, Lowest Greenville and the redesigned Statler Hotel downtown. If they're a comment, they could be read as a comment on mixity.
Gung Ho, owned by Elias Pope, with executive chef Kirstyn Brewer, has replaced what used to be Remedy on Lowest Greenville. The interior was beautiful before, and it is again, with floral wallpaper reminiscent of Chinese imperial designs, black lacquer-like surfaces, decorative plants, and teal-colored walls. It reminds me of the soft notes of Cannon Chinese Kitchen in Fort Worth.
Shots with Sichuan peppercorn infused tequila or Thai tea and sweetened condensed milk join a dim sum menu where slightly unexpected flavors lurk inside the familiar morsels: pickled vegetables eggrolls with buttermilk dressing, or cornflake crusted shrimp balls. They're working in the same sectors of fermentation, spice, and salty sweetness. If the flavors meld, they can meld beautifully. If not, they can be a train wreck. (It's when it gets into the Taiwanese beef pozole that I start to wonder.) They've got versions of all the things everyone gravitates towards when they open a menu looking for lo mein: Mapo tofu, Kung Pao chicken, cumin lamb, and dan dan noodles. The desserts all involve soft-serve ice cream, in flavors like coconut and five spice.
Meanwhile, at The Statler's Fine China, headed by Angela Hernandez, they have what corporate-speak is calling a "modern pan-Asian gastropub." Here, the menu will be broader, encompassing in its reach Peking duck, shrimp pad Thai, lobster fried rice. If anyone can keep it all together, I imagine Hernandez, in the same way she did as chef at Top Knot. I happen to know that they've gone to great lengths to source the duck they'll roast on site.
So, who knows. We'll have to see. Maybe these spots will feel like communing over a Lazy Susan. They're not quite the OG, but something different, something creative.