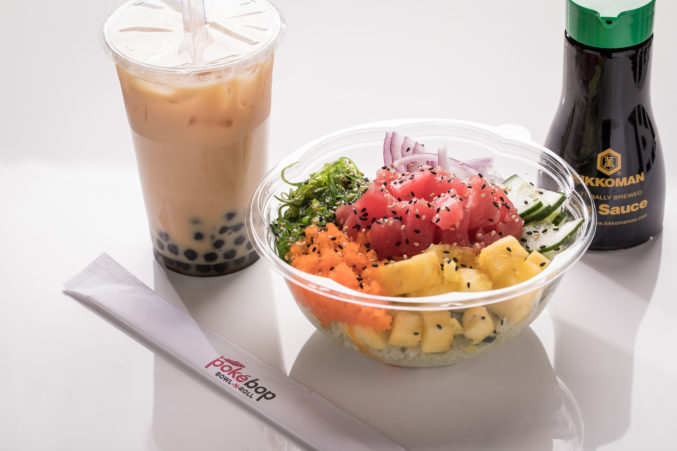 The Scoop: Poké Bop to Open Second Location, Chicken Thang Throws a Party, and More
Your weekly helping of Dallas dining news.
There's not always enough time in the day to skim a lengthy, re-worded press release that's been stamped with "breaking" or "exclusive." And some stories don't warrant an entire page of prose. Each week we'll gather the most important tidbits of Dallas food news and post them here, on SideDish. Because sometimes all you need is the scoop.
Have a scoop? Send it to [email protected]
Poké Bop to open second location: The Poké restaurant will open its second location in East Dallas in the former Zuzu Mexican Food space at 4140 Abrams Road on Thursday, February 7. The new location includes a boba bar which offers a selection of iced or blended boba teas, frozen sake-tinis, and frozé. The menu, like the original Lemmon Avenue location, offers signature poké bowls. There you have it.
The Juice Bar to open at Legacy Hall: Legacy Hall's newest food stall opens on February 12. The Juice Bar offers smoothies, pressed juice, juice cleanses, and nutritious bites. The stall is open for breakfast Monday through Friday starting at 7 a.m. and Saturday and Sunday beginning at 9 a.m. (Legacy Hall is located at 7800 Windrose Ave. in Plano's Legacy West.)
Get your Chicken Thang tickets: Chicken Thang, brought to you by Meat Fight, Inc., takes place this Sunday, February 11 at 3015 Trinity Groves. The fried chicken competition is for charity and all tickets sales benefit the National MS Society and Project 13, Meat Fight, Inc.'s program that will be coaching and gearing up people living with MS to compete in the half Ironman in Galveston, Texas in April. According to the release:
The ten Dallas chefs competing for the Best Fried Chicken trophy include, but aren't limited to: badass Jeff Bekavac of Neighborhood Services, kickass Sandra Bussey of Chicken Moto, wonderbeard Jeffery Hobbs of Slow Bone BBQ, and awesomepants Jeana Johnson of Mockingbird Diner.

Attendees will get the chance to sample up to 10 fried chicken bites from the competitors, plus banana pudding from Fred's Café, white chocolate bread pudding from Haute Sweets Patisserie, and beer from TUPPS Brewery.
GA is $60 and VIP is $75. The event starts at 6 p.m. and tickets can be purchased here.
Cochon555 pig roast competition to take place on Sunday, February 11: Chefs from Lucia, Petra and the Beast, Mirador, FT33, Silver Oak, and LAW at Four Seasons Resort and Club Dallas at Las Colinas will be competing in this nose-to-tail event. According to the release:
The chefs prepare boldly flavored dishes in this friendly competition using whole heritage-breed pigs from family farms in a nose-to-tail, whole animal showcase. A crowd of a few hundred pork-loving gourmands and twenty notable judges will score each chef on utilization, global influences, cooking techniques, overall flavor, and the "best bite of the day." Among this year's group of twenty notable judges include a lineup of local luminaries such as Chef Kent Rathbun, Daniel Vaughn of Texas Monthly, Nicolas Yanes of Juniper (Austin), well-known Emcee Billy Harris, as well as our headline all-star butcher, Zach Dunphy from Commissary Dallas.

Cochon555 also challenges five celebrated sommeliers in the third annual "Somm Smackdown" to use every bit of their accumulated knowledge and inspiration to find the best wine to pair with the dishes prepared by competing chefs. This year's somms include Emily Tolbert of Del Frisco's, Houston, Courtney Keeling of Graileys, Cameron Cronin of Sachet, Julia Dixon of ArtProWine, Austin, and Alicia Schmidt of Emmer and Rye, Austin. Additionally, "Punch Kings" features five of the city's top barkeeps facing off in a whole-bottle punch bowl competition, challenging them to each make their own twist on the original, historic large-format communal libation righteously prepared with Breckenridge Bourbon.
The event takes place this Sunday, February 11 at the Four Seasons Resort and Club Dallas at Las Colinas. 4 p.m. entry for VIP and 5 p.m. for GA. Tickets start at $130 and can be purchased here.