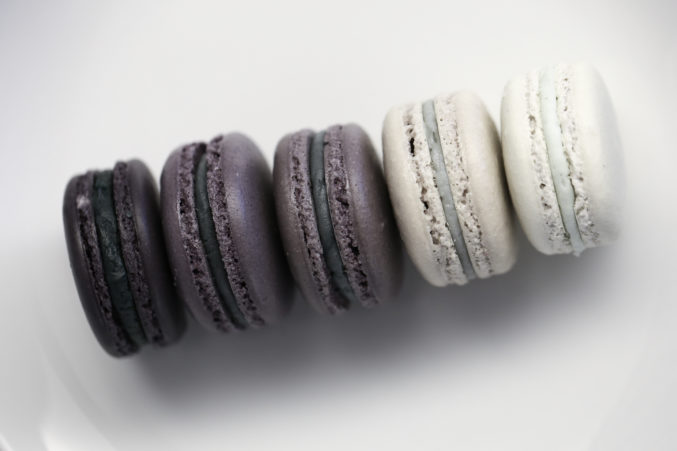 Savor Pâtisserie Offers "Fifty Shades" Macarons for Valentine's Day
Because nothing says "light bondage" like a small French delicacy.
Last week a box of grey macarons arrived at the D Magazine offices. Attached to it, a note which read: "Our macarons aim to please."
Yeah, okay, I giggled. The French sweets from Savor Pâtisserie were clearly Fifty Shades of Grey themed. Why was this so funny? Well—aside from the fact that the first thing that popped into my head was an image of Marie Antoinette lounging in a neoclassical armchair wearing a latex catsuit—that a book and movie series about an emotionally manipulative relationship that touches on BDSM was the catalyst for dainty, specialty desserts, seemed absurd. And absurd things make me laugh.
The "Fifty Shades macaron collection" from Savor Pâtisserie features five different flavors: champagne, vanilla, salted caramel, birthday cake, and raspberry. And while it's somewhat disjointing eating a birthday cake flavored macaron the color of a dirty ashtray, the confections are delicate and delectable.
I couldn't eat them all myself, so I shared with my colleagues. They, too, had thoughts about the macarons:
"They are very sexy."
"They look like a chalkboard. It's an irrelevant cash-grab."
"I can't wait to squish some in my girlfriend's face and mouth."
"They tasted good! I thought the champagne one was a bit too sweet. But if you're going to celebrate Fifty Shades of Grey, macarons are a safe way to do it. There could be weirder ways."
The macarons are available for online ordering until February 11.