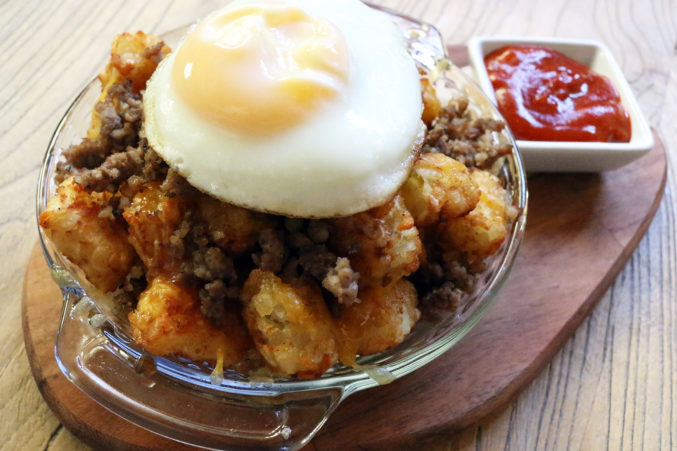 Dish Pirate: Easy Slider Brunch Tots
Enjoy the best that Dallas restaurants have to offer without ever leaving your home.
By Melissa Tate
Published in Food & Drink
February 6, 2018
2:20 pm
Want to enjoy the best that Dallas restaurants have to offer without ever leaving your home? Our new recurring feature, Dish Pirate, will help you bring the city's robust dining scene to your kitchen.
We have been loving Easy Slider burgers for years, but the tots they sell at their brick-and-mortar spot in Deep Ellum were introduced to us when they opened their doors last year. The crispy, potato nuggets are next level. The brunch tots, available exclusively during the weekends, as with most things you can't have whenever you want, are what we crave most. Thankfully, they are easy to recreate at home. The dish comes from the brain of chef-partner Caroline Perini and the golden tots are topped with shredded cheese, spicy breakfast sausage, maple syrup, and topped with a fried egg. Pair that with Sriracha ketchup and call it a day.
Easy Slider's Brunch Tots
Ingredients
Serves 2-3
1/2 pkg frozen tater tots
1/2 pkg spicy breakfast sausage
Shredded cheddar cheese
1 egg
1 Tbsp butter
Syrup
Ketchup
Sriracha
Directions:
1. Prepare tots as directed on package. Cook longer if needed to get extra crispy tots.
2. While tots cook, brown sausage over medium heat, drain grease and set aside.
3. When tots are cooked to your liking, cover with shredded cheese and bake a couple of minutes longer to melt cheese. (We created two layers with ours to distribute the cheese all over the tots.)
4. Remove cheesy tots from oven and place in serving dish.
5. Top with sausage and drizzle with syrup.
6. Fry egg over medium heat in melted butter until your desired done-ness.
7. Top tots with egg.
8. Mix 1/3 part Sriracha with 2/3 part ketchup, or mix to your desired spice level.
Enjoy!
Now, to be honest, Easy Slider's Brunch Tots are fried not baked. Which definitely gives them an unbeatable taste. So if you feel like it, dust off that FryDaddy and make it happen!