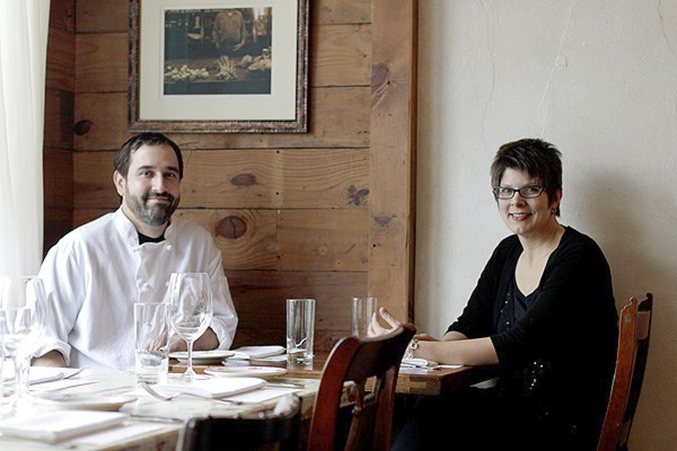 Catching up with Lucia's David Uygur
The Prince of Pork dishes on winning Cochon555 and opening his new restaurant.
We love his cured meat. A beef basturma that curing-wizard David Uygur served at Lucia a year ago was one of best things I ate that winter, with its light note of Turkish spice. His 'nduja was our first, before the spicy pork pâté became a thing (like a meat-lover's hummus). His foie-gras stuffed prune is reason alone to make a reservation at the tiny restaurant that he and his wife Jennifer run in Bishop Arts.
How did Uygur get into salumi? Why? Meat curing—all about the long wait, the daily coddling, the long-term vision. The opposite of his other medium, pasta, which requires a quick, sure hand, the work of a minute.
On Sunday, Uygur was named Prince of Pork at the inaugural Cochon555 Dallas, a national fundraising competition that finally debuted here, drawing chefs from the city's top restaurants, who were all cooking heritage-breed pork. The panel of judges lauded Uygur's morsels that showcased heritage Red Wattle.
Earlier this week, I checked in with Uygur about winning the pork-tastic competition and on the upcoming opening of Lucia's sister-restaurant, Macellaio. Here's the dish:
"I've always been interested in it," Uygur says, from the cured meats he ate growing up with a Turkish father, to the duck prosciutto that was his own first cured meat experiment in culinary school. Working in Italian restaurants, he fed his interest; traveling to Italy, he tasted cured meats at their source. All of a sudden, prosciutto di Parma stateside seemed lackluster.
"I wanted to see if I could do it myself," Uygur says. "I've always enjoyed the DIY aspects of what we do in a kitchen." He read and experimented. Before he opened Lucia, where he could put his own cured meats on the menu, he was finagling room in wine fridges to house experiments. Utterly self-taught, he learned to tie a culatello from watching YouTube videos. In all, he counts 10 years of curing under his belt.
"I enjoy the actual butchery of it, but also the maintenance," he says, the regular checking to see "how firm it is, how much weight it's lost, how much mold is on it." In this, he says, he feels more like a farmer, judging the right time to pluck the fruit. Does he want the result to be soft and spicy? Firm and lean?
"I am attracted to the timeline. When I look at my salumi board," he says, it represents a chronology from whole animal or part of animal to final product—a span of days to a week (pâtés) or a matter of years (certain firm salumi). "There's still plenty to explore there."
With his longtime partner in the kitchen, chef Justin Holt, he's played around with chorizo and soppressatta, cured meat tastes from Spain. "We've messed around with some koji rice in curing, too." They're looking for variations on the umami build-up of flavor.
About once a month, he brings in a whole Red Wattle heritage-breed pig from Legend Meats ranch. The beast's head contributes to headcheese; the lard is rendered for pastry or cooking; trotters go into stock, terrines, or sausages. Uygur can fit the scraps they throw away in the palm of his hand. "I appreciate that in pork," he says, rather than beef. (The restaurant's Red Wattle needs are supplemented by another purveyor out of New York.)
At Macellaio, David and Jennifer will oversee 20 more seats than at Lucia, but also far more prep, cooking, and storage space. Uygur will have a whole walk-in fridge at his disposal as a curing locker.  With a full bar, Jennifer will have room to introduce vermouths and amari, and wines fit to match with salumi. Sourdoughs and other breads may join the crackling country loaf that begins every meal at Lucia.
No salumi revelations, per se, punctuate Uygur's life, but it's been fun, he said, "not being held to regional constraints—applying different techniques. Salumi is so technique-driven that when you find a new one, [that, in itself, is] a revelation."
When it comes to winning Cochon555, "It was surprising," he says. "We have a 36-seat restaurant. The amount of room and labor that we had to do this event … preparing 500-600 portions of six things, working in a small space" – that was the biggest concern.
Macellaio is slated to open in Oak Cliff in the spring. The salumi won't be all-Italian, though they'll have a roster of coppa, lardo, lardo, prosciutto, and pancetta. "It'll be fun to have a change to stretch out," Uygur says.