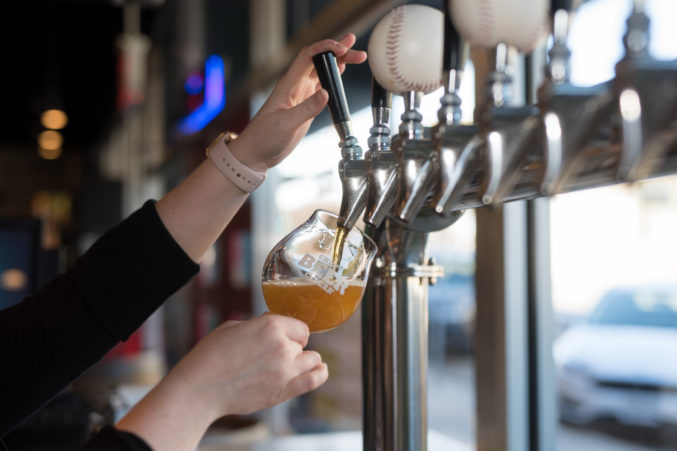 After 16 Months, Craft Beer Cellar is Still the Beer Nerd's Perfect Haven
Go here. Drink the brew. Thank us later.
By Matthew Shelley
Published in Food & Drink
February 2, 2018
10:45 am
Craft Beer Cellar opened in October of 2016 by two high school friends from Carrollton, Jim Waskow and Stan Nauman. This is a near perfect beer store. After just one visit, you'll find yourself drawn to the carefully curated, wonderfully distilled selection of unique and interesting craft beers from all over the world. The shelves are organized by region and make the exploration of new styles and origins simple and addictive. Beyond the expansive selection of bottles in a layout, that's anything but overwhelming, they also offer kegs for order and growlers for filling. It's your world.
Jim Waskow, also a certified cicerone, and Stan Nauman are both soft spoken dudes who left the corporate world to follow a passion for beer that grew out of shared visits to the Great American Beer Festival. And while they would eventually like to open a second location in Dallas, all their efforts are invested in making sure the freshest offerings are available at their Lakewood store, be it the latest releases from local breweries or other exquisite offerings from across the globe. Craft Beer Cellar is actually a franchise from Boston, but it feels completely local. To further their reach they also employed Stephanie Roethlisberger as their Consumption Coordinator. Her intoxicating charm and extensive beer experience in Dallas round out this trio nicely.
So, because we love you, here are a few things you'll want to know about Craft Beer Cellar that are especially intriguing. One of the coolest things I discovered while meeting them was that they place "Easter Eggs" around the store from time to time for the most astute observer to find. These are rare and sought-after beers that they don't publicize in any way. Keep in mind, they're not hidden but kept in plain sight on the shelves. One customer found a 2013 Goose Island Bourbon County Stout during my visit. I grabbed one, too. Thanks to the anonymous and keen-eyed lady for your gift.
Craft Beer Cellar also encourages offerings from Germany and Belgium on regular rotation from their draft. One of our favorite rows in the store faces the cooler. There you'll find an impressive array of German and Belgian bottles that highlight the origins of beer styles we've come to love here in our American Craft beer. And in keeping with expanding your mind and your tastes, there's also a carefully curated selection of ciders, wines, and mead. I was told they recently sold a $120 bottle of mead that was aged in Sam Adams' Utopia barrels. Prepare to try something you've never had before.
Aside from their regular offerings, Craft Beer Cellar is hosting a Puppy Bowl this Sunday in partnership with White Rock Dog Rescue from 1 p.m. to 5 p.m. and next Friday they'll be tapping Great Raft Brewing's Pappy Van Winkle Barrel Aged Old Mad Joy alongside hosting a pop-up from Proper Baking. So get out there and drink in the most exciting and responsible way possible. We love you almost as much as we love beer.