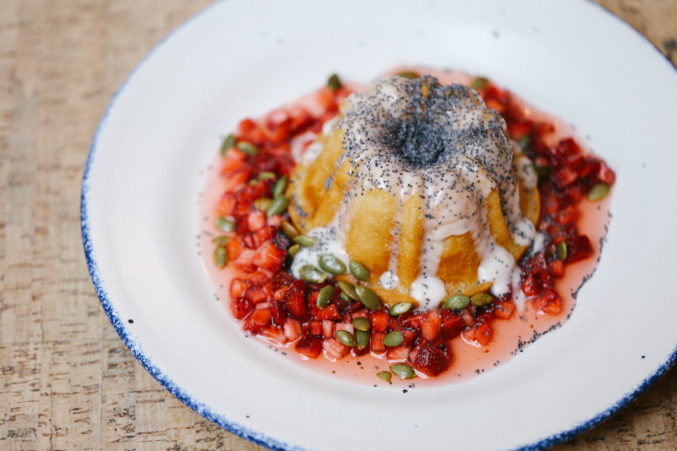 A Look Inside Scout at The Statler Hotel
Bowling, booze, and $75 fried chicken.
Scout, the 12,000-square-foot event space and restaurant located inside newly renovated Statler hotel, is now open. The space, decked out in forest green plaid wallpaper and mid-century inspired wooden furniture, includes ample seating for drinking and dining, four bowling lanes, foosball, pool tables, a live entertainment stage, and ping-pong tables.
The menu, put together by Epic F&B concepts' culinary director, Chef Graham Dodds, features gussied up versions of bar grub. There's a seven-layer dip stacked with refried appaloosa beans, sour cream, cotija cheese, corn, roasted peppers, salsa roja, and avocado. Dates get wrapped in and then stuffed with chorizo and taleggio cheese. A burger gets spiked with piquillo aioli and cream cheese.
There is also a section of the menu dedicated to sharing. The fried chicken bucket will set you back $75. Yeah, I know. I gasped when I first read that, too. But Dodds does his best to justify the cost.
"It's two whole birds, 16 pieces," he says. "It's Halal chicken. It's a three-day process. It's brined overnight, soaked in buttermilk overnight, and then dredged and then we fry it."
The bucket of poultry is served with green beans gremolata, mashed potatoes with gravy, and parker house rolls. The $90 Baja fish tacos (I know, I know. Gasp. Get it all out.) consists of a whole, three-pound, head-on red snapper, piperade, lime, pickled onions, sunflower slaw, and 12 flour tortillas.
The cocktail list here, crafted by beverage director Kyle Hilla, is made of individual sips and boozy large-format pitchers. There are 20 draft beers and, of course, wines by the bottle of glass. You can check out the full menu below.
Scout is located inside The Statler hotel and is open seven days a week.