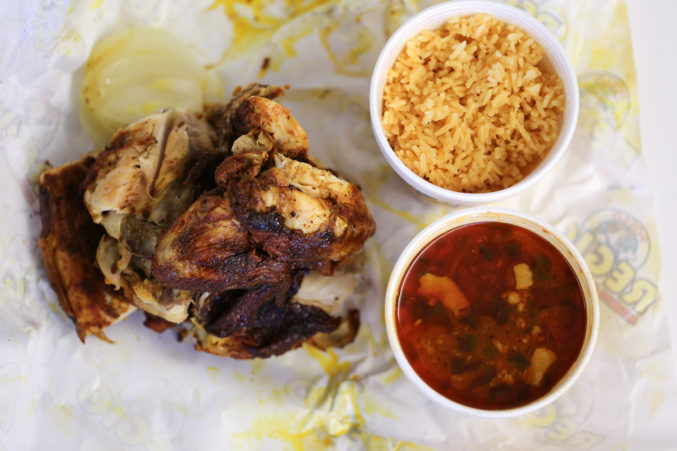 Taste Test: Flame-Grilled Pollo
Which juicy bird is best according to D Magazine staff?
By Kathy Wise
Published in Food & Drink
January 25, 2018
2:03 pm
I have a confession. Sometimes, on nights when my wife and I don't want to cook, I stop on my way home at the Pollo Regio on Davis Street. There are only two of us in our household, mind you, but I always order the pollo entero to go. Usually the whole mesquite-grilled chicken has already been cleavered into pieces and wrapped in waxed paper. As the server pulls out Styrofoam containers of charro beans and rice from the warming cabinet, and methodically packs them in a plastic bag along with foil-wrapped tortillas and plastic cutlery, I fill a couple of small cups with pico at the salsa bar. Then I head out past the line of cops and guys in paint-covered Dickies, into the smoke-filled night.
When I get home, the routine is always the same. I grab a couple of tea towels and a warped metal jelly roll pan, empty the contents of the bag onto the tray, and head directly to the bedroom. That is where the TV is on, my wife is waiting, and the carnal wreckage wordlessly goes down.
It is the best.
And I thought Pollo Regio was the best. But then I wondered: am I in a rut? What other hot birds might be out there, just waiting for me to get my hands on their juicy thighs and breasts? What about Pollo Fiesta, just a few blocks farther down on Hampton? Or El Rey Del Grill, a little farther north on Maple?
I'll always dance with the one I bring home, but, after this taste test, I might pick a new bird.
The chicken: 
A. El Rey Del Grill (4535 Maple Ave.)
B. Pollo Regio (2716 W. Davis St.)
C. Pollo Fiesta (903 S. Hampton Rd.)
Tasting notes:
El Rey Del Grill
Although this chicken was on the dry side, I loved the peppery, deep-roasted flavor of the chicken skin. When combined with the barbecue-y beans, with a touch of piloncillo sweetness, and the grilled corn tortillas, this was my fave.

Fairly neutral flavor on the chicken, but the green sauce is terrific. I also like the springy tortilla. After I'm done with it, I think more about the sauce and the tortilla than I do the chicken. Bummer.

The chicken is tender and the tortillas are great. I like the creaminess of the green sauce, but don't love the peas in the rice that make it weirdly sweet.

Liked this chicken the best. Skin was crispy, meat was tender, all flavorful. Rice was a little blah but fine.

A good strong chicken was killed for this, but it's lacking pizazz. Give me some herbs and spices.

This had the moistest corn tortillas and I liked the sneakily spicy flavor of the green sauce. I'm not sorry for using the word moistest. Come up with something better in the comments.
Pollo Regio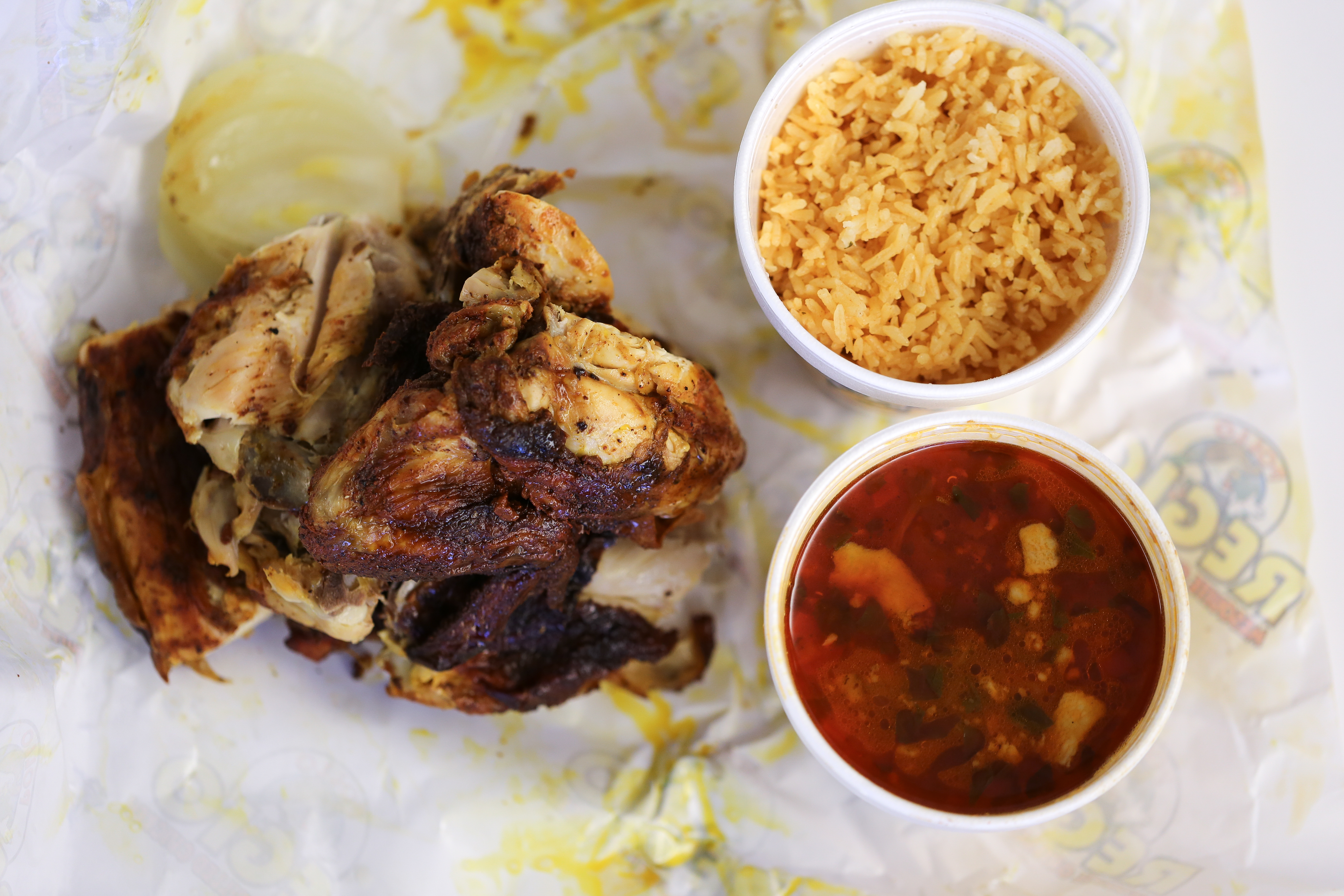 The thick tomato-based spice on this was outstanding, and the chicken was flavorful. The beans were a tad spicy for my pansy taste buds. This was a close second.

Chicken is a tad dry (this is white meat), but the seasoning on the skin is fantastic. For a total bite, it's delicious—spicy, salty, smoky. I love it. Especially with the creamy green sauce.

Beans and rice are terrific – most classic Tex Mex rice/beans/salsa profile of them all, I'd say. The chicken was my least favorite, a little salty and dry. Also skimpier on meat.

This chicken was kind of sweet, which was weird. Was decent. This rice had good flavor/spice.

A little dry, and not much to grab onto here. It's good, but I need a chicken I can really grasp and throttle with my hands on its way into my mouth.

All around, really ok.
Pollo Fiesta
On my piece of chicken, the skin was soft and rubbery but the chicken was juicy. Not enough seasoning for me compared with the others. But this family meal was the best deal—more chicken, more tortillas, more everything.

This one is probably cooked the best, but the flavor is still too muted on the seasoning. The green sauce, however, is fire. It's perfect.

Super-spicy orange habanero sauce will set your nose weeping immediately. Good, sturdy tortillas. Huge portion of chicken with super-juicy dark meat and great flavor on the skin.

This chicken was just ok. Needs more kick. This rice had the most veggies.

I would peel off these delicious, orange-tinted chicken skins, knit them together, and wear them like a tasty cape, or a delicious mask. That's how much I enjoy this succulent, well-seasoned bird: Enough to become a freaky chicken-caped superhero in its honor.

The white meat was nice and tender, but I should have been more careful with the sauce (my mouth es en fuego).
Tally up:
A. El Rey Del Grill 3
B. Pollo Regio 1
C. Pollo Fiesta (903 S. Hampton Rd.) 2
The winner (winner, chicken dinner) is: 
El Rey Del Grill