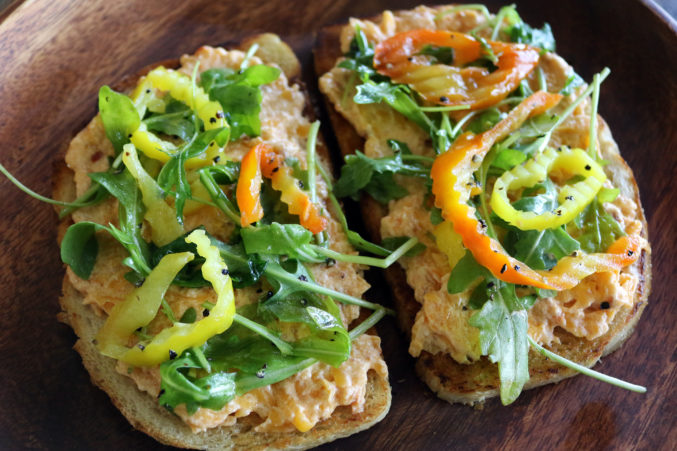 Dish Pirate: 'Nduja Pimento Cheese Toast from CBD Provisions
Want to enjoy the best that Dallas restaurants have to offer without ever leaving your home?
By Melissa Mackaly
Published in Food & Drink
January 9, 2018
10:20 am
Want to enjoy the best that Dallas restaurants have to offer without ever leaving your home? Our new recurring feature, Dish Pirate, will help you bring the city's robust dining scene to your kitchen.
Pimento cheese is a southern favorite that is easy to prepare and pairs well with a variety of veggies, breads, meats, and wine. Traditional pimento cheese uses, well, pimentos. However, CBD Provisions has put their own spin on the dish, taking the flavor and heat up a few notches with the substitution of 'nduja sausage. 'Nduja is a spicy spreadable pork made with roasted peppers and a mixture of spices. It can be difficult to find but lucky for us Dallasites, Jimmy's Food Store on Bryan Street normally has a few packages in the back deli case. You should definitely pick up a loaf of sourdough bread while you are there and maybe even a bottle of red wine from their bountiful selection.
Recipe (Serves 8)
Ingredients:
'Nduja Pimento Cheese
2 cups of sharp cheddar cheese, grated
1 cup of cream cheese, softened
1 cup of mayonnaise
2 Tbsp 'nduja sausage
Toast
1 cup pickled peppers, juice drained
1 cup arugula
The juice of one lemon
Olive oil (to taste)
Butter, softened
6 slices of sourdough bread
Preparation:
1. Mix all pimento cheese ingredients together until smooth.
2. Toss pickled peppers, arugula, lemon juice, and olive oil in a bowl. Season to taste with salt and pepper.
3. Spread both sides of bread with butter and toast in a skillet over medium heat. Remove from heat.
4. Spread pimento cheese evenly on one side of toast and top with pickled peppers, the arugula salad, and finish with some cracked pepper.
Serving size: 6 slices of toast
*If wanting to make this dish vegetarian, sub the 'nduja for 2 teaspoons of paprika and 1 teaspoon cayenne.