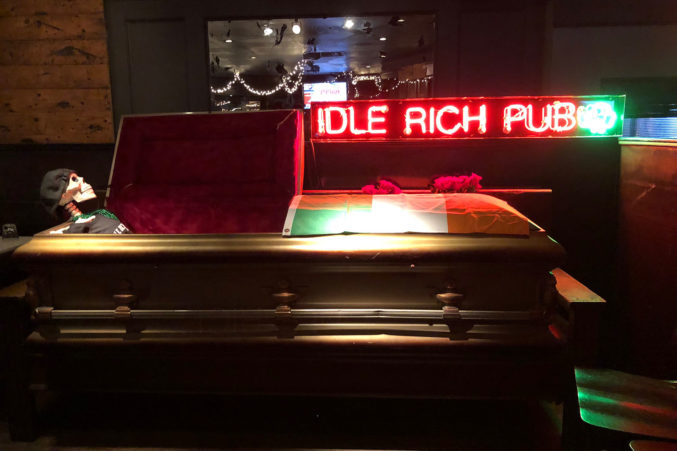 After 14 Years, Idle Rich Pub Closes Its Doors with a Traditional Irish Wake
Let's all raise a Guinness to the beloved Uptown bar.
Last year, I moved from Uptown to the Knox-Henderson area, and I haven't missed anything about my former neighborhood. I'd moved there right after graduating from SMU, making the typical migration from campus to apartment complex. But just as no one can stay in school forever, I felt the need to move on from what could sometimes feel like college 2.0. Plus, it was getting kind of gross at night.
But it did tug at my heartstrings when I heard that Idle Rich was closing its doors after 14 years. Not only is it — in the words of a coworker who will remain nameless — "the only McKinney Avenue bar that isn't trash," but for me, Idle Rich represented a whole new world (at least for drinking) in Dallas.
When I was an SMU undergrad, the under-21 gang was typically restricted to the seedy bars of a pre-Renaissance Lower Greenville. Public House wasn't just a defunct sign but an actual living, breathing bar. HG Sply Co. was known as Lost Society, which was incredibly lenient on fake IDs and just as terrible as it sounds. If a group of unsuspecting freshmen happened to stop by M Street (now Sundown at Granada) on a night it hadn't been rented by frat guys, they'd be treated to some super tasteful dancers doing their thing on the poles of the tables. (I ate a salad by one of those poles recently and I still can't believe I did that.)
In comparison, Uptown was a sophisticated urban haven for juniors and seniors, filled with cool locales such as Penguin Piano Bar (miss you every day!), Reinfield's Corner, and the oft frequented Idle Rich Pub, the first bar I visited after turning 21. The twinkly lights strung about the Irish pub were a charming change from the harsh strobe lights of M Street, as was the lack of 18-year-old co-eds. (It's amazing how superior you can feel to people just one or two years younger when you're 21.)
My friend from college and I arrived at Idle Rich early on January 23, 2018, its last night in service, but even at 6 p.m., the pub was packed. We grabbed a beer and did two walk-arounds in search of a chair (we didn't find one), so instead we paid our respects by signing the original Idle Rich sign set up by the open casket of a skeleton (donning green beads, a t-shirt, and a cap, naturally), in traditional Irish Wake fashion.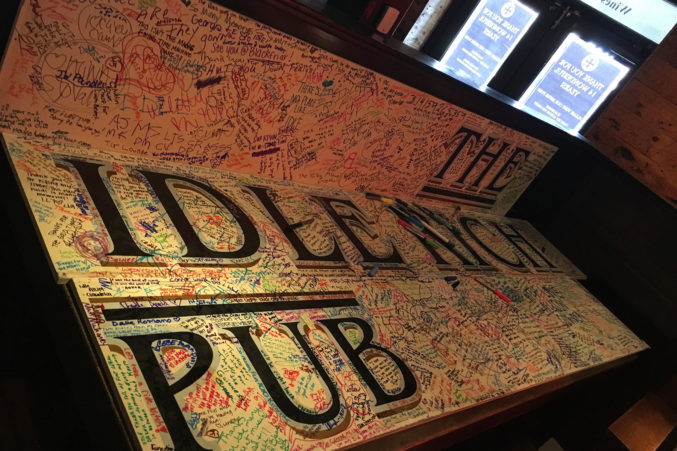 As the night went on, the crowd steadily grew, and we felt silly for thinking it wouldn't be entirely packed. Of course I'm not the only Dallasite who has an affection for Idle Rich. Just look at all these comments on a recent Idle Rich Facebook post. People have met their significant others there. Others got engaged. A recurring account is that this was the first bar people stepped into after moving to Dallas. This Irisman's tale will warm your soul.
I wish I could have stayed long enough to see how the night progressed. I wouldn't be shocked if bartenders began telling stories or if the whole room burst into the chorus of Wild Irish Rose. I'd like to think a Cranberries song played at least once in honor of Dolores O'Riordan.
"It stayed packed up until 2am. It was a great send off for a great pub that did well," says owner Feargal McKinney, who also owns The Skilling, Black Friar, and The Old Monk, where Idle Rich employees will be working now. "It stayed friendly and fun and a bit messy. There was Irish dancing done in a way I've never seen. "
You'll be sorely missed, Idle Rich. Sláinte!