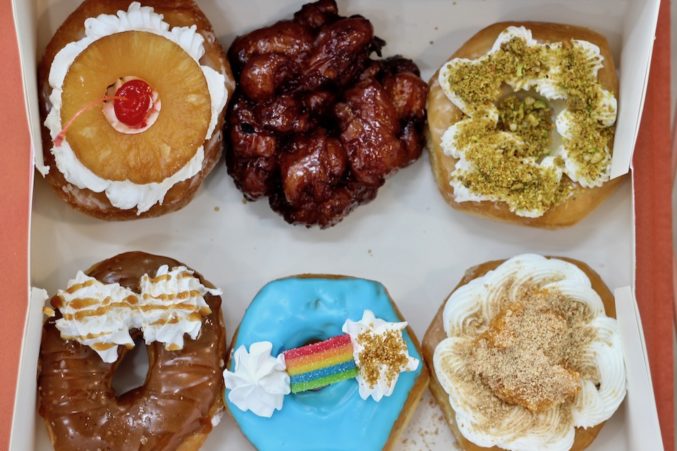 A Look Inside Wow! Donuts & Drips
Choose from more than 120 different types of doughnuts.
By Daniel Walker
Published in Food & Drink
January 3, 2018
12:50 pm
Arriving just in time to demolish any New Year's weight loss resolutions you've made, a new and noteworthy donut shop is now frying in Plano. Wow! Donuts & Drips opened its doors just before Christmas and has been cranking out a massive number of doughnuts since that time. The shop is located at 6509 W. Park Blvd. in Plano, not far from The Shops at Willow Bend and next door to the popular bubble tea establishment, Fat Straws.
When I'd first heard details about Wow!, I was told the shop would serve upwards of 120 varieties of doughnuts, a selection unheard of at any shop I've ever visited. I was skeptical that the place would be able to pull that off, however, after a recent visit, my doubts were put to rest.
Wow! Donuts & Drips is putting out a truly impressive array of options. As you walk in, you're faced with five large square glass display cases, each one filled with at least 20 different doughnuts, carefully and artfully displayed for customers to choose from. The variety is staggering, making it a challenge to select the dozen or half-dozen you'd like for yourself in a speedy manner. There's an ample number of employees prepared to greet and assist customers, so if you need time, there's no rush, and each guest is given the help they need to complete their order. Behind the counters are numerous large racks filled with trays of fresh pastries, decorated and ready for boxing.
I won't even attempt to rattle off the entire menu, but here's a taste of what you'll see. The list of options is broad and includes flavors such as sweet potato pie, grilled banana and Nutella, cookie dough, coconut cream pie, red velvet, pumpkin spice, egg nog cream, maple bacon, pistachio, peanut butter-bacon-banana, berries and cream, lemon cream, strawberry cheesecake, apple pie, gingerbread, pineapple upside-down cake, fritters (in apple, blueberry, or cherry), and salted caramel. The list goes on and on and on. It's a seriously impressive operation.
Of course, this being Texas, they offer a number of sausage rolls, too. They make the dough from scratch, fill them with cheese and jalapeño, and add a few proprietary seasonings. They're genuinely some of the best sausage rolls I've had from a North Texas shop.
Lastly, the coffee. Wow! is providing drip coffee at its freshest, using state-of-the-art technology and high quality beans. Customers are able to watch their coffee being made—from grinding the beans to being poured. The coffee is produced by an Alpha Dominche Steampunk MOD system, and according to the folk at Wow!, there are only two of these systems in operation in the state of Texas. General manager David Sims says, "We've had coffee geeks from all over the city come in just to see this thing work." And I'll admit, it's a pretty slick piece of machinery. There's ample seating and WiFi for those who'd like to stay for a while, too.
While Wow! Donuts & Drips had originally planned on running 24-hours a day, they've decided to cut back on those hours for the time being as they determine customer demand. However, they are still operating into the evening, unlike many other donut shops. Current hours are 8 a.m. until 10 p.m. daily, but keep an eye on their website and social media for any changes.