The Best New Bars in Dallas, 2017 Edition
Drink in opulent lounges, swill mezcal in moody dens, or ponder the skyline with icy steins of frozé on rooftop patios. These are the best new bars in Dallas.
In 2017, Dallas' new bars had to work hard to stand out from the already vibrant market. Bartenders dusted off mezcal bottles, opening two shrines to the libation that encourage you to consider the nuances in the Mexican terroir much in the same way you would with wine. In case there was any doubt about the appeal of Deep Ellum, the neighborhood east of downtown saw four entries in this year's edition: Have a drink with flavors extricated from ingredients using a centrifuge or belly up to something more straightforward, at one spot that feels like the neighborhood's living room. The city's finest new watering holes opened in both opulent hotels and a warehouse-sized arcade. We have a lot to celebrate. Here's a toast to the best new bars in Dallas.
This "speakeasy-style" bar is located in the basement of the newly-remodeled Statler Hotel in a space that was previously an on-premise beauty salon. It's hard to miss, even if you're unfamiliar with this eastern corner of downtown: "BAR" is displayed in neon red lettering over the entrance. What's difficult is getting in on a Friday or Saturday night. The staff likes to keep the environment uncrowded and relaxed, which is ideal once you're finally inside. Head down the stairs, past the "BAR" sign, and dial a number on a payphone to access the lounge. A wooden wall opens to reveal a sleek hotel bar. Smoked glass walls, candlelit tables, and pillow-y seating adds to the swanky vibe. The menu is bold and features playful, spirit-focused cocktails like the French Twist: Rye, Amarao Nonino, tea-infused Aperol and lemon. Each drink is garnished with a playful accoutrement, our favorite is a hand-written, wax stamp-sealed love note.
Drink this: Undercut: Cynar, Caprano Antica, apple brandy, honey-dipped apple garnish. $15
This arcade and bar from the Bishop Cider Co. combines more than 150 games and 24 ciders on tap. Take a gander down "Fighter's Row," where you can go-head-to-head with your drinking buddies on more than 10 fighting games. It's especially satisfying after a round or two of drinks. Those who prefer less violence with their buzz can seek refuge at one of the 18 pinball machines. You can, and should, spend an entire afternoon here: $10 a day gets all-you-can-play arcade games. If you're a true video game junkie, $20 a month gets you unlimited games. Crush a round of Mario Kart as you crush a Bishop Crackberry.
Drink this: Bishop Blood Orange cider $6
The most elegant bar to open in Dallas this year might be the most luxurious in the city to date, a shadowy and extravagant space that spared no expense. It is situated next to the recently restored French Room in the Adolphus Hotel and exudes drama: the walls are plum, the fireplace is lacquered red, and the bar is made of black marble. One might expect to be seated next to the Duke of Windsor, but the crowd here is a mix of hotel guests and downtown businessmen and women. Cozy into one of the loveseats next to the flickering fire and order the aromatic Of Purity and Pear, made with house-infused jasmine pearl vodka, La Poire du Roulot (pear liqueur), and lemon. Those who are feeling as over-the-top as the space itself can indulge in the bar's $75 martini. The cocktail, which is also served tableside in the restaurant, is a boozy blend of Beluga vodka and blanc vermouth. The drink is garnished with caviar and Picholine olives. And then there's the bar's take on a Sazerac—the smoky rendition is not to be missed.
Drink this: Why Not a Sazerac. Served tableside in the French Room, as well. Martell Blue Swift (a bourbon-finished VSOP cognac), Peychaud's and Angostura bitters, and absinthe are stirred in a glass that's gently smoked with tobacco. $23
This 18,000-square-foot drinking and dining destination, from the team behind Bread Winners, Atwater Alley, and Henry's Majestic, offers three experiences. There's the ground-floor dining room, adorned in warm woods, brass accents, and lush houseplants. The MXM bar, next to the dining room, plays into the building's Deep Ellum location with exposed brick walls, and a steel-framed horseshoe bar. And then there's the best part: a spacious rooftop patio offers what currently stands as the neighborhood's best view of the Dallas skyline. This is where you want to sip your Paloma. Sink into the plush, patio furniture, or perch at a high-top communal table, and let the wait staff take care of the rest.
Drink this: Frozen Aperol Spritz $10
This cocktail den is sleek without being stuffy. The drinks are complex but not confusing, many of them made with toys found only at a handful of Dallas bars, like centrifuges and immersion circulators. There is even an on-site herb garden. Now, combine all this with service that is friendly rather than overbearing, and you have an exquisite night out. The brick-exposed walls and floor-to-ceiling windows place you in Deep Ellum, but this isn't your average Elm Street dive. The team here has put together a thoughtful and experimental cocktail selection. The clarified, centrifuged sips are a staple. The device rotates with enough force to extract the flavors of whatever fruits and vegetables are added and combines them with the spirits. We suggest the Blind Date: rye whiskey and medjool dates, or the Tally Man, aged rum and bananas.
Drink this: Tally Man: aged rum and bananas. $11
This spacious, industrial restaurant and bar has the quintessential Deep Ellum aesthetic. High ceilings? Check. Concrete floors? Check. Exposed brick walls? Check, check, check. But don't let the unassuming vibe trick you into thinking this is just a spot for Jameson shots and frothy pints. Sure, there's beer. Drafts are $7, but you can get a can of Lone Star or PBR for $3.50. The cocktails are really nice here, too. The bar makes a stellar Bourbon Sour with Buffalo Trace, lemon juice, egg whites, simple syrup, and Angostura bitters. The food is conducive to soaking up whiskey and beer. End your evening people-watching on the patio with an order of the panko-crusted schnitzel or house-made sausage board.
Drink this: Island 2826: rum, lime, black pepper-roasted pineapple, honey, coconut orgeat, hemp milk. $10
This Expo Park mezcaleria takes seriously its proclamation as a "shrine to the spirits of Mexico." You'll find shelves upon shelves of mezcal, sotol, bacanora, raicilla, and tequila. Belly up to the sprawling wood bar and mingle with neighborhood regulars over a flight of mezcal and house-made tamales. Or slink into the crushed blue velvet bench seating and wooden tables to sip a margarita. Not familiar with mezcal? Don't sweat it. The staff here is knowledgeable and eager to guide patrons through their over-the-top selection of spirits.
Drink this: the frozen Mangonada made with mezcal, mango, lime, and chamoy. $12
This is the most intimate bar we visited this year; it seats just four people. This cozy mezcaleria, tucked in a back room of Uptown's historic Bowen House, is adorned in multicolored Christmas lights, prayer candles, and luchador masks. It's as inviting and warming as the mezcal you're about to chase with house-made sangrita. The bar also offers up a selection of agave-focused cocktails. We recommend the Sabrina Swizzle, named for the Mazatec shaman, made with mezcal, molasses, lime juice, epazote leaves, and Swedish punsch.
Drink this: ask the bartenders for mezcal recommendations. Drink it straight with a house-made sangrita chaser. Price varies.
Walking into this bar is like walking into a friend's living room. Except your friend has excellent taste in vintage décor, an impressive record collection, and a fully-stocked bar. This Deep Ellum cocktail oasis was conceived during a trip to Paris. Romantic, right? Several Bloody Marys at Harry's New York Bar is what ultimately led to its vision. The owners even replicated the Parisian bar's recipe. They only serve the classics here, which is part of the draw. Sip a perfectly crafted Tom Collins or Sidecar. This spot has quickly become an industry favorite and is packed with familiar faces that, if you go out as much as we do, you are used to seeing behind the bar. Nestle into a barstool, order a drink, and soak it all up with the best bologna sandwich in town.
Drink this: Bloody Mary: canned tomato juice, Aylesbury Duck Vodka, Worcestershire sauce, salt, pepper, lemon juice, and Tabasco. $10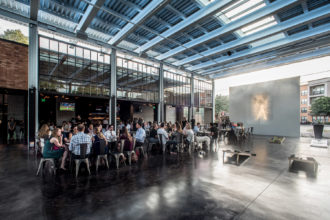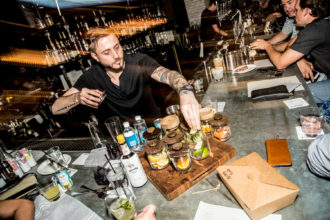 This sleek and relaxed gastropub exudes a sporty air. On any given night of the week, you can grab a seat at the bar amidst a crowd of young professionals, and watch a game on the numerous flat screen TVs. There are several whiskeys to choose from, 17 beers on draft, and one of the best burgers in Dallas. But instead of falling into full-on sports bar territory, the Design District spot incorporates elements that pay homage to its Decorative Center location. Headington Cos., which owns Wheelhouse, commissioned an 18-foot-tall sculpture titled Moving Figure by New York-based artist Daniel Arsham. The piece is the building's centerpiece. Floor-to-ceiling windows open up to a covered, concrete courtyard, illumined by aqua neon light. Those who are feeling jovial can take a stab at a game of cornhole. It's not all bourbon and beer, either. The wine list features four sparkling options by the glass, there's a lively cocktail list (two of which are on draft), and then there's frozé: an icy mix of rosé, St. Germain liqueur, simple syrup, and citrus. Wheelhouse is only sporty if you want it to be.
Drink this: Blood Orange Margarita: tequila, blood orange, lime, agave, salt rim. $10
SaveSave