If you are a regular reader of French-Fry Day, then you understand the method-less madness behind my review system. I usually order from the car, pick them up, and taste them before I put on my seat belt. I rarely plan for my weekly review. Instead, I wait until I get a sign from Axomamma, the goddess of potatoes in Inca mythology.
Yesterday was a bit odd. I have a friend in town from Australia, and he wanted to go downtown for lunch before he caught his flight back to Sydney. This put me in a mild panic. How could I combine my Thursday afternoon fry pursuit with a lovely send-off meal for my mate? I closed my eyes and asked Axomamma for inspiration. Hark! It would be lovely to sit at Klyde Warren Park and sample the fries at Relish, the small burger joint at the east end of the park. I love it when your wishes, hopes, and dreams collide with a looming deadline. It makes writing fun.
I was euphoric when I texted a gal pal who works downtown to join us at Relish. "I have a sinus infection," she said. "I don't want to sit outside." I was already halfway down the tollway to pick her up when I received her text. Instead of getting pissy, I got smart. My motto in life is "champions adjust." Within seconds, I planned to lunch at Lark on the Park and, after we were finished, I'd dart across the street to pick up fries from Relish.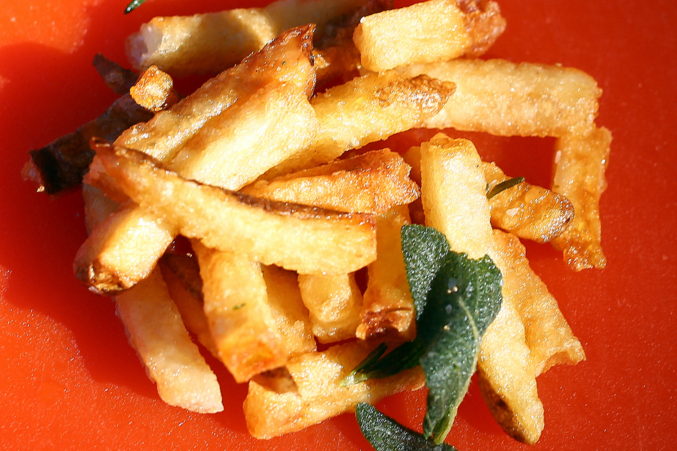 Axomamma cut me a massive break. When a burger and fries, from Lark on the Park, was set before the Sydneysider, I reached across the table and swiped half of his fries. The hot stiff soldiers were encased with a light crust that folded into a creamy, almost nutty fluff of potato. The whole order had been fried with large pieces of fresh sage and rosemary. Now it makes sense to me why the menu refers to them as frites and not French fries. This pile of thinly sliced potatoes is fancy. I suffer from rosemary fatigue, but the frying process left the frites faintly scented. The crispy bits of sage were divine.
Most of the frites were three to five inches long, most of them with strips of skin showing. As the mound decreased, we discovered a surprise on the plate. There before the three of us, and Axomamma, was nearly a handful of crunchy, crispy nubs. Less than a half an inch each, they were delicious greasy, brown bits of potato and herbs. The frites at Lark on the Park are great, but the abundance of nubs pushes this fry experience to sheer bliss. I chopped up the leftover fries and swirled them into a cheese omelet for dinner last night. You can thank me later.
Get the SideDish Newsletter
Dallas' hottest dining news, recipes, and reviews served up fresh to your inbox each week.