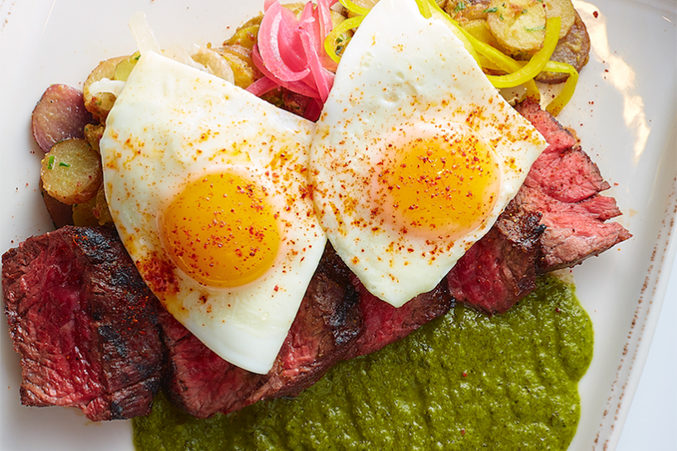 Eat This Now: Bavette Steak and Eggs at Overeasy
This impossibly chic diner food is a must.
This is how chef Graham Dodds does steak and eggs: with an extraordinary bacon jam and Creole mustard; with a vibrant chimichurri and a tri-color fan of house-pickled onions; and with perfect medallions of marble potatoes, like sautéed coins of good fortune that somehow found their way to your plate.
I expected no less at Overeasy, The Statler's all-day, retro-chic diner that now has Dodds at its helm. Yes, the biscuits with their buttery heft are divine. Yes, the avocado toast is photo-worthy. Still, it's the first time I've ever thought a plate of bavette and farm-raised eggs was too pretty to eat. The cut is thick and rosy, the plate a far cry from the breakfast for dinner you've whipped up in a hurry.
So, to you holiday shoppers, pounding downtown's sidewalks, harried and haggard. You, whose bodies and souls are barely holding together under the crush of the season and its parcels. May I suggest, maybe this is the pretty sustenance you need.