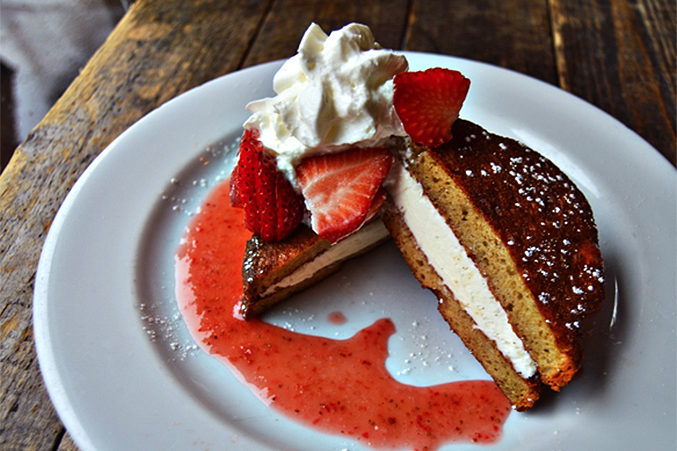 Eat These 5 Over-the-Top Dallas French Toasts
The sweet breakfast dish has been taken to the next level.
By Reese Bobo
Published in Food & Drink
November 16, 2017
10:40 am
French toast is an indulgent breakfast dish we can't seem to get enough of. While any slice of bread griddled in copious amounts of butter is sure to be worth eating, we've compiled a list of five, unique takes of the dish. So add these spots to your list, and get brunching.
Stuffed French Toast
Company Café
This Lower Greenville spot is any farm-to-table aficionado's dream. Serving comfort food with a healthy twist, the Company Café is an avid supporter of local small business. With a self-described "kick-ass brunch" available seven days a week, it's the perfect spot to satisfy your Tuesday French toast craving. Chef Nathan Tate dips Brioche from Esmeralda's bakery in a mixture featuring nutmeg, orange zest and cinnamon, prepares it on a cast iron griddle, and tops it all off with mixed berries, house-made whipped cream, bananas, Texas pecans, and real maple syrup. The result? Instant happiness.
Strawberry Shortcake French Toast
Saint Ann Restaurant and Bar
Originally a school built in 1927, Saint Ann's historic Harwood District digs offers one of the best patios in Dallas. Modernized with chic wood paneling and a lush foliage covered wall—perfect for Instagram—this semi-casual yet refined spot is open Monday through Friday for lunch, and every day for dinner and drinks. We think, however, that the brunch takes the cake. Saint Ann uses extra thick slices of Brioche in its strawberry shortcake French toast, griddling it until golden brown and slightly crisp. After stacking it high and drizzling it with real maple syrup, the dish is topped off with a dollop of house-made strawberry mascarpone. Fruity.
"Famous" Challah French Toast
Kozy Kitchen
Sometimes simple is better, and the aptly named Kozy cooks up a simple French toast which rivals even its most extravagant counterparts. Offering an eclectic, ingredient-conscious menu, breads are painstakingly homemade and meats are grass-fed. Starting with fresh Challah toast, thick slices are coated in a mixture of cinnamon, milk, and egg, then toasted up to the ideal golden brown hue. Topped off with powdered sugar and strawberries, this French toast is reminiscent of childhood Sunday brunches. Don't tell mom, but Kozy Kitchen's brunch may have just won your heart.
Caramelized Banana French Toast
Al Biernat's
Al Biernat's never seems to disappoint. Brunch is no exception. Opening his namesake restaurant in 1998, the steakhouse soon climbed to elite status. Go to the original Oaklawn location or the new North Dallas spot to grab some of their famous caramelized banana French toast. With hints of citrus, coriander seeds, and star anise, Executive Chef Anthony Van Camp expertly cooks slices of Brioche to perfection and tops them with fresh house-made Chambord cream, warm caramelized banana slices, and blackberries. Don't worry—we wont make you share.
Challah French Toast Sandwich
Coffee House Café
This casual spot features a post-roast espresso blend boasting grounds from three different coffee-growing continents. Bring your dog, enjoy a cappuccino, and listen to live music every weekend. We think, however, that the challah French toast sandwich steals the show. This may not be the dish of choice for French toast purists, but it would be sacrilegious to ignore this sweet and salty combo. Empire Bakery sliced Challah is soaked in an egg mixture with hints of vanilla and cinnamon, then griddled. Bacon, cheddar, and a cage-free over medium egg are sandwiched between the sweet slices, creating the perfect combo. Grab some extra napkins—this one's gonna be messy.