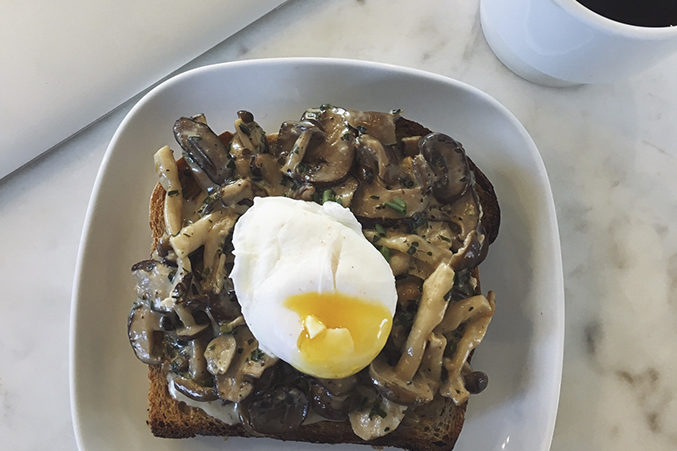 Eat the Mushroom Toast at Local Moto + Provisions
Sourdough bread should always be buried under fungi.
Several years ago, somebody told me that if you have an aversion to a specific food, you have to eat it 11 times before your palate accepts it. I despised mushrooms at the time and the fact that there was a food out there that I wholeheartedly disliked really bothered me. Love was certainly out of the picture—or so I thought. I just wanted to learn to tolerate the fungus.
I had no idea if this logic was backed by science, but I made it my mission to find out. I plucked fungi off friends' plates and squeamishly chewed through their earthy flesh. I imagined, at the time, that this is what julienned troll feet must taste like. My mind kept returning to one day in middle school science class when we learned about spores. I remember staring at the black and white depiction of a mushroom gill and shuddering. Something about the lamella's texture really grossed me out. My first memories of eating mushrooms didn't help, either. I recall dodging slimy gray hunks in various casseroles and shoveling them onto my sisters' plate. She loved mushrooms. I considered her a freak.
It wasn't until I decided to face my aversion that I was exposed to the full, dynamic range of edible fungi. I started small, with cheese-stuffed mushroom caps. Cheese makes everything palatable. I worked my way up to enoki and then morel and oyster. I don't recall a specific moment when the shift happened. But disgust turned into acceptance, which soon evolved into appreciation. Before I knew it, I was frequenting Small Brewpub for Misti Norris' wild mushrooms. The fungi were lightly pickled in bourbon-barreled soy brine and fried in rice batter. I still daydream about that dish.
I stopped by Local Moto + Provisions on Beckley Ave. in Oak Cliff over the weekend. The full-service vintage motorcycle shop and coffee bar is run by Ben and Tiffany Johnson, who also own neighboring Local Press + Brew. I looked over their offerings, and, without hesitation, ordered the mushroom toast. The bite was added to the menu last month and can be found at both shops. A thick slice of sourdough from D's Breads comes buried under a mound of crimini, shiitake, and shimeji. The mushrooms are sautéed in organic butter and crème fraîche and sprinkled with fresh herbs. I added a poached egg—it was a great decision.
If you eat bread and like mushrooms, then you should absolutely try this toast. And if you don't like mushrooms, then maybe try it anyway. Who knows, it could be the dish that shifts your palate.