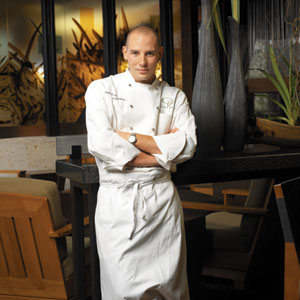 The climate of the Dallas restaurant business is stormy on a good night. Strong southern winds are blowing talented chefs to the north to feed the emerging restaurant market. Last night I learned Aaron Staudenmaier, the chef recruited by Tracy Rathbun and Lynae Fearing to open Lovers Seafood and Market, has jumped ship. According to a report on  Escape Hatch , Staudenmaier is joining Front Burner restaurant group as the corporate chef for Whiskey Cake.
I'm sure Staudenmaier didn't make this move lightly. He goes all the way back to the early days of Abacus with Kent Rathbun. I called Tracy. I expected her to be upset. Instead she was authentically cheery and excited. "We have a great culinary team here between Shinsei and Lovers," Tracy says. "We are happy for Aaron. Front Burner will be a fun challenge for him."
I didn't need to call Staudenmaier. He conveniently conducted and posted his own press conference on Facebook last night.
Well, I was going to wait another week to say anything, but Mike is right, I have taken a position as concept chef of Whiskey Cake. I am excited about the future with them and am looking forward to making the brand as strong and successful as possible. I am also extremely grateful for my time with Kent Rathbun, Tracy Moore Rathbun, and Lynae Fearing. They are a fantastic group of people that I consider lifelong friends and will undoubtedly be cooking with in one way or the other in the future. I wish the amazing teams at Shinsei and Lovers absolutely nothing but the very best.

FAQs and answers:
1. Who is the new chef?
I don't know at this point. The Rathbun/Fearing clan is putting together a plan and has plenty of solid options.
2. OMG! What happened?!
Nothing special. I found an amazing opportunity that I wanted to pursue. Probably the same reason you last changed jobs.
3. What's going to happen to the goodlucktopus?
We're in contract negotiations. I've offered him a position as a nanny to help keep the hot girl, Danielle Staudenmaier, company while I travel for Whiskey Cake. I'm still waiting for his answer. I hope I didn't make the salary offer too low.
4. What about the tacos and beer for the Yelp contest?
Yes, Kevin Watson, if I win, I will honor the commitment to stuff the staff full of tacos and beer.
Expect sunny skies to prevail until Front Burner knocks on another door.
Get the SideDish Newsletter
Dallas' hottest dining news, recipes, and reviews served up fresh to your inbox each week.