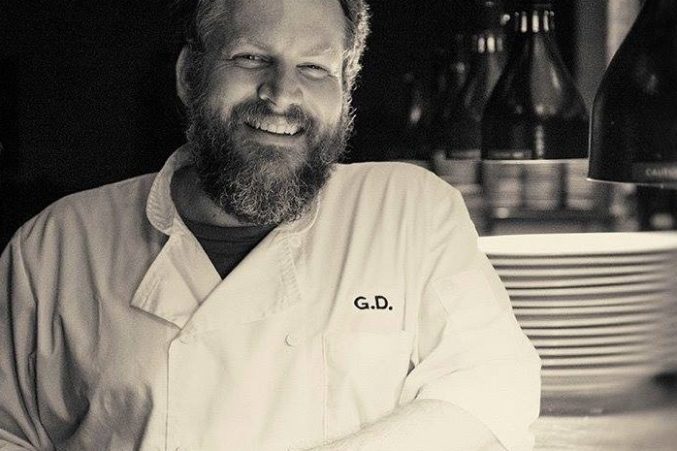 Catching Up with Chef Graham Dodds
This seasoned Dallas chef is now overseeing the ambitious dining project at the Statler hotel.
Since Graham Dodds landed in Dallas, he has worked his way across the city. From his time at Dragonfly to his new post as the Culinary Director of the Statler hotel downtown, Dodds has focused on local and sustainable food. Dodds was one of the first chefs to draw attention to sourcing locally during his time at Bolsa. These days Dodds spends a lot of time in tastings rooms and on the Tollroad to Celina where he is working on a new restaurant. I managed to snag him last night. Here's what he had to say.
NN: I first met you when you were the chef at Bolsa, and you were making honey from a bee hive in your yard. Where were you before Bolsa?
GD: Before Bolsa, I was with Marc Cassel at Dragonfly at Hotel Zaza for almost four years. That's where I met Chris Jeffers and Chris Zielke, and we all opened Bolsa together. I had recently moved back from the Northeast after working seasonal jobs in Martha's Vineyard and Vermont.
NN: Bolsa was the first restaurant to highlight the farm-to-table movement in Dallas. I've referred to you before as the grandfather of eating locally. Looking back, it's hard to believe that was maybe nine years ago. What lessons have you learned about Dallas' ability to provide local products throughout the year?
GD: Why do I have to be the grandfather? Am I that old? I'm flattered really, thank you. Sourcing food is one of my passions. I really want to feed people healthy ingredients that I know how and where they were produced. I really don't trust big factory farms. I don't think it's a sustainable practice to abuse our land and water that way and that desperately needs to change. I want to nourish people with the freshest food I can find, and there is tons of that right at our back door. As far as Dallas' ability to provide the local products, it's all here. We have so many family farms, and they are growing amazing things. Dallas has to support it more. Growing food this way is more expensive, and restaurants have to charge more for it. This needs to be important to people! Cheaper food is not a good route! As Joel Salatin says, "If you think organic food is expensive, have you priced cancer lately?" Of course, there are certain times of year that have challenges for crops. August and February aren't easy, but they're a hell of a lot more temperate than somewhere like Vermont which has a spectacular farming community.
NN: I write a lot about chefs who jump around. You've done your share of moving yourself from kitchen to kitchen. Off the top of my head, I can name Bolsa, Central 214, Hibiscus, and Wayward Sons. What restaurants did I miss?
GD: This is a very transient business, but I am a fan of staying somewhere for an appropriate amount of time. I often tell my cooks that they need to stay until they've learned everything they can learn from the place. I've done some time at some places: multiple seasons at The Inn at Shelburne Farms in Vermont, multiple seasons at The Harbor View Hotel in Martha's Vineyard, almost four years at Dragonfly, and almost four years at Bolsa. I've had some shorter stints and not necessarily by choice, but more so for extraneous circumstances. There was a re-concepting on the table at Central 214, but that petered out, and it eventually became Knife. I was at Wink in Austin for a short time, but Austin was a difficult place to live then, and nobody left management roles.
NN: Honestly, I thought you were a perfect fit at Hibiscus. I thought Hibiscus was a quintessential Dallas restaurant and I was sad to see it close. Why do you feel it stopped working?
GD: I absolutely loved my time at Hibiscus. Tristan Simon is truly a visionary, and he pushed all of us in the company to fanatically source our ingredients and cook to our respective spaces. He always said to us, 'Make the food that belongs in this room.' He let me scrap the old standbys and reinvent the place. I had a great team of passionate cooks and extremely professional servers to back it all up as well. That dining room is one of my favorites in this city. It feels timeless, and it feels like it could be anywhere in the world from Napa Valley to the South of France. The charcuterie program was next level, and my right-hand man Nick Ocando is so extremely talented, masterful, and committed. I'm so bummed it closed, I thought it would grow old like The Grape, and I would be on Henderson Avenue for another 30 years.
NN: I also liked the food you put out at Wayward Sons. Since it closed, you seem to have shifted from being an executive chef to a consultant. The first consultation you announced was The Farm Stand Café & Market at Light Farms in Celina. I drove out there a couple of months ago, and the place looked deserted. Is this project still a go for you?
GD: Wayward Sons was very much a labor of love. I really wanted to translate my locally handmade fare into a neighborhood format for East Dallas much like I had done at Bolsa in 2008. We worked very hard at preparing such a vast amount of meticulously made-from-scratch food for a large dining room. It was a great space, and I loved having the garden there, but the restaurant was just so big. I'm wondering when the small 40-seat restaurants are coming back? Does everything have to be so big in Texas? Can't we have our beloved York Street-type places back?
I really enjoy the consulting projects, and it's a nice break from working nights all the time. You just never know when your next consulting project is coming. Light Farms is ramping up now. It had a lot of construction delays. I'm really excited about being involved in this. Tony Ruggeri, the Co-CEO of Republic Property Group, has a different way of looking at things. I admire what he is doing there. He wants to create a special place for this small community to enjoy. It's very different from the anonymity of Dallas dining where you see so many different guests' faces every day. In Celina, it will be the same group of people enjoying a social space. It feels substantial and genuine.
NN: On a personal note, I noticed on Facebook that you and your extended family took a holiday to Scotland and Ireland. Can you tell us about your roots there and a few of the culinary highlights of the trip?
GD: Yes! Such a fantastic trip! It was mostly spent in Scotland and England with a few days in Ireland at the end. It was my parents 50th anniversary so we traveled to the town on the border of England and Scotland called Berwick-Upon-Tweed where my Grandparents on my mother's side lived. We used to go there every summer growing up. My parents always said the trip was for speech therapy, so we didn't end up talking like Texans.
We assembled a hundred family and friends for the celebration, and we bought out a beautiful hotel in the country that we used to go have "fancy dinners" at as kids. It was wonderful going back and seeing it all now plus we got to see our childhood friends and catch up with all the relatives.We all dressed up in our kilts and drank way too much whisky. Culinary highlights were pretty scarce as we were feeding picky kids, so we had to keep to places they would eat. I got my share of fish and chips and ate my weight in Scottish butter tablet which is kind of their version of fudge.
NN: Has anyone ever told you that you are a glutton for punishment? Your new position at The Statler is ambitious, to say the least. Describe the project and your duties.
GD: Oh yes that's me to a T. I always like to make things interesting, challenging, and mildly overwhelming. Anyone who has worked with me knows this. I push the limits of what we can do as a kitchen and put a whole lot of effort into each component of each dish. It keeps us all striving to do better! I'm extremely grateful that we are opening the hotel in phases, I'd be so screwed if it were all of these restaurants opening at once. It's nice to be able to focus on them individually to some degree. I'm the Culinary Director for the whole hotel, so I'm in charge of all the food for all of the outlets.
We've got a really great team, and I'm very excited about every concept under this roof. The diner concept called Overeasy is already open, and I'm happy with how that is going. It's kind of a never-ending brunch, but I do love that genre of food. I've always been obsessed with the restaurant Egg in Brooklyn, so I have some odes to them on my menu. I've pulled out some of my own all-time favorite dishes from over the years and mixed them with some new ideas that have become best sellers already. Robert McKee is heading that spot up, and he was with me the whole time at Wayward, so he's got it all dialed in. He works so hard.
I am working on the Scout menu next with chefs Kevin Krska. Scout is going to be so fun. Angela Hernandez and Josh Bonee are doing their first tasting for Fine China tomorrow.  I'm stoked to be working on a cool updated version of that type of fare. Fine China will become a dining destination. Josh and Angela are working on some mind-blowing flavor combinations and techniques right now. Fun and exciting project for sure. My best friend Patrick Dunne always says this about my life, "It's always the same thing with you—variety."