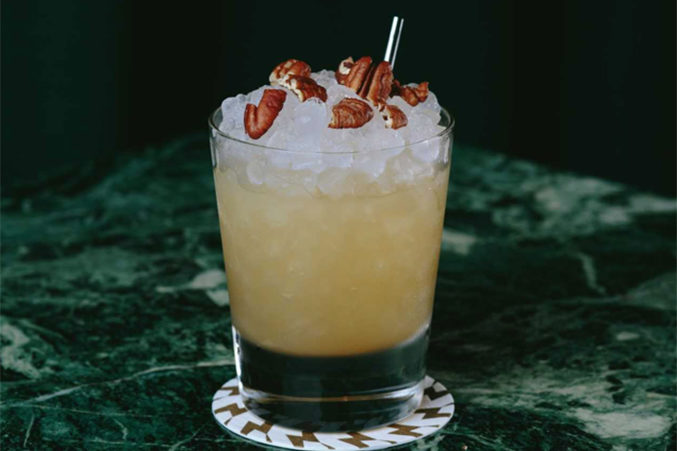 6 Dallas Holiday Cocktails to Drink Now
Treat yourself.
By Megan Ziots
Published in Food & Drink
November 30, 2017
11:00 am
These local bars are getting into the holiday spirit by concocting some new drinks for the winter season. Cheers.
Midnight Rambler: Hot Buttered Soul
The craft cocktail salon at The Joule is offering a festive drink named after the Isaac Hayes album. This soulful fix includes brown butter bourbon, pecan orgeat, lemon, cinnamon, and cayenne pepper. The brown butter bourbon is made in house by fat-washing bourbon with brown butter. The pecan orgeat is also made in house by roasting pecans and blending with brown basmati rice and cassia bark to get the nut-rice milk. It is then filtered, clarified in the centrifuge, and sweetened.
Mansion Bar at Rosewood Mansion on Turtle Creek: American Toddy
Delight in the winter season with the American Toddy from the Mansion Bar. The cocktail features Laird & Company's Apple Jack, honey, holiday tea, and apple. The holiday tea includes steeped orange slices, cinnamon sticks, star anise, cloves, and allspice. Inspired by  the festive holiday season, the American Toddy is available throughout the winter season.
HIDE: Rum-Pa-Pum-Plum
This Deep Ellum bar is known for its creative and experimental cocktails. This holiday season, they've concocted the Rum-Pa-Pum-Plum, which includes rum, plum, vermouth, Oloroso sherry, Sfumato, and mulling spices. The inspiration for the ingredients stems from the holiday classic poem "The Night Before Christmas," which describes sleeping children having "visions of sugar plums." The name is inspired by the classic holiday song "Drummer Boy," which has the syncopated lyrics "Pa rum pum pum pum" to describe the little boy's drumming cadence. The drink is served in a chilled coupe glass.
The Standard Pour: The Polar Express
Located in Uptown, The Standard Pour is a self-proclaimed "cocktail den." For the month of December, TSP is offering a cocktail inspired by the Christmas movie, and book, The Polar Express. Based off of a traditional Irish coffee cocktail, the drink includes bourbon, Ancho Reyes, espresso, burnt-sugar syrup, chocolate bitters, and Fernet whipped cream.
Black Swan Saloon: Jack Son
Black Swan Saloon has been cranking out cocktails in Deep Ellim since 2010. This winter, the bar is serving a rum hot toddy called Jack Son to keep you warm. Ingredients include Cana Brava 7 Year Rum, chai tea steeped Overproof Rum, fresh orange and lemon juice, maple syrup, hot water, and clove spiked orange peel.
The Pharmacy:Blitzen 52
Starting mid-December, this alcoholic milkshake joint will be offering a new hot cocktail called Blizten 52. It's a coffee-based drink with Bailey's, Kahlua and Grand Mariner with a whipped cream topper.