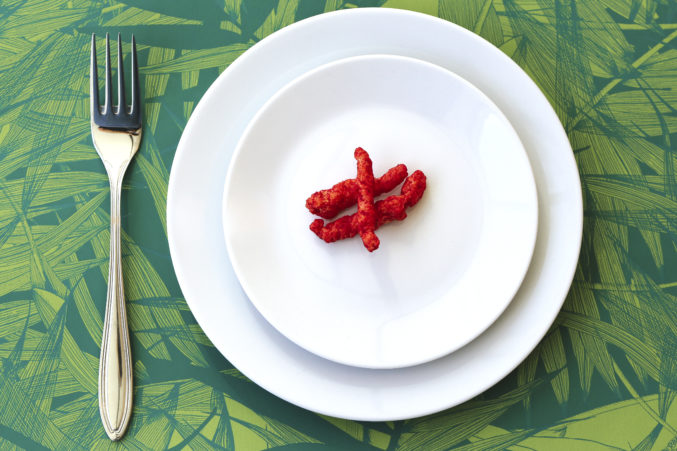 Dallas Chefs Dish On Their Favorite Gas Station Grabs
What do these gastronomical geniuses reach for in a pinch?
The mythology surrounding the full moon's effects on human behavior is steeped in tales of lunacy, fertility, and insomnia. And while there isn't any conclusive evidence to prove that the lunar cycle can, in fact, drive a person to madness, there's no denying that I was a woman possessed during this month's harvest moon.
No, I did not transform into a bloodthirsty lycanthrope. Although this story would be so much cooler if I had. No, I did not howl into the night sky. I don't think? Yeah, I'm pretty sure I didn't. No, I did not light a candle and release all of the negative energy that I've been carrying around with me into the ether. But that sounds nice and I think I'll give it a shot next time.
The hysteria I experienced was subtler.
Under the luminous glow of the harvest moon, I took off on foot and into the night. My path, illuminated by a silvery lunar gleam—and also street lamps—was mostly paved and easy to navigate. My journey was short. Like, less than two blocks. But I did have to cross a street. My mission was entirely superficial and self-serving.
Where was I headed? 7-Eleven.
Once inside, under the fulgent florescent lights, frenzy set in. I needed a fix. Something crispy. Something to offset the salad I'd eaten just hours before. Something to sate my ravenous longing for cheese powder and Yellow 6. And before I could second guess my actions, I felt my hand reaching for a bag of Flamin' Hot Cheetos.
I checked out and tore into the pouch before exiting the gas station. Each fiery crunch filling a void that can only be satisfied by a midnight snack. I sauntered home, licked the crimson food coloring from the tips of my fingers, and felt the madness fade. I blame the moon.
My go-to gas station grab has always been Flamin' Hot Cheetos. Occasionally I'll throw a bag of beef jerky into the mix. But there's something inexplicably satisfying about those spicy, cheesy corn nuggets. It got me thinking about what other people, who are regularly surrounded by exceptional food, reach for in a pinch. I contacted a handful of Dallas chefs and restaurateurs and asked them to divulge their guilty pleasures. This is what they had to say.
---
"When I'm in a bind for time before work, I'll swing by 7-Eleven for a coffee and a triangle tuna fish salad sandwich. [I'll] stuff the sandwich with potato chips and douse it with Tabasco. This has gotten me through many long work days. I enjoy it because it's quick, simple, and kind of nostalgic of the tuna fish salad my mom would make, loaded with lots of mayo." – Angela Hernandez, chef at Fine China
"My favorite gas station junk food would have to be chicharrones. My dad turned me on to them at a young age. Any road trip, picnic, or fishing trip we would always have them. How can you not love those crispy, airy, pieces of pork fat! They are great alone, with a little bit of your favorite hot sauce, or you can really go all out and load them up like nachos with shredded pork or beef and melted queso." – Sonny Pache, chef at Ocean Prime
"Sour apple and cherry slush and a bag of berry Fruit Snacks because I love the way they smell!" – Misti Norris, chef
"Voodoo Chips and Haribo gummy bears, hands down! Best chips on the planet and you can never go wrong with gummy bears—they make me happy." – Doug Pickering, owner/executive pitmaster at Ferris Wheelers Backyard and BBQ
"Reese's Peanut Butter Cups, it's my guilty pleasure. I like to buy myself a package and enjoy." – Bruno Davaillon, chef/owner of Bullion
"In Oxford, Mississippi there's a Chevron station on the corner of University and Lamar that locals affectionately call 'Chicken on a Stick.' After a night out on the town square few things are as satisfying as a ten-inch skewer of chicken tenders and maybe a pizza roll (some sort of hybrid egg roll/piece of pepperoni pizza). Local options would be The Fox off Harry Hines for tacos and a Topo Chico." – Ryan Barnett, chef at LARK on the Park
"I'd say the elotes at the Valero at Sylvan and I-30." – Graham Dodds, chef at The Statler
"My secret splurge, and usually if I haven't eaten, is Spicy Nacho Doritos or salt-roasted almonds. Who doesn't love Doritos? And salty nuts are always good." – Matt McCallister, chef/owner FT33
"When we're on a road trip, Funyuns and Munchos chips from the gas station are my guilty pleasure." – Diane Fourton, owner of Pecan Lodge
"Hot Cheetos and cheese! And a Miller High Life." – Kyle Noonan, restaurateur (The Rustic, Bowl & Barrel, Mutts Canine Cantina)
"I'm diabetic so gas station impulse buys carry even more weight. Any other answer than 'Ferrero Rocher truffles' is subjectively and objectively incorrect. It's like a little one dollar taste of Paris right next to the rotating hot dogs." – Jon Alexis, owner of TJ's Seafoood
"I am quite easily drawn to the jagged jetty of my demise by the siren song of the roller grill. There is something delightfully raunchy in perusing then devouring manufactured foodstuffs off a sizzling roller grill. I feel ashamed, like I should consume my bounty with a napkin draped over my head as though I were hiding from the sight of angels while partaking in a ptarmigan ritual in a clandestine Chaine de Rotisseur temple." – Brian C. Luscher, chef/owner The Grape
"7-Eleven frozen Snickers and Blue Monsters" – Anthony Van Camp, chef de cuisine at Al Biernat's