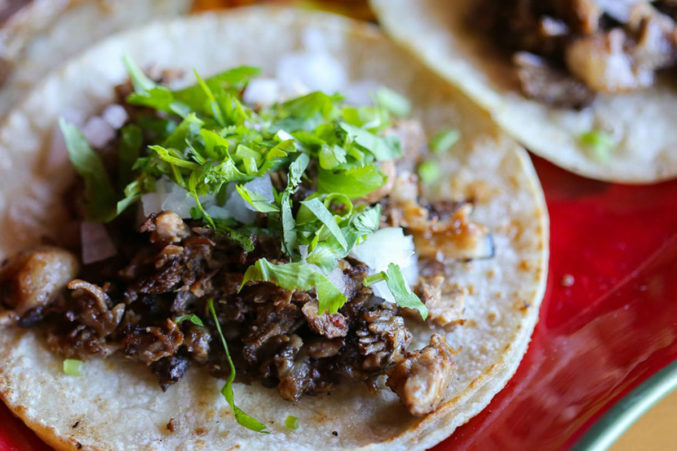 Celebrate National Taco Day at These Dallas Restaurants
Taco bout an excellent food holiday.
By Reese Bobo
Published in Food & Drink
October 4, 2017
12:20 pm
Today is National Taco Day, people. That's right, an entire day devoted exclusively to tacos. Here's where to celebrate.
El Come Taco
Founded in 2013, El Come Taco sticks to their Mexico City roots, offering traditional, flavorful beef, pork, and chicken, served in corn tortillas with cilantro and onions. Stop by on National Taco Day and grab a $5 frozen margarita or a $3 Mexican beer. Take a step out of your comfort zone and order a grasshopper taco, available for $3 on Wednesdays. Come on, it won't bite.
Taqueria la Ventana
Self described as "funky," this spot always delivers authentic Mexican fare. Fresh corn tortillas, salsas, and churros are made onsite daily, so Taqueria la Ventana is sure to please even the pickiest of taco aficionados. On October 4, enjoy an all-day happy hour featuring $2 beers, margaritas, and michelada. All tacos are also reduced to $1.95 from open until close.
El Fenix
Ah, El Fenix. A Dallas staple with rich history. Founder Miguel Martinez came to Dallas from Mexico in 1911. He supported himself by running a hole-in-the wall in "Little Mexico" called Martinez Café. Martinez's food soon became a hit and he opened the first El Fenix in 1918. El Fenix continues to thrive today—winning Best Tex-Mex and Best Margarita in our own Best of Big D multiple times—and is the ideal spot for a fun Friday night dinner with friends. On October 4 grab a coupon from their website and enjoy $4.99 taco plates.
Resident Taqueria
Chef Andrew Marc Savoie boasts an impressive resume, having worked with the likes of Chef Patrick O'Connell at Inn at Little Washington and Chef Jean-Georges Vongerichten at Trump International Hotel and Tower in New York. Luckily for us, he and his family landed in Dallas' Lake Highlands neighborhood, where he promptly founded Resident Taqueria. The menu is small but mighty, featuring braised short rib tacos and house-made chorizo. National Taco Day at Resident Taqueria will be a multi-day affair, as Chef Savoie plans to release a Duck Taco served with pickled red onion, cabbage, and salsa verde from October 2 through October 7. While you're there, be sure to grab a hibiscus margarita. The cocktail is only available for the month of October.
Tacodeli
You can let your imagination run wild with Tacodeli's build-your-own tacos option, but the menu items are so irresistible you probably won't have to. Offering all-day breakfast tacos, a full menu of lunch tacos, and award-winning salsas, Tacodeli caters to nearly every palate. Dragging your health-freak friend out to lunch? Suggest the Space Cowboy, stuffed with roasted portobellos. Tacodeli is also extending its National Taco Day festivities, offering a special Pollo en Achiote taco topped with cebollas curtidas throughout the month of October.
Tacos Mariachi
Tacos Mariachi has a cult-like following, and for good reason. The tacos are bursting with expertly blended spices and intermingled flavors drawing on Tijuana street fare. While they specialize in seafood tacos, whatever you order is sure to impress. Chat with owner Jesus, and he'll gladly talk through the inspiration for the Baja menu. Tacos Mariachi is featuring an off-menu favorite for National Taco Day. Dubbed the "Vicki Oh!", it is piled high with roasted portobellos, poblano peppers, house-made chorizo, sliced avocado, and crema fresca.
Urban Taco
Looking for a trendy sit-down spot? Urban Taco is your place. While tacos are always a good go-to, Urban's exquisite ceviche and cheesy quesadillas hold their own. The drink menu, however, steals the show. Instead of an original margarita, get the hibiscus, guanabana, or ginger-jalepeño varieties. Better yet, grab some friends and try them all during all-day happy hour every Thursday, featuring half off margaritas and mojitos. On National Taco Day, all tacos will be $4—half of which will be donated to Fundacion Carlos Slim in Mexico to assist in earthquake disaster relief. Dig in, and support a great cause!
Revolver Taco Lounge
Revolver offers an experience unlike any other in the Dallas area. Featuring one long communal table, eating-in feels more like a family meal than a small, private lunch. Te sense of community which it fosters is unparalleled. And so is the food. With menu items such as the Wagyu Lengua taco (beef tongue), Revolver pushes you out of your comfort zone in more ways than one. Revolver is offering $2 tacos and $2 Mexican beers on National Taco Day.
Tacos and Tequila (TNT)
Everyone's favorite rooftop spot for tequila-laden libations is taking National Taco Day festivities to a new level this year. On October 4, an $8 ticket admits you to the ultimate taco extravaganza, featuring a Street Taco Fresh Market Buffet. Starting at 5 p.m., load up homemade tortillas with jicama slaw, chicken verde, and anything else your heart may desire. Looking for something more action-packed? At 7 p.m. on the rooftop patio, watch the first annual TNT Taco Eating Contest, sponsored by Suerte Tequila, where five brave contestants fight to consume as many street tacos as they can in five minutes. Make sure to try the barbecue pulled pork taco; it's one of TNT's most popular. With slow roasted pork and pineapple habanero barbecue sauce, it may just become your new go-to.