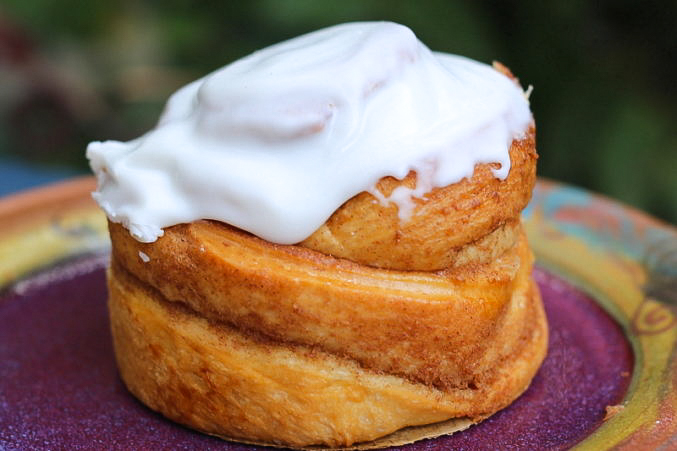 The Cinnamon Roll at Main Street Bakery is a Must-Try
The buttery rich brioche dough has swirls of cinnamon and brown sugar. Enough said.
Last Friday was an unusual day around here. After days of watching hurricane coverage and worrying about our neighbors, friends, and animals in South Texas, we were blindsided by a gas shortage. I was scheduled to head to Grapevine to do some research on an upcoming story for D Magazine and, instead of heading west to do my job, I found myself circling my neighborhood looking for gas. It was surreal. Lines clogged major intersections. People stood outside their cars chatting. Others chose to throw gas at each other a fight for a spot in line. Crazy times.
Instead of burning fuel to look for more, I decided to head to Grapevine. If I was going to run out of gas, I figured I'd be better off on Main Street. I knew I would eat well and could find a nice place to lay my head for a night or three if I had to wait to fuel up.
I love Main Street in Grapevine. Especially during the Christmas holidays. It's festive and cheerful. And, other than the 93-degree heat, the vibe on the street last Friday was festive and cheerful. People perused the boutiques and shops, sipped wine at the tasting rooms, and shopped for late-season produce at the outdoor farmers market.
Somehow, I found myself standing in front of the pastry counter at Main Street Bakery. I don't think I'd been in the bakery since they opened in 2000. At the time, the sophisticated pastries, baked goods, and breads were the most sophisticated versions in the region. They have grown from a bakery to a full-service bistro. And the place was almost full at 3 p.m. on a Friday.
I'm not much of a sweets eater. But when I decide to go down the sugar highway, I go in a big way. I surveyed the tarts, muffins, kolaches, and pastries for ten minutes before two stunning sweet rolls caught my eye. As the nice lady slid them into a box, I wondered if I should sit down and order a mimosa to go with one. I'd save the other one for coffee in the morning. But the dining room was crowded, and I longed for a peaceful spot to savor my sugar rush. I headed across the street to the gazebo.
They were both gone in ten minutes.
I loved the cinnamon rolls at Mecca. They were big, juicy, and heavily iced with cream cheese frosting. I also adore the sticky buns at Crossroads Diner, but they are a different animal. The cinnamon rolls at Main Street Bakery fall in the middle of these two decadent creations. The buttery rich brioche dough has swirls of cinnamon and brown sugar, but it is not too sweet. The top of the roll has a light layer white cream cheese icing. And like most great pastries, the big surprise comes from the what is hidden inside. Once you break this roll open, you find a lovely center of cream cheese icing laced with cinnamon. One roll is $2.65 which is about the price of a gallon of gas. The good news is you don't need to drive around to find it.