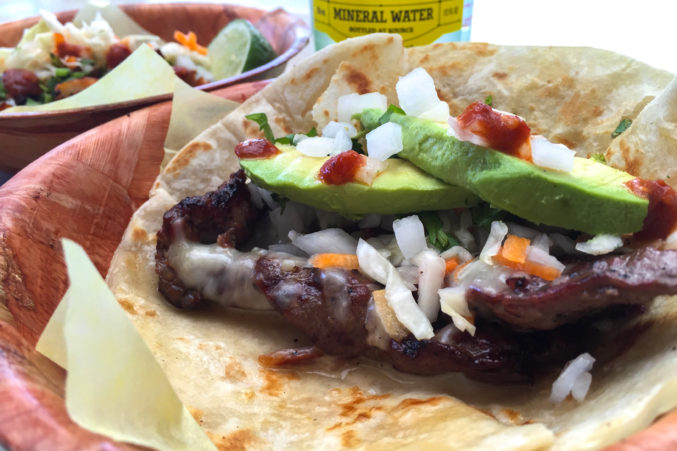 Salsa Limón Serves Odes to the Bronzed Flour Tortilla
Start with the semi-off-menu El Campeon. And Instagram the architecture.
When Fort Worth's popular Salsa Limón opened a downtown location, I was glad to be getting a spot for lengua tacos and maybe tripas and a tall glass of horchata—which anyone who knows the fresh and popular taco shop's reputation would suspect it would be.
The place affectionately known as "Salsita" has completely reanimated its retro digs on a once-ho-hum strip of Akard. At night, the exterior with its pillars recalls Edward Hopper's Nighthawks, a diner eerily and dreamily lit. But during the week, the place jutting out on a corner is bright and busy with a lunchtime crowd. Red diner-like accents are cheery, and floor-to-ceiling windows are the backdrop for colorful artificial flowers strung like lais. The way it repurposes the Mayflower Building's '80s architecture is, to me, the model of a perfect redesign.
And here is the soul of the place. If you're ravenous, it is the El Campeon: slow-cooked barbacoa, fried egg, cheese, avocado, refried beans, and Spanish rice touched up with bright, fresh notes of cilantro sauce, rolled in a flour tortilla, burrito-style, and griddled on the flattop.
"As seen on TV!" the menu proclaims, and worth the $10 splurge I decided in light of the bronzed freight my friend cradled with both hands. The barbacoa was ridiculously rich and tender. A few bites down, the fried egg yolk oozed in the most delicious, desultory way. Pockets of rice and beans and cheese and ripe avocado appeared and played in different configurations, so every bite draws you in. It's a ridiculously good, semi-off-menu item that takes the El Capitan (a griddled tortilla filled with your choice of carne), crosses it with a burrito, and adds an egg and some bravado.
Are the tacos better than your average taco? No, not if you've gone for the corn tortillas, of which we have many fine iterations in the city. At Salsa Limón, the finest things come folded in a bronzed flour tortilla. A quesadilla, maybe, buttery and toasted. Or a taco, its meaty contents sunk into a drift of Oaxaca and Jack cheese. If you've ordered the Campechano at Trompo on Singleton, you'll recognize the nods to the northern Mexican style, where everything is blond and griddle-toasted.
Meanwhile, the horchata is excellent, all the cozy flavors of rice pudding, the house version adding coconut cream for extra creaminess. As is the fresh-squeezed orange juice. (If you thought orange juice was only for breakfast, this all-day menu is the place to rethink that. It's actually the perfect thing to wash down the El Campeon.) There are bowls and salads and tortas. A long list of add-ons ("supplementos") means you can abandon simple street-style for a mix-and-match bonanza.
So assemble a checklist. Does your order include barbacoa or the excellent asada? Check. Have you taken them up on their offer to add a fried egg to absolutely anything ("bomba style")? Check. And most importantly, does your order come in a bronzed tortilla?
We've got tons of good masa now in Dallas. Here, Instagram the tabletops and go for the flour.