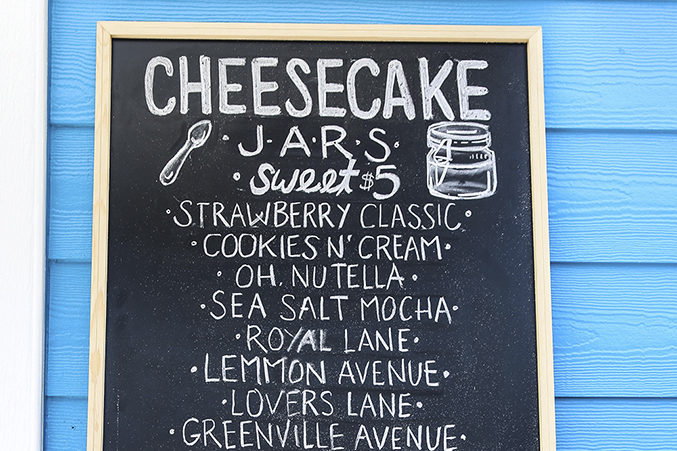 Val's Cheesecakes to Open Second Location on Greenville Avenue
Expect full cakes, slices, jars, and ice cream.
Val's Cheesecakes opened in the tiny hut at 3906 Maple Avenue next to the Grapevine Bar in June 2015. The sweet and savory cakes have been selling like, well, hotcakes. Okay, that was terrible. But in all seriousness,  Val's Cheesecakes owner Valery Jean-Bart was recently able to quit his job as a civil engineer to pursue his passion for baking.
Jean-Bart is gearing up to open a second location of Val's Cheesecakes and I caught up with him last week to discuss.
Tell me about the space. 
"The space, previously the Tacos Y Mas [at 2820 Greenville Avenue], is currently under construction. It'll be just like the other location, but with more pizzaz…there will be white tiles throughout, and wood ledges and counters. The outside will be white with a blue trim. One wall will have a mural. And Jennifer Morgan is doing a mural inside."
Why this location?
"When I saw six parking spots I said 'I have to have it.' The city requires eight parking spaces for this size building. My contractor is working on it. If he can, it'll be sit-down, if not it'll be like Sprinkles. Not an official sit-down restaurant…Bishop Arts is kind of saturated with desserts, Deep Ellum has Glazed Donuts, Chills 360, which is really good, and Emporium Pies. We thought about Fort Worth, and that will be our next location for sure. Also, I wanted a space four to five miles away [from the Maple Avenue shop] so managers can easily go back and forth. Quality of life is important to me. I want my employees to be happy."
Will the menu be different than the original location? 
"We have to change the menu a little bit. People come to the first shop and want a whole cake. But they have to order those 48 hours in advance. Well, some customers don't care about 48 hours. They want their cake and to be able to eat it too, now. The shop will offer whole cheesecakes, slices, jars, ice cream, and I'm bringing back the oatmeal-cranberry-bacon cookies, and chipotle brownies…my longterm goal is to eventually have a permit for beer and wine."
When do you plan to open?
"I am shooting for the last week of the fair. Want to get us into the holiday season with Thanksgiving and Christmas. I'm thinking either October 12 or 19."