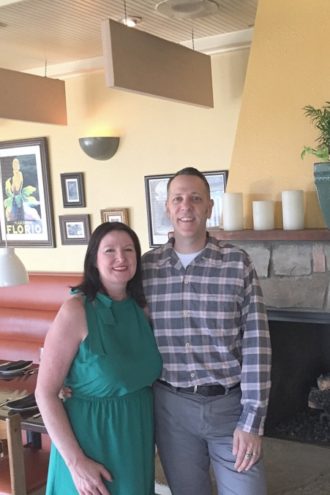 Recently I wrote a happy little story about the soon-to-open Botolino Gelato Artigianale on Greenville Avenue. It pleased me to see a long-time restaurateur, in this case Carlo Gattini of MoMo's Italian Kitchen, sell his family business to follow his dream of becoming a gelatician. Good for him. That takes a lot of courage.
After I wrote the post, I had a horrifying thought. MoMo's has been one of my favorite restaurants in Dallas for a long time. The food is damn good and you can't beat the wine list, it's BYOB. Even though I'd asked Gattini if the restaurant was going to change and he said, "probably not," I had to find out.
I called the new owners, Wende Stevenson and Aaron Gross. They are first-time restaurant owners, but no strangers to the restaurant business, or MoMo's. "Our connection with MoMo's started over 30 years ago," Gross says. "Wende worked at the original one in 1988. It's been one of favorites for decades and we are honored they sold it to us."
Both have been career servers for 30 years. That's 60 years of experience. Stevenson served at the original Momo's as well as most of the branches that opened across town in the '90s. After the original investors had a nasty split, Wende went on to work at Ziziki's, The Green Room, George, Lola, Shensei, and Mot Hai Ba. Gross served at multiple locations of Daddy Jack's, Deep Ellum Café, managed and ran Savory and Taste, worked with Sharon Hage at York Street until it closed, and joined Wende at Shensei. They both left Shinsei to open Mot Hai Ba.
Three years ago, they started looking for locations to open their own restaurant, about the same time Gattini began scouting sites for his gelato shop. A year ago, Wende went back to work for Gattini. "We had so many deals fall through," Gross says. "Carlo was having the same difficulties." One night after service, Gattini and Stevenson sat down together and, to her surprise, Gattini made them an offer to buy the business. "We couldn't believe it," Gross says. "Wende and I used to joke and say 'wouldn't it be fun to own MoMo's.' I didn't think they'd ever sell it."
Well they did. And here's the good news for those of you who love MoMo's: there will be no major changes to the menu. They are going to make cosmetic changes to the patio, add some wine dinners, and create some new specials. "We realized that we were buying an institution," Stephenson says. "We had to be very careful and resistant changes and gain trust of the customers."
That goes for the staff as well. "The only change is staff is a woman who left to have a baby," Gross says. "Much of the staff has been there for so long. Wende worked with the lead kitchen employees 30 years ago and most of our servers have been here 15 or 16 years. How many places would love to say that?"
Too many to count, I say. Carry on.
Get the SideDish Newsletter
Dallas' hottest dining news, recipes, and reviews served up fresh to your inbox each week.