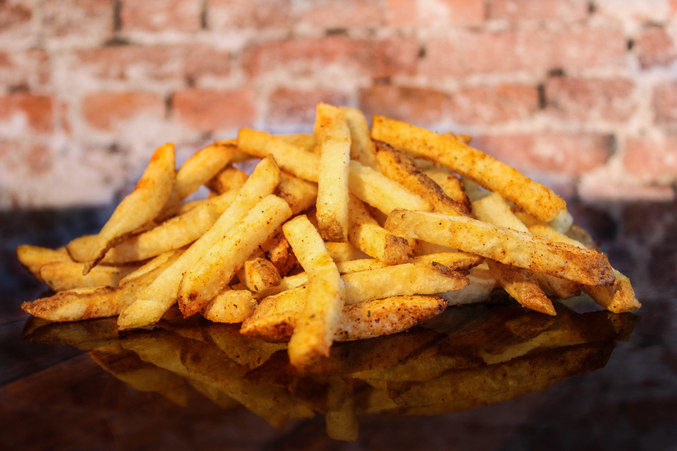 French Fry-Day: Twisted Root Burger Company
If you like seasoned hand-cut fries, here's your new favorite spot.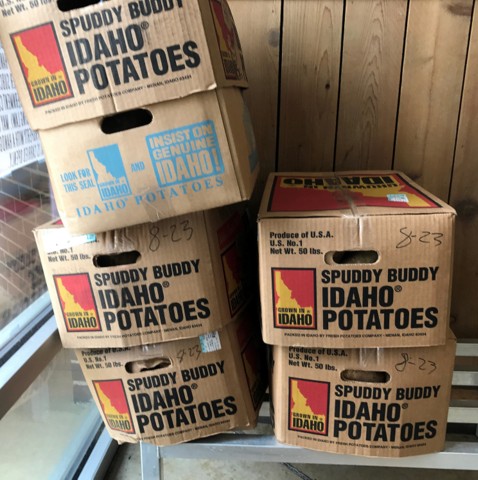 There I was. Sitting at a stop sign in Carrollton watching the Dart trains on the elevated rails slide to a stop at the station. I was about to turn left when I noticed a large neon sign for Twisted Root Burger Company. All these months of writing about French fries and Twisted Root Burger hadn't entered my brain. I parked my car and headed for the light.
I remember when Twisted Root first opened in Deep Ellum. It was 2006 and the gourmet burger business was a hot trend. Press releases proclaimed Twisted Root's food was fit for a connoisseur who preferred flip flops to Gucci loafers. The owners were chefs! Jason Boso (Four Seasons Resort) and Quincy Hart (Pappas Bros.), old pals from culinary school, had put their toques together and decided to grind their own beef, make their own ice cream, pickle pickles, and hand-cut fries. Besides beef, they would offer patties made of bison, turkey, and ostrich. It's hard to believe that was considered cutting edge 11 years ago, but it was.
I didn't fall in love with Twisted Root. The vibe in the dining room was semi-organized chaos with an overzealous dash of kitsch. Once you ordered, you were given a ticket with a dead celebrity's name on it. Someone was always screaming "Elvis" or "Marilyn Monroe" over a blown-out microphone to a crowd of folks waiting to hear their own name.
But Guy Fieri loved it. He and his crew pulled up to the Deep Ellum location in early 2009. In April, Twisted Root appeared on Diners, Drive-ins, and Dives. Today there are 19 Twisted Root locations. Boso and Hart also operate Truck Yard on Greenville Avenue (opening a second one in Houston next month), and Tacos & Avocados in Roanoke.
When I rolled into the Carrollton location, the dining room was calm. The interior is inspired by the historic downtown square you see through the windows. There is burlap on the bricked walls, a mini silo, vintage signs, corrugated tin, and a large bar with pool tables.
I picked up a menu and stood next to a stack of 50-pound boxes of Spuddy Buddy Idaho potatoes. I could write a whole story on the rise of Spuddy Buddy and how the character, inspired by the movie Toy Story, has replaced Mr. Potato Head as the super hero of potatoes, but I haven't the time.
To make sure the boxes weren't props for the décor, I peeked inside. One was half empty. I placed a to-go order and asked the spunky gal at the register if they made their own fries. Her brows furled and she shot me a what-planet-are-you-from look. "Yes, ma'am," she said pleasantly. "We cut them fresh every morning." She handed me a purple ticket with Little Bo Peep printed on it. Sheepishly, I moved to the side and waited for my order.
It was mid-afternoon and the kitchen staff was prepping for the evening rush, but as soon as my order was clipped on the stainless steel passthrough window, the fry cook reached into a cool box and placed the fries in hot grease.
Ten minutes later, I was in my tasting lab (the front seat of my car). I opened the eco-friendly box and was greeted by a whiff of steam. All of the fries were firm and almost uniform in length. They ranged from two to four inches, each streaked with patches of dark skin. I dug to the bottom of the pile to find crunchy nubs and, to my dismay, there were maybe four little bites.
Instead of allowing the sliced Spuddy Buddy potatoes to present their unique fluffy potato-y flavor, the "chefs" had coated them in a mixture of what I guessed to be cayenne, paprika, sugar, and perhaps a touch of cinnamon. (The staffer I asked would confirm only the cayenne and paprika.) My first reaction was negative: the fries were ruddy colored and the spices obliterated the potato taste. But as they cooled, I got into them. I mean, I really got into them. By the time I got home to photograph them, I'd eaten both orders. I had to contact the public relations representative to send me a photograph for this post.
These fries don't need a burger beside them, they deserve to be a main course.