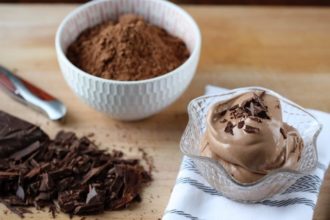 In 1985, Antonio "Momo" Gattini left Tuscany for Dallas. He thought he might open a shop and sell gelato or at least teach people how to make it. Instead, he founded MoMo's Italian Kitchen, the quaint restaurant which now operates on Forest Lane near Greenville Avenue.
After 30 years of success, Gattini put his son Carlo in charge, and a couple of years ago moved to a ranch in Mexico. Two months ago, Carlo sold the restaurant to follow his dream of becoming a gelatician. His Botolino Gelato Artigianale will open August 27 in the old Bottle Shop space at 2116 Greenville Avenue. I caught up with Carlo on Tuesday to get the scoop.
You sold MoMo's to sell gelato?
We sold it two months ago when the lease ran out. I was the one running it for the last several years and I wanted to pursue my lifelong ambition of opening a gelateria. The buyers have been fans and in the restaurant business. Wendy Stevenson (Lola, Mot Hai Ba) Aaron Gross are married and they have been looking for a location to open a restaurant. This will be their first time as owners. We're glad the restaurant is continuing under folks who plan to keep it the same.
 Botolino Gelato Artigianale is your dream gelateria. Describe it please.
I don't like the words in English, but the only good translation is to say it's an artisanal shop. Everything will be made from scratch, no powders or pastes. We're using organic milk. I'm a third-generation gelato maker. My great-grandfather and grandfather made gelato and my father [Antonio] came [from Italy] to Dallas back in the '80s to teach people to make gelato, but ended up opening a restaurant. I will be making the artisanal gelato my grandmother taught me how to make. I'm also doing sorbetto and Italian popsicles, similar to an American popsicle but maybe a little, I guess more chewy would be the word.  They're formulated like gelato where the recipe has to be very balanced. I have room for 16 flavors of gelato, but I think I'm going for 12 flavors including orange basil, ethereal white coffee, and rich mascarpone with caramelized fig variegate. None of our gelatos will be over 3 days old. It doesn't go bad, but it does age and loses texture. I'm also excited to do some other products or frozen delights like frozen truffles and spumoni. Also, a little later, I'm going to deconstruct and reconstruct desserts like apple pie, peach cobbler, and peanut butter and jelly sandwiches and marmalade for gelato that doesn't freeze.
Will you have inside seating?
We're permitted for retail, but we will have stools inside and a few tables outside.
Your family has a rich history in Italian cooking.
We're Milanese, but when I was little we moved to the province of Arezzo in Tuscany. My grandmother was a gelatician and also a cookbook writer. For about 20 years, our family owned La Cucina Italiana magazine. She taught me how to cook and my first job at MoMo after dishwasher was making desserts. So, I had a stronger passion for them. Last year I went back to Bologna to learn from other gelato masters.
Carlo is incredibly passionate about artisanal gelato. If you are equally obsessive about the science of making gelato, check out his blog. It's full of recipes, explainers, and pictures.
Get the SideDish Newsletter
Dallas' hottest dining news, recipes, and reviews served up fresh to your inbox each week.