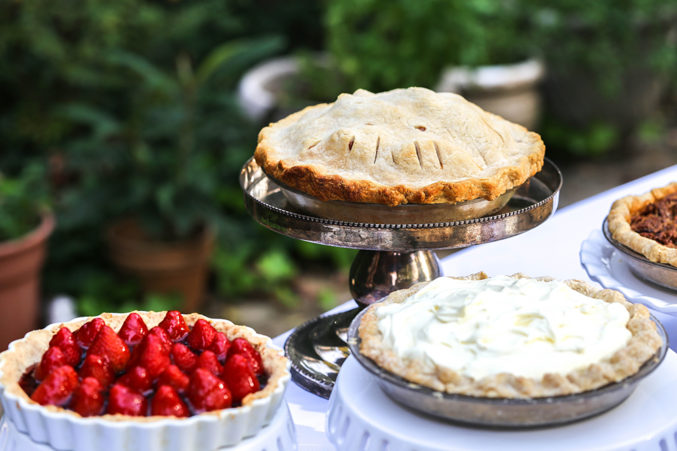 Eat Your Way Through the 2017 BOBD Party
Snack on steamed buns, ice cream, French toast, pie, and more.
Alright. The menu for the big day has been finalized, and there are so many things to eat. If you haven't already purchased your ticket to the 2017 Best of Big D bash, don't worry. There's still time.
Take a look at the dishes below. There's something for everybody.
For the meat lovers:
Bolsa: Smoked pork jowl served with celery apple mustard, pickled apples, and house-made granola
Pecan Lodge: Oak-smoked beef ribs and green chile mac and cheese
Barley & Board: Mini cheeseburgers
Tei-An: Pork sautéed in a light, sweet and savory soy sauce, served over handmade ramen noodles, topped with scallions, cucumbers, a poached egg, and shallots
Kirin Court: Chinese barbecue pork buns and sweet custard steam buns
E-Bar: Carnitas tacos and shrimp tacos
For the seafood lovers:
Uchi: Miso-cured ocean trout, smoked coconut milk, cured cucumber, cured egg yolk
Lovers Seafood and Market: Smoked salmon crudo, dynamite sauce, toasted garlic, lime, micro cilantro
Mot Hai Ba: Salmon tartare with coconut fumé, lime, fried shallots, masago, rice crisp
East Hampton Sandwich Co.: Mini lobster rolls
Those with a sweet tooth:
Sixty Vines: Ricotta chiffon French toast
Cade's Cakes: Funfetty cake: vanilla cake, sprinkle cream cheese and vanilla buttercream; Chocolate Oreo cake: chocolate cake, Oreo cream cheese, and Oreo buttercream
Lake Highlands Creamery: Ice cream bars and scooped ice cream
Crossroads Diner: Cinnamon-pecan bread pudding French toast
Flora Street Cafe: Cassis parfait with shortbread, blackberries, blueberries, and jicama
Hannah's Gluten Free Bakery: Gluten free cinnamon rolls and our "Hunk O Love" chocolate cake
Kessler Pie Company: Various pies
For the veg lovers:
Saint Michael's Farmers Market/Stocks & Bondy: Caprese salad on a bamboo skewer with olive oil and basalmic vinegar and/or pepper salt; a cold soup from Stocks & Bondy
Bread!:
Village Baking Co.: A bread table with a large bread display including jalapeño cheddar sourdough, Meyer lemon rosemary, and Pain au Levain
For the agave lovers:
El Bolero: The Oilman Margarita
Midnight Rambler: Mezcal cocktails
The party takes place at The Bomb Factory on August 23. See you there.