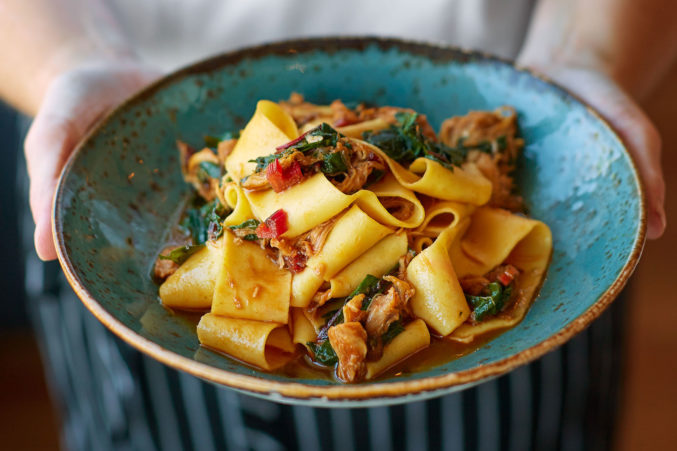 Gemma Still Delights After Three Years
The restaurant is quiet, consistent, and creative.
A recent visit to Gemma reminded me of why its French and Italian influences and the California lightness always makes me feel like it's the closest thing we have to the spirit of Alice Waters, our own Chez Panisse.
In the spot with its Cape Cod lightness, its tranquility of whites and blues, I had some of the most effortlessly original dishes I've eaten in a while. The service was superb, the fleet of servers in their striped blue and white aprons young, genuine, and knowledgeable.
You feel taken care of, from the biscuit that comes warm and golden and nestling bacon and fig, to the final bringing of the check. A chalkboard in a side hall lists provenance, but only for the servers' reference: Windy Meadows chicken, Rai Lili farm tomatoes, local cheese. Bread might be the ancient grain kamut in the shape of an epi, essentially a baguette snipped into the shape of a sheaf of wheat—beautiful, simple, and eloquent.
A salad was summer on a plate: mandolined zucchini and summer squash, so supple they folded over each other in ribbons, sweet and tender and so fresh. There were goat cheese, perfectly toasted hazelnuts, and sliced creminis that I was so glad they kept raw. The dressing was a ravigote, the slightly acidic, herby French classic full of capers and thyme. It all looked effortless, like the work of nature. I could eat that salad all summer, everyday.
We had the last of the stinging nettle pasta (spring nettles out of California), tangled with mushrooms and sprinkled gently with Parmesan. Here the sauce was a salsa verde, swampy in color, but bright and acidic, the dish full and rich with the depth of mushrooms, like a forest floor.
Chicken "porchetta" was brilliant, prepared like a roulade—breast and thighs done separately, then wrapped in the skin and cooked sous-vide. This kind of roulade is hard to do well, and this one was splendid, all the textures you want—tender breast, crispy skin. The plate was pretty, fresh and effortless, with lightly sautéed summer squash, charred peppers, and a marvelous, lightly sweet-tart peach sauce. If there were pistachios, I didn't detect them, but coriander was the brilliance of the roulade filling, its fragrance just enough to whisk you away somewhere with that tingle that coriander creates, almost like anticipation. So smart, and yet simple.
The pastry chef is talented, and on the same wave-length as Maggie Huff at FT33: she doesn't like things too sweet; she likes to play with the savory; and, like the best pastry chefs, makes incredible ice creams. The almond cake we had that evening had a moist crumb, and the peach compote on top took the idea of a ripe summer peach, full of juice and set for picking, just one step farther. Basil ice cream was smooth as silk and tied things together.
The cooking at Gemma is sharp and focused; the execution splendid. I was impressed. It's nice to know there are places that quietly continue to confound the derivative and do something subtle and creative. We have a gem in Gemma.