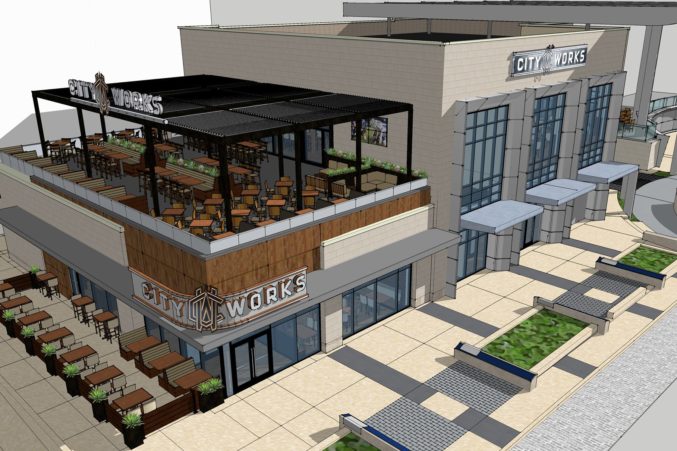 City Works to Open at The Star in Frisco
Get ready for another cavernous restaurant with sliders, burgers, beer, and televisions.
Frisco, the epicenter of the culinary world in North Texas, has been tapped to debut the fifth location of City Works, an "eatery and pour house." The 13,000-square foot restaurant (no that is not a typo) is the latest addition to Jerry Jones' Cowboys-themed mixed use playground, The Star. Expect a menu that focuses on classic "American cuisine with unique twists," 90 draft beer handles, and eight wines on draft. City Works will open on August 18 at 3680 The Star Blvd. Suite 1300 in Frisco. The company website says a Forth Worth location is coming soon.
Forty percent of the beer selection is sourced from breweries around Dallas: Four Corners Brewing Co., Deep Ellum Brewing, Rabbit Hole Brewing, Community Beer Co., and Revolver Brewing, to name a few. You can order a full portion, a six-ounce taster, or one of the pre-selected flights on the menu.
The ambitious restaurant is brought to you by Bottleneck Management, a Chicago-based company with eight concepts in their portfolio. City Works in Frisco will feature "state-of-the-art A/V capabilities, 18 65-inch flat screen HDTVs, a spacious outdoor two-story patio, and private and semi-private event spaces for groups and parties, making it ideal for game-day viewing, social events and business gatherings." Whew! That's a giant party waiting to happen.
The press release says the chef is Aaron Thrash and the GM is Todd Creekmur. Thrash has been the chef at Henry's Tavern and Creekmur's former employer was Fox & Hound.
Thrash will be in charge of the kitchen where he will design such dishes as duck confit nachos, wild mushroom flatbread, chipotle maple-glazed pork chops, smoked barbecued ribs and cream corn made with mascarpone. There will be lunch, dinner, and brunch, complete with a 20-ounce Churchill Bloody Mary that hosts a skewer of grilled shrimp, a Slim Jim stir stick, and four other things. According to the press release, "98 percent of the menu is made from scratch." I'm intensely curious to see how they arrived at this breakdown.
My first take on this place makes me yawn. I don't think Dallas, or in this case Frisco, needs another cavernous restaurant with a relatively unimaginative menu, but I am in the minority. Developers rule our dining choices when they concentrate on attracting out-of-town chain restaurants with deep pockets to the area. Inevitably, the relationship between local consumers and restaurant owners feels impersonal, like an arranged marriage with a giant Bavarian pretzel and sliders served at the reception.