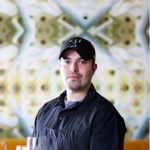 One of the first culinary success stories out of the incubator Trinity Groves ended on Saturday night. According to Escapehatch, the closing of Casa Rubia came abruptly to chef/owner Omar Flores. To outsiders, it might appear to be a brusque decision by the brains behind Trinity Groves, but to anyone who follows the monthly TABC reports, it was obvious the restaurant has been underperforming for some time.
Even though Flores is the chef/owner, his restaurant is part of the incubator project. The idea is that all of the restaurants in Trinity Groves are granted monies and operating costs and, in return, they must pull their weight or get the axe. "It was a financial decision," says Bob Sambol, who oversees the back of the house and the financials of the restaurants at Trinity Groves. "The restaurant had declining sales. We had our moments in the sun. Omar's a great guy and he worked hard and unfortunately the concept didn't work for us at Trinity Groves. I wish him the best in everything else he does."
When Casa Rubia opened in 2013, Flores grabbed the spotlight with his modern Spanish cooking. He received multiple James Beard Award nominations and raves from local critics and diners. Our dining critic Eve Hill-Agnus wrote a glowing review of Casa Rubia last January.
Despite the accolades, the restaurant battled to stay alive. "We struggled a bit finding our niche down there," Flores says. "We lowered prices, went to an all-English menu and tried to simplify things on the menu to help draw in more of the Trinity Groves crowd. A lot of customers mistakenly took us for a Mexican restaurant as Spanish is not big in Texas. I do however think we would have done better in a different neighborhood."
Don't cry for Flores. Last summer he opened Whistle Britches, a fancy fried chicken and biscuit spot in North Dallas. It sounds like he hit the right neighborhood and is headed to conquer others. "We're slated to open [Whistle Britches] at Willowbend early next year and negotiating a lease in Southlake as well," Flores says. "I also have another concept we're trying to get off the ground late next year."
Get the SideDish Newsletter
Dallas' hottest dining news, recipes, and reviews served up fresh to your inbox each week.