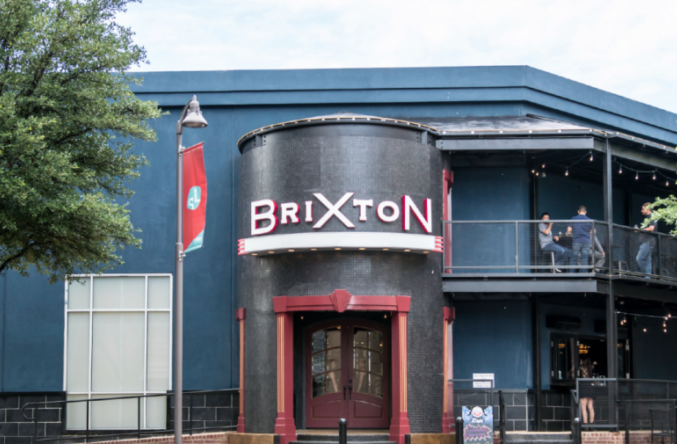 Chef Patrick Stark in the Kitchen of The Brixton in Plano
Here you can listen to the chef play guitar while you eat his food.
I really like the menu at Sundown at the Granada. It features something for every eater in your group. It covers special diets such as paleo and gluten-free while it leans towards vegan and vegetarian diners. Carnivores can feast on grass-fed beef. When Patrick Stark, "The Stark Raving Chef", was chef, I was pleased with the food. He left the kitchen about three years ago and I lost track of him. Yesterday, I found him and his signature mohawk at The Brixton at The Shops at Legacy in Plano which will open on June 23.
The restaurant/bar/nightclub is brought to you by brothers Brian Harder and Jerry Dean Elliot of Harder Concepts. They're the duo behind Addison Ice House, The Mucky Duck Bar, Scruffy Duffies, Saintsbury Tavern, and Ringo's Pub. By hiring Stark, they got a chef and a performer. Stark plays guitar in the band Amuse and operates Mohawk Militia, a 501-3C charity that is focused on the power of clean food. According to his Facebook profile, he's a "Philanthropist. Chef. Musician. Mohawk Madman." I love that in a chef.
Stark has always been passionate about non-GMO food. I believe he's found his stage at  where he plans to incorporate his menus with his music. He plans to showcase that idea on June 24 when the restaurant will host The Taste of Sound to benefit the Mohawk Militia Charity. "The idea behind this event is to stimulate human senses through different types of art," Stark says. "It will give everyone a chance to make new friends, wake up their senses, take away some valuable knowledge, and truly perform the art of 'breaking bread'."
As guests make their way through the six-course meal, music provided by the band Amusé, led by Leslie Austin (vocals) and Chef Patrick Stark (lead guitar), will play songs to complement each course. As the chef serves one of the courses to guests, they will be asked to be blind-folded as an exciting way to enhance the taste of the food.
This may not blow up your skirt, but it's a thoughtful approach to a restaurant. Which is something we don't see too much around here these days. Rock on.