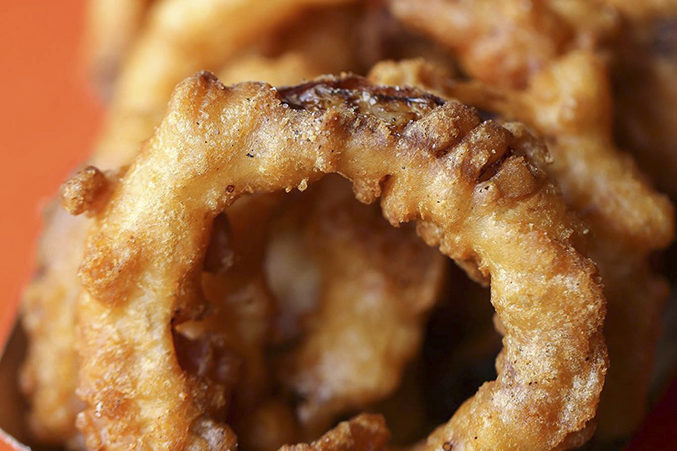 Celebrate National Onion Ring Day at These Dallas Restaurants
Honor this classic side on June 22.
By Catherine Wendlandt
Published in Food & Drink
June 21, 2017
2:30 pm
The origin of the onion ring is murky, but some claim that the golden-crusted ring was first forged in the fryers of Pig Stands, a former drive-in in Oak Cliff, in the 1920s. Whether this is true or not doesn't change the fact that onion rings fought their way into the American diet and have stood the test of time. June 22 is National Onion Ring Day, so celebrate by satiating your cravings at some of the best places in town.
What's better than a good ol' 1950s-style burger joint? You tell us. Hunky's has been flipping patties since 1984 and serves classic burgers, hot dogs, sundaes, and—you guessed it—onion rings. Owner Rick Barton says their onion rings are cut 1.5 to 2 inches thick and coated in a special homemade tempura batter. What makes them different, he explains, is that the "onion rings are cut fresh every morning." Try them with the Texas cheeseburger: two beef patties with cheese, bacon, tomato, lettuce, and mayo on Texas toast.
They have $1 tacos on Monday, 50 percent off burgers on Tuesday, half-priced wings on Wednesday, and onion rings seven days a week. General manager Timm Zbylut says that the thick-cut, beer-battered rings are one of the bar's most popular foods, but what really keeps people coming for more is the chipotle aioli dipping sauce. The recipe is a guarded secret, he says, and has been around since Lee Harvey's was established 14 years ago. Grab some rings,  sip a beer or something stronger, and kick back on the patio.
Before Liberty Burger even batters their one-inch thick, steakhouse-style onion rings, they're marinated for 24 to 48 hours. Owner Mariel Street says their onion rings are double-battered with their buttermilk recipe (which includes egg, chicken baste, and seasoning) only after someone orders them. Although it takes longer, "it's the best way of doing it," she says. Since 2011, Street and her brother have been running the restaurant chain, with six locations in the Dallas area, and one in Jackson, Wyoming. Not sure what to order with your rings? "Onion rings and the Wild West (burger) is the ultimate Liberty meal," Street says.
"These rings are sliced a quarter inch, beer-battered, and deep fried in magic oil,"explains Maple & Motor owner Jack Perkins. He suggests pairing them with the bacon cheeseburger topped with fresh grilled jalapeños. (Fun fact: that's what Perkins made for Guy Fieri in 2010 when he stopped by with Diners, Drive-Ins and Dives.)  Not feeling a burger? That's okay. Try the fried boloney sandwich with chili, cheese, onions, and fried eggs on Texas toast.
Although burgers lead the way on Stackhouse's menu, the onion rings hold their own. Executive chef and general manager Daniel Macrini explains that their thin, hand-cut onion rings are drenched in buttermilk and yellow cornflower, and are sent straight out to the customer as soon as they're done. Pair them with a burger or the chicken fried steak sandwich. If you're craving neither of those options, Macrini recommends the Cuban sandwich. Anything you order there will be handmade.