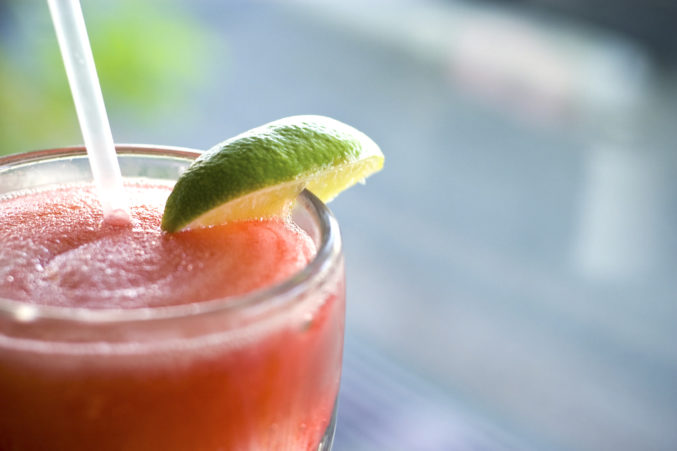 Where to Celebrate Cinco de Mayo in Dallas 2017
Your guide to drinking and dining events.
The Ivy Tavern
$6 Don Julio on the rocks margaritas
$5 Dos Equis
Truck Yard
$5 16-ounce Dos Equis
$5 Cazadores tequila shots
Greenville Avenue Pizza Company
$5 slices of Pizza De Gallo
Chelsea Corner
$5 from open to close:
Ambhar top shelf margaritas
Blood orange margaritas
Dos Equis micheladas
Ambhar tequila shots
Pork and chicken tamales
Fajita enchiladas
Chelsea Corner queso
Churros
Double Wide
"Cinco falls on a Friday this year and we're celebrating with great music, food and fun times! We've got live country from Raised Right Men and Walker & Lowe in the venue, Lil Chris of Faded DeeJays in the main bar spinning latin, hip-hop and everything in between, Photo-Wagon photo booth documenting your holi-daze, and Casa Masa tamales and churros to keep your hanger at bay! This will be the first apperance of our new friend Off The Wagon Mobile Bar, they will be on hand to dish out the DEBUT OF OUR EXCLUSIVE FROZEN CHURRO PIÑA COLADA featuring churros-infused Tequila Terremoto!
DRINK SPECIALS:
$3 Modelo Especial
$5 Tequila Terremoto
$6 Frozen Churro Piña Colada"
Cane Rosso
"The Roberto Armstrong: fresh mozzarella, house-made queso and red salsa, Mexican ground beef with onions and poblano peppers, and cilantro. Available at all DFW locations starting Friday, May 5, as long as supplies last."
El Bolero
Mi Dia From Scratch
"In honor of Cinco de Mayo, Mi Dia From Scratch Plano will be offering discounted margaritas for those wanting to celebrate the Mexican holiday. On May 5, 2017 drink specials will include a $5 Mi Dia Frozen Over, the house frozen margarita featuring Sauza Blue Silver, Triple Sec, lemon juice and agave nectar and a $5 Mi Dia Rita Rocks, the house rocks margarita – all day long."
Eastwood's Bar
"Guests can enjoy $8 frozen margaritas, $5 house margaritas, $28 beer buckets with 16-ounce Dos Equis bottles and $28 for a Jose Cuervo shot bucket. The bar opens at 11 a.m. for lunch, which includes $5 specials, and enjoy live music on the patio from 8 p.m. to 11 p.m."
Taqueria La Ventana
"On Friday, May 5, Taqueria La Ventana and Dallas Social will be hosting an unforgettable fiesta at its downtown Dallas location near Victory Park. From 2 – 11 p.m., revelers of all ages are invited to indulge in delicious Mexico City street tacos while dancing to live music on the eclectic outdoor patio.
A live DJ will be on-site from 3-6 p.m., and Tamborazo De Arranque will keep the party going in unique Cinco de Mayo fashion until 11 p.m. A Luchador will even make an appearance to pump up the crowd and pose for photos with guests.
Throughout the evening, guests will be transported to the bustling, vibrant streets of modern Mexico while enjoying $2 street tacos and chips and queso for $4.
And while this fiesta promises fun for the whole family, adults will also be treated to free El Jimador Tequila, Chambord, Jarritos, Modelo and Corona samples! During happy hour from 2-6 p.m., partygoers can cool off with $2 El Jimador Margaritas on the rocks or frozen, along with canned cervezas."
Lowest Greenville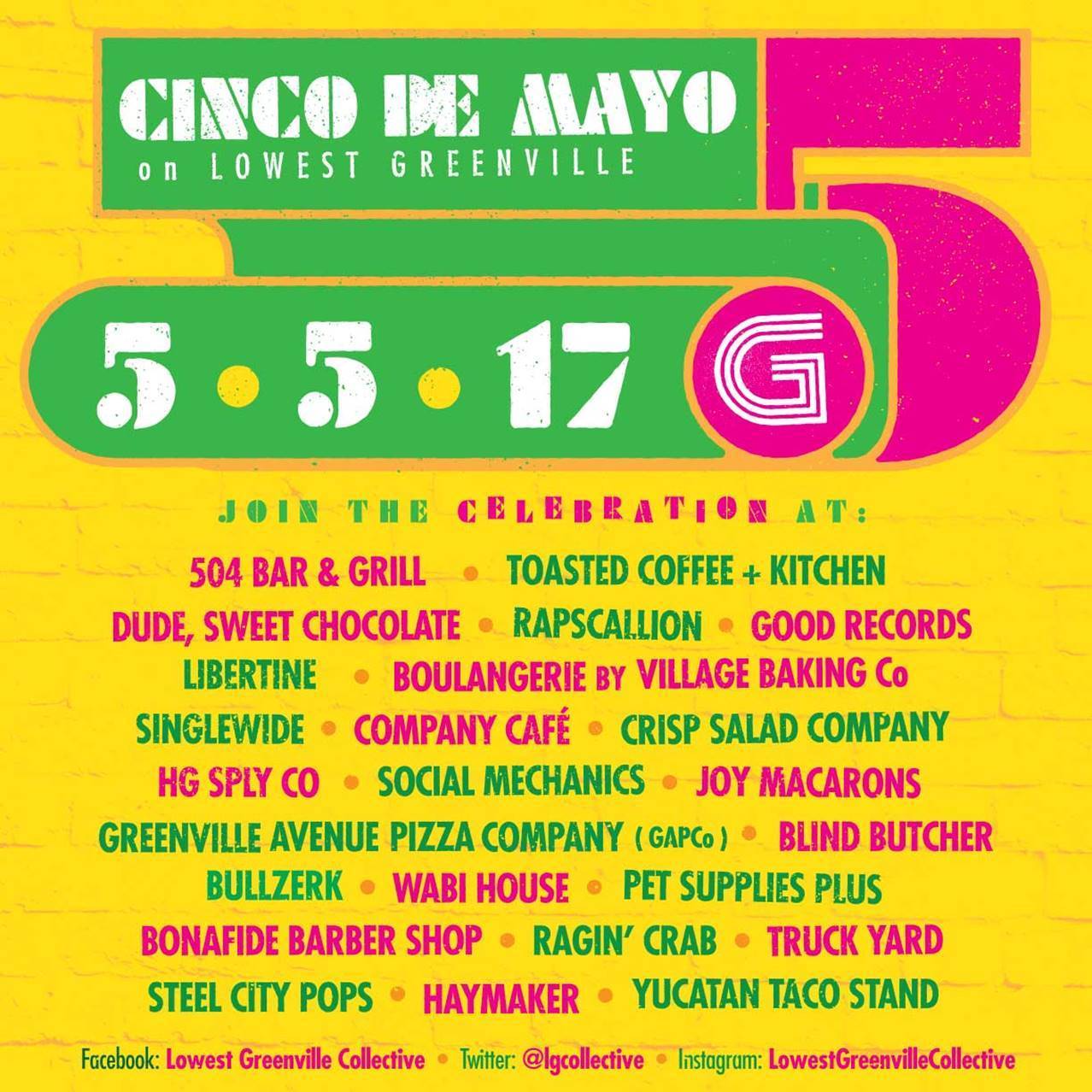 The Rustic
"From 5-11 p.m., Dallasites are invited to celebrate the holiday Texas-style. And since everything is bigger in Texas, The Rustic is going all out. The Uptown hot-spot is launching its all-new Lemon Drop Margarita on the day of the fiesta, so partygoers can cool off with the delicious new drink while Squeezebox Bandits play live throughout the night. Then, get your face painted and dance over to the Photo Wagon to take complimentary pictures in Dallas' first mobile photo booth."
DMA
"Cinco de Mayo Cafe Specials – DMA Cafe
Fish ceviche with fresh lime, jalapeño, and cilantro $6.50
Ash-rubbed carne asada with cilantro rice and black beans $12
Cinnamon sugar sopapillas with local honey $4
All three courses $17
Socca de Mayo Specials – Socca Mediterranean Cafe on Eagle Family Plaza
Lime chicken with mango salsa socca $10
Black bean sofrito and rice socca $9
Carnitas and kale salad socca $11"
Cantina Laredo
Fearing's
Mexican Sugar
"On Friday, May 5, from 2-10 p.m., the street in front of Mexican Sugar will be blocked off for a Cinco de Mayo Block Party that you won't want to miss. This year, guests can enjoy the bold flavors of Mexican Sugar's classic and frozen margaritas at a special $7 price while getting into the spirit of the holiday with live music, a strong-man piñata competition, Latin food tents and pop-up bars.
In addition to dancing to the live band from 5-10 p.m., partygoers will have the opportunity to take swings at a special reinforced piñata for the chance to win a $150 Mexican Sugar gift card. If you get hungry from all the dancing, food tents will be serving street tacos, churros and other Latin favorites."
El Chico Café
Bolsa
"Join Bolsa, Trompo42, and Casa Masa for a special Cinco de Mayo Fiesta at Bolsa! We will have drink specials, a mariachi band, and a special dish featuring a little bit of Bolsa, some Trompo42 with a dash of Casa Masa! Party starts at 4:30 and goes until we close!"