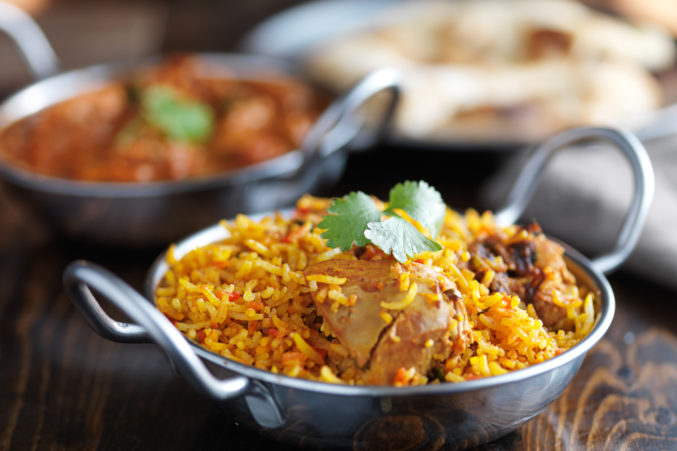 The Biryani Question
Who in Dallas serves the best version of the Indian spiced rice dish?
As I researched the guide to Indian food in Dallas that will hit stands in the May issue of the magazine, I scoured the city for the best examples of regional cooking from the vast Indian subcontinent. From Mughal delicacies to the Punjabi staples served out of a hole-in-the-wall spot doubling as a Bollywood video store in Richardson, I hunted down dishes you'll recognize and some you may not, ultimately dividing the guide into quadrants: food from states to the north, south, east, and west. Elsewhere in the feature, I covered breads and sweets, and offered profiles of restaurateurs old and new.
But what I didn't get into was biryani. The subject is so vast, the reach of this iconic layered rice dish so far from region-specific, that it would have constituted its own chapter. The city of Hyderabad in the south is the only real focal point for biryani, known for its biryani traditionally done in the "dum" style, sealed in a pot and cooked low and slow, flavors infusing. In general, the dish consists of slender grains of (usually) basmati rice, tinted variegated shades of yellow and orange from saffron, and a host of other spices, layered with meat (usually goat, chicken, or lamb) and vegetables. (There's an egg version and also a vegetable-only version sometimes called Old City biryani, in reference to a district of Hyderabad.) The whole sumptuous feast dish, when presented, is often topped with hard-cooked egg, cilantro, and thinly sliced red onion. It's glorious. And my only piece of advice is to seek out the places that do it well. (Like so many iconic dishes, there are many inferior imposters.)
But I offer a few pointers as you embark. At Godavari, a newcomer to Irving, you'll find Hyderabadi biryani among other a number of other versions. The house style is heady with clove but lighter and less oily than some. Each portion comes with sides of raita and mirchi ka salaan, a peanut-and-bell-pepper curry that shows Godavari's roots in the southern state of Andhra Pradesh.
At the veteran Kebab N Kurry in Richardson, they make their own idiosyncratic versions, gentler with the warming notes of cinnamon. The Shahajani biryani, named after the emperor responsible for the Taj Mahal, has pieces of boneless chicken. It's more mixed (as in less finely layered) than I'd like but good with their soothing Kashmiri tea.
Mughlai Fine Indian in Addison serves a sumptuous goat biryani along with their generally superb Northern Indian fare.
And at the chain Bawarchi Biryanis, you'll find not only a whole list of dum varieties—goat, kheema (ground meat), shrimp, chicken (boneless or not), egg, paneer—but also Chettinad (spicy, from a coastal Eastern region), mirch (with bell peppers, and uluvacharu (sporting the tangy rust-red soup common to several Southern Indian states).
If you have favorite spots for the Indian dish of layered rice and fragrant spices, let's hear about it!