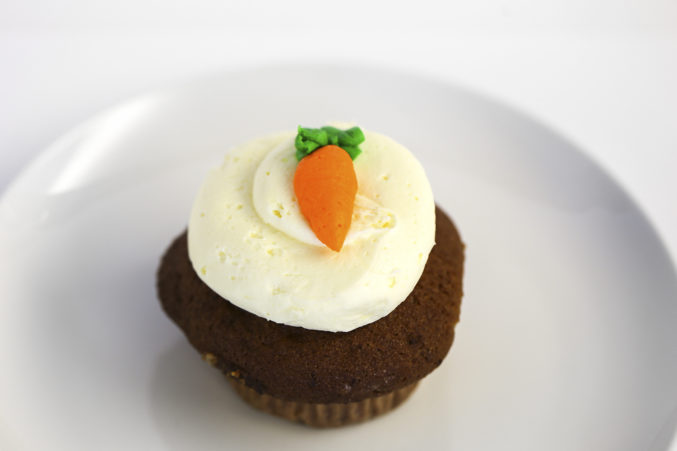 Taste Test Thursday: Carrot Cake
Which is the best according to D Magazine staff?
A handful of eager volunteers dug into a selection of carrot cake for this week's taste test. (Okay, okay. One was a cupcake. But that still counts, right? No? Oh well.) Here's what they had to say.
The cake:
A. Society Bakery
B. Eatzi's
C. Central Market
D. Cake Bar
Spicy. Good but a bit of the dry side. Great flavor, though.
Like a spice cake. Grainy frosting. Don't know if this counts because it's technically a cupcake.
Does a cupcake count? I don't care, it's good. Not too carroty.
I can see that it's a cupcake, but it also tastes much more cupcake-y than it does carrot cake-y (the cake is a drier than others and the icing is super sweet).
The lightest cake with the least amount of texture (few carrots and no nuts). Buttercream frosting is tasty, but the lack of cream cheese makes the whole thing feel less like carrot cake and more like a light spice cake.
The cup of cakes with carrot crown / a lesson learned from town to town.
This little guy wins the cuteness award for sure! When it comes to taste, though, the whole reason we're here, he's a little dry and the icing tastes a little fake.
The cake is a little dry and the icing is too sweet. Can't see any carrots.
Very carrot-y, tastes almost like it's cut with ginger. I like the icing, too. And I typically hate icing. Would eat again.
Tastes like any other cupcake with a spoon of nutmeg.
It's my fault because I got way too much icing in my bite and it's really sweet. maybe it was just the icing, but it could also be the cake? So sweet.
The frosting isn's sweet enough. But this is my favorite cake.
Earthy flavor. Don't love the raisins.
Love at first sight. Looks super moist and the icing is so smooth. Perfect way to satisfy my sweet tooth but also get my veggies in.
I like the consistency of the cake, but the icing is sooo creamy, not really sweet. I could maybe even pass this off as a breakfast cake, that's how tame (lame?) it is.
This one leads with the nutmeg. Walnuts on the icing are a nice touch, but the icing itself has been over-whipped and turned gluey.
A cake, not carrot, kill the wabbit / eating indulges my worst habits.
Mmmmm…the taste of real cream cheese icing can never be beaten, and the cake is oh so delicious and moist. It tastes just like my grandma's recipe except maybe just a little more indulgent.
Cake is nice and dense. Slightly spicy. I like that I can see the carrots. The nuts are not overwhelming and the icing isn't super sweet.
Dense, moist. and just the right amount of nuts.
So moist! Can taste the cream cheese, but seems most healthy.
It's rich but not too rich. I dig it.
Frosting is very heavy and cream cheesy.
Don't like this one. Pretty bland and icing is mushy.
So much icing! Kinda tastes like banana bread to me which is confusing.
I can't tell the difference between B and C. I'm confused now. Maybe I don't know anything about carrot cake. Maybe I don't know anything about anything.
In a word: bland. Cream cheese frosting with no cream cheese flavor. Cake has almost no spice.
I struggle to find the cake under cream mountain / I think I've had too many pieces, but who's countin'?
This carrot cake is pretty good, a little less icing to cake ratio than choice B, so there's that tidbit for heartless cake-eaters that don't like very much icing.
Super cream cheesy. Can't really taste anything else.
Not a fan of this layered goop icing. Overpowers the whole cake.
Most normal, traditional, but bland.
It's all congealed into one texture. It's not bad but it's weird.
Too nutty and chunky.
The cream-cheesiest of the frostings. Tastes like cheesecake. Like the coconut!
Big chunks. What are these chunks? I'd still eat it.
My favorite by far (the only one I really cared for, TBH) but it might not be for everyone since the cake is crazy chunky with nuts and carrot shreds. The icing, though, is what makes it the winner. Just sweet enough to make it a dessert, but not so sugary that it hurts my teeth.
By far the best cream cheese frosting and great spice flavor. Lots of texture with larger chunks of walnuts and grated carrots. Personally, I like my carrots to melt into the cake a little more, but overall this checks all the boxes for what should be in a classic carrot cake.
This one's okay.
I think this cake has an awesome flavor combination, but if you're weird about texture watch out! It has tons of nuts and carrot pieces and maybe even some coconut flakes.
I think there's coconut in this one, too? Tastes good but not like a carrot cake to me.
Damn, this icing tastes like cheesecake. And there's too much of it.
Most flavorful and moist. My favorite.
I didn't expect to like it. It looked too nutty. It was great.
Tally up:
Society Bakery 2
Eatzi's 4
Central Market 0
Cake Bar 5
The winner is: Cake Bar's carrot cake is the winner of our taste test. Its creamy icing and chunky consistency won over the D Magazine staff. So, do you agree with the outcome? What's your favorite carrot cake in town? Let's chat.