It was 8 p.m. on a Saturday night and the tiny dining room at Lovers Seafood & Market was en fuego. The space where Rex's Fish Market on West Lovers Lane once operated has been transformed by the gal-pal team of Tracy Rathbun and Lynae Fearing (Shinsei). They hired former Abacus chef Aaron Staudenmaier. The menu is short but focused on the bounties of the sea and stream which are served as shared plates, soups, salads, sandwiches, and entrée plates.
We made our way through the beautiful people crammed around four tops in the center of the room to the tiny bar on the far side. The nice folks who were lucky enough to snag a seat and sip $20 glasses of Cakebread Chardonnay generously parted so we could order.
I was recognized by Tracy Rathbun who parted the seas and sat us at our table. Our server had a nice face and I'm sure a lovely voice, but I couldn't hear it. I also couldn't hear my friend across the table. We had to communicate through our mutual friend sitting between us. She's from New York and was not fazed by the hullabaloo.
First up, three slices of toast topped with avocado, grilled corn, roasted poblano, and pickled onions. Gone in 60 seconds. Next up, a generous salad of bibb lettuce and queso fresco tossed in dressing that packed a hefty punch of tomato and balsamic vinegar.
If you like to control the way your fish is prepared, select one of the market fish and choose the cooking method. Staudenmaier offers grilled, seared, blackened, or steamed. We ordered blackened halibut, skate with lemon and capers, and grilled Mount Lassen trout along with a side of oh-so-delicious Brussels sprouts with a touch of malt vinegar and bacon.
Once the entrées arrived, there was much discussion on the trout. It was thick, boneless, and pink as salmon. My friend swore she'd been delivered salmon. She asked the waiter who told her (I couldn't hear) that is was trout from Northern California. She's finicky and asked to speak to the chef. Ten minutes later, sous chef Kevin Watson appeared and confirmed it was trout, but it was sourced from Southern California.
The blackened halibut was nice. I wouldn't have picked that heavy spice component to obscure the flavor of halibut, but try telling that to a tough female lawyer from New York. I chose the winner: a lovely crescent of skate gently pan seared with a light lemon caper sauce. The picture I took of it is my screen saver of the week.
All in all, Lover's Seafood & Market is a perfect fit for the neighborhood. When the weather is nice, they have a few tables outside which might be a nice choice if you want to carry on a conversation.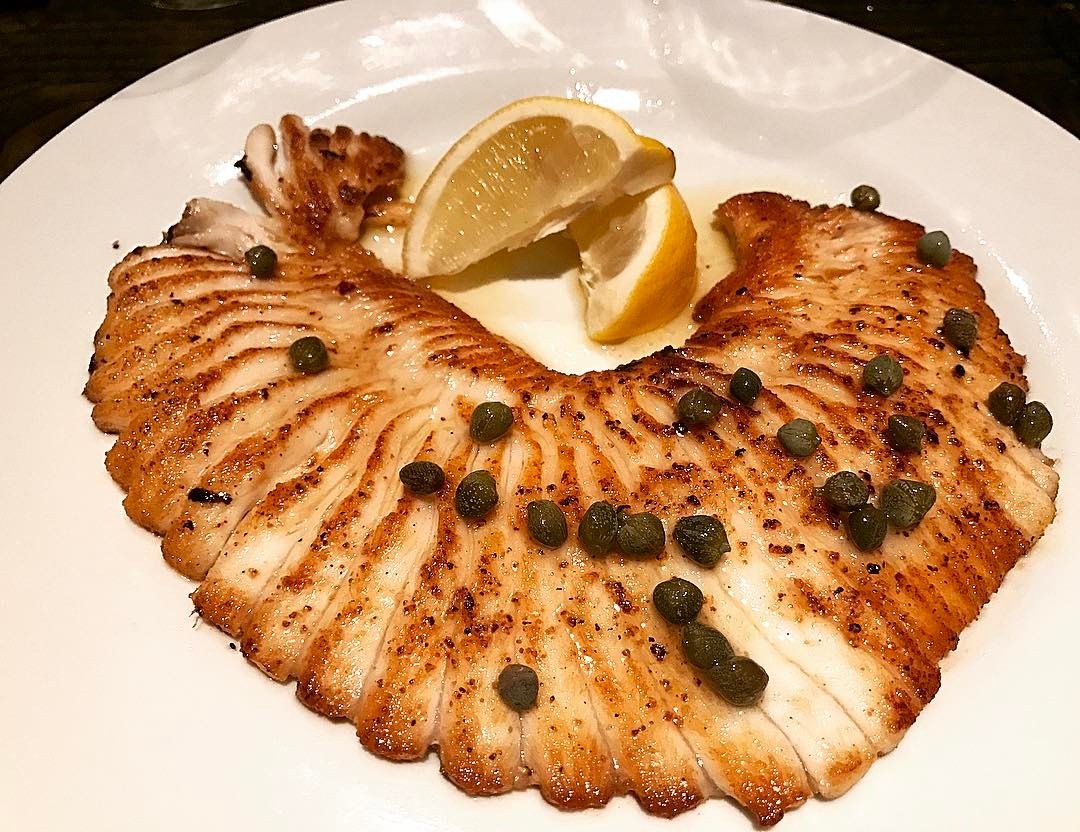 Update: Chef Aaron Staudenmaier sends this explanation of the trout color.
Mount Lassen is a cool company that uses mountain run off as a water source. Check them out. They feed their trout salmon food containing krill to create the changes generally found in steelhead (trout released into the ocean) without having to chase them all over the ocean.
Get the SideDish Newsletter
Dallas' hottest dining news, recipes, and reviews served up fresh to your inbox each week.