In January, I wrote about the promise of brunch at Mot Hai Ba, the tiny gem that serves modern Vietnamese fare. "Stay tuned," I wrote, "and dream of pho." Now the menu is finalized (see below), set to launch officially this weekend, and it's clear chef Peja Krstic has used it as a chance to continue the vibrant style that characterizes his dinner menu, and, in the most soulful way, pick up the humble classics of Vietnamese breakfast foods with a few (just a few) American twists.
I'm charmed by how traditional the menu feels—how refreshing amidst a sea of powdered sugar-dusted Nutella French toast and chicken and waffles. There are brothy soups—the Vietnamese version of love in a bowl. The bun thang is a chicken and pork soup thick with vermicelli noodles, strips of shirred egg and a host of herbs. The bowl also includes Krstic's housemade sausage steamed in a banana leaf—pork shoulder and belly mixed with spices, fish sauce, garlic, palm sugar, made into a paste, then wrapped in a banana leaf and steamed for an hour. Dishes are thick with flavor—and labor.
I'm also tremendously excited about the rice porridge (chao, what in Thailand or China you might find as congee). Leeks are braised in butter till they're impossibly soft and sweet, then folded into the porridge, where kaffir lime leaf and ginger and a touch of sugar are already doing their work. It's finished with fish sauce caramel, coriander oil, shallots, and morsels of blue crab. A soulful and soothing staple elevated a notch.
Amidst all this—these gentle, respectful takes on tradition—the pandan biscuits are a bit of a unicorn: Southern style biscuits naturally tinted green with pandan leaf. They're there because, quite simply, "They were absolutely beautiful," Krstic says. So much about this kind of food is beautiful and light anyway.
Curry lime fried chicken is one of the only nods to the American brunch. Brined, bathed in buttermilk, and fried, it's slathered in a Szechuan-style sauce—hoisin, honey, housemade hot sauce—then sesame seeds and green onion. Papaya slaw and a pandan biscuit served with caramel whipped butter and a coconut gravy (infused with kaffir lime and finished with coconut milk) round out the plate. "We're a modern Vietnamese restaurant anyway," says Krstic about this foray into more American tropes. "I don't think it takes too much away." There are also fluffy mung-bean pancake, a variation on the street-style crepes that run savory.
In fact, amidst the bun bowls—vermicelli rice noodle bowls with daikon and herbs and perhaps turmeric and ginger chargrilled chicken—and the classic baguette-sandwiched bahn mi, you won't miss the stuffed French toast. "I haven't had a single person ask me about sweets," Krstic says.
Brunch served Sundays only for now, 11am-2:30pm. Reservations are strongly recommended at this tiny spot.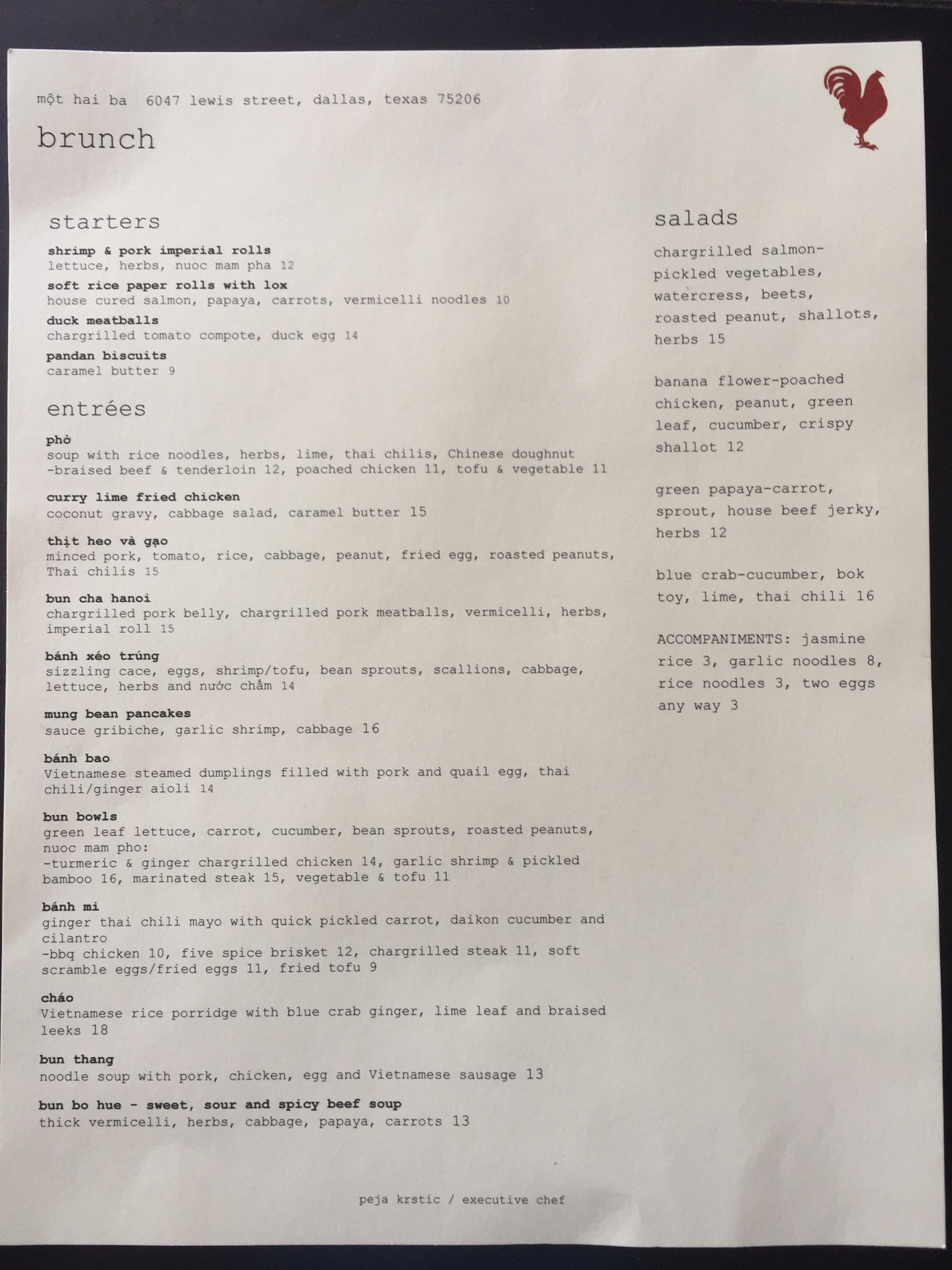 Get the SideDish Newsletter
Dallas' hottest dining news, recipes, and reviews served up fresh to your inbox each week.