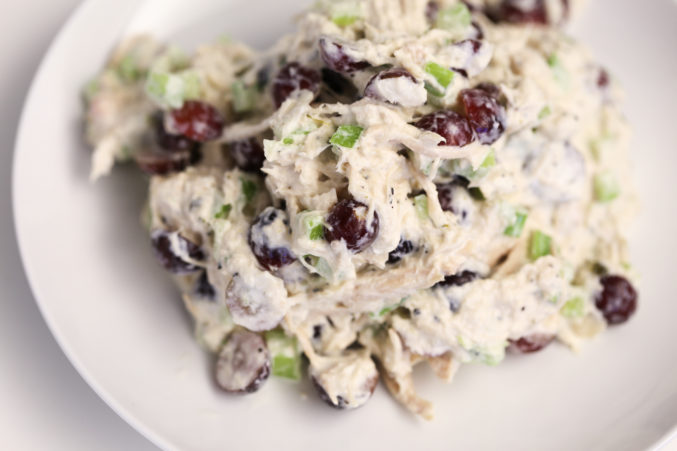 Taste Test Thursday: Chicken Salad
Which is the best according to D Magazine staff?
A handful of eager volunteers dug into a selection of restaurant chicken salad for this week's taste test. Here's what they had to say.
The chicken salad:
A. Street's Fine Chicken
B. Eatzi's
C. Opening Bell Coffee
D. Central Market
E. Café Brazil
Street's Fine Chicken
Chicken is moist, but the mayo overpowers the rest of it.
Classic, comfortable, but under-seasoned. A weak second place.
Do you like salt? Because if you like salt—and not that fancy pink Himalayan stuff mined by virgins; I'm talking the good, old-fashioned iodized Morton version—then you'll love this chicken salad. As I was eating this chicken salad, a hunter took a shot at me from 100 yards away and just barely missed. Then I bounded off, leaping over a fence to escape into the safety of the woods.
"Savory" is how I'd best describe this one. The tender, juicy rotisserie chicken is a perfect base. The crunch and taste of onion and celery are complimentary. Grapes would fully please my palate here, though. The absence is noted.
Savory and salty. Pleasant.
Unremarkable but not offensive. Could use salt and pepper.
Okay. Not super flavorful. Whateves.
More chicken than salad, which is not necessarily a bad thing.
Eatzi's
I like the texture on this one, and the grape adds a nice, mild sweetness.
My fave. Like the grape and pecan combo. Intriguing spice. Tarragon?
If you don't like red grapes and pecans in your chicken salad, then you are dumb and quite possibly un-American. I'm not going to make any jokes about our current immigration policy, because that's a serious issue, and we're talking chicken salad here, but suffice to say that if you don't like grapes and pecans in your chicken salad, you need to get yourself a lawyer. This is the best chicken salad of the lot. It even has teensy tiny pieces of green apple in it. A delight! (NB: If you are allergic to tree nuts, then don't eat this chicken salad unless you have handy an EpiPen. But this chicken salad is so good that it's worth a little anaphylaxis and a trip to the ER.)
This is the winner. This has a great taste, and there's a mixture of flavors. Nuts, grapes, and onion merge for a pleasant, satisfying taste.
Love the apple, fruit, and herbs. This one is my favorite.
Nuts and grapes are nice but don't make up for general flavorlessness.
I like the nuts and grapes, good flavor.
Has that satisfying nutty crunch. A hallmark of truly great chicken salads.
Opening Bell Coffee
Great balance. The water chestnuts are a nice, fresh addition to the texture. There's a satisfying citrus that lingers.
AWFUL.
Holy hell. What happened here? This chicken salad makes me want to never eat chicken salad again. The chicken is dry. The flavor is lacking. The addition of water chestnuts is too cute by three-quarters. Worst of the lot.
I didn't care for this one. There's too much mayo and I think mustard. There's not enough of a vegetable element to balance it out. Oddly, it's kind of bland. I'll pass.
Not a fan. Flavor is not what's expected for chicken salad.
Terrible. Like an old shoe.
Bland. Tastes like mayonnaise. Ugh, gross.
Good, but a little too insubstantial to be great.
Central Market
Heavy on the fresh herbs! The nuts are a nice touch. This is the closest of the bunch to a frou-frou lunch party with finger sandwiches with the crust removed. Pinkies out!
No go.
Oh, what? There's more chicken salad to eat? This chicken salad gives B a run for its money. But it suffers from one fatal flaw: chicken cubing. As everyone knows, chicken salad should be made from PULLED chicken. If you cut the chicken into big cubes, you offend the chicken that gave its life so that you might eat salad made from its flesh. Totally throws off the proportions and mouthfeel. Sad!
This has an interesting herbal combination that I haven't tasted in chicken salad before. The aftertaste is…a little refreshing? That's odd to go along with chicken salad, but I'll use it here.
Traditional but not memorable.
Dill is a nice touch. Needs salt.
Chicken is too tough. Not enough flavor.
Like a breath mint.
Café Brazil
This is a bit too watery for my taste. but the flavor remains light and fresh, aided by the fruit.
Way too much mayo.
Some things are good when they are wet. Chicken salad is not one of those things. Plus, too many grapes.
Aesthetically speaking, this one ranks last. It's runny. This tastes like tuna salad parading as chicken. And that's not a compliment.
Like this one but a little too watery for my taste.
Sweet, runny, would work on a sandwich. Nice balanced flavor.
Meh—that's it.
I appreciate the grapes more than I enjoy them.
Tally up:
Street's Fine Chicken 0
Eatzi's 7
Opening Bell Coffee 1
Central Market 0
Café Brazil 0
The winner is:
The chicken salad from Eatzi's pleased this crowd with its creamy consistency, crisp grapes, and savory kick. Do you agree with the outcome? Who makes your favorite chicken salad in Dallas? Let's discuss.