Once Again, Tesar Does Not Pack Knives, Does Not Go Home
If he wins the whole thing, maybe he'll at least tell bunch of people off in a blaze of glory?
In the beginning of this episode, Top Chef does that thing where they pretend they're being nice to the chefs and taking them on a fun excursion, but in fact they're being jerks and there will be an immediate challenge after they take them on a boat.
This time, Colicchio rolls up in a shrimp boat and takes them all shrimping! If you're a chef on this show, you have got to be thinking, "Sure, seems totally legit. We're all on a competition show with a limited timeline, we compete in two challenges per day—there's totally time to dong around and shrimp in between challenges. There's no Padma here, and everyone knows you can't have a challenge without a Padma! This doesn't seem weird at all!" And then the boat rolls into a dock with a Padma on it. And Top Chef is all BOOM WE GOTCHOO AGAIN NOBODY SAW THAT ONE COMING.
Everyone saw that one coming, Top Chef. Every single one of us. Even John Tesar.
When the chefs are told that their Quickfire challenge is to create a dish using the shrimp they just caught, they get to work. The additional stressor added to this challenge: it's a Sudden Death Quickfire. So, if you lose, you go home. You lose your chance at $125,000. You do not get a hug from Padma. You do not collect 200 dollars. And you most certainly do NOT fly off in the sky at the end of the season with Gene Wilder in a magical glass elevator ornament-looking thing, knowing that you have just inherited a chocolate dynasty. Essentially, life as you currently know it will have just sucked a big geoduck.
Tesar decides to make a dish that is spicier than he usually goes for, since Padma has been giving him crap the whole season about his dishes needing more spice. When she tastes the dish, she pointedly asks, "Did you intend for the dish to be this spicy?" Tesar says, "Yes, ma'am." Her cleavage frowns with disappointment.
Tesar doesn't get eaten by the Sudden Death Quickfire Challenge at this time. The challenge doesn't get him. I'm explaining to you because you look nervous.
No, instead, the SDQC eats Casey Thompson. And she leaves just like the producers want her to, with contractually-obligated tears in her eyes and literally saying "I'll always have Top Chef. If I can do this, I can do anything." I hope she ripped off her mic and expletive-d the entire production crew the whole way out the door after that performance, because she did not earn that Pack Your Knives & Go ticket. Poor Casey. Maybe Tesar will punch someone next episode in her honor.
The Elimination Challenge this week featured Dominique Ansel, who you probably know best as the inventor of the Cronut. The challenge is simple: make a brunch dish that mashes up a breakfast item and a lunch item rather than just being scrambled eggs. Oh, and be creative.
The moment they told the chefs to "be creative," a glitch in the Matrix was created and every bit of creativity was sapped from each and every one of them. Those magic words turned these talented chefs' already tired brains into mush. They all choked. And you can see the choking revealed in physical video evidence. Just look at how much Tesar was sweating this episode. He's sweating so hard, his glasses are fogged up. Just bring that to a boil, reduce the heat and let that simmer that for a minute.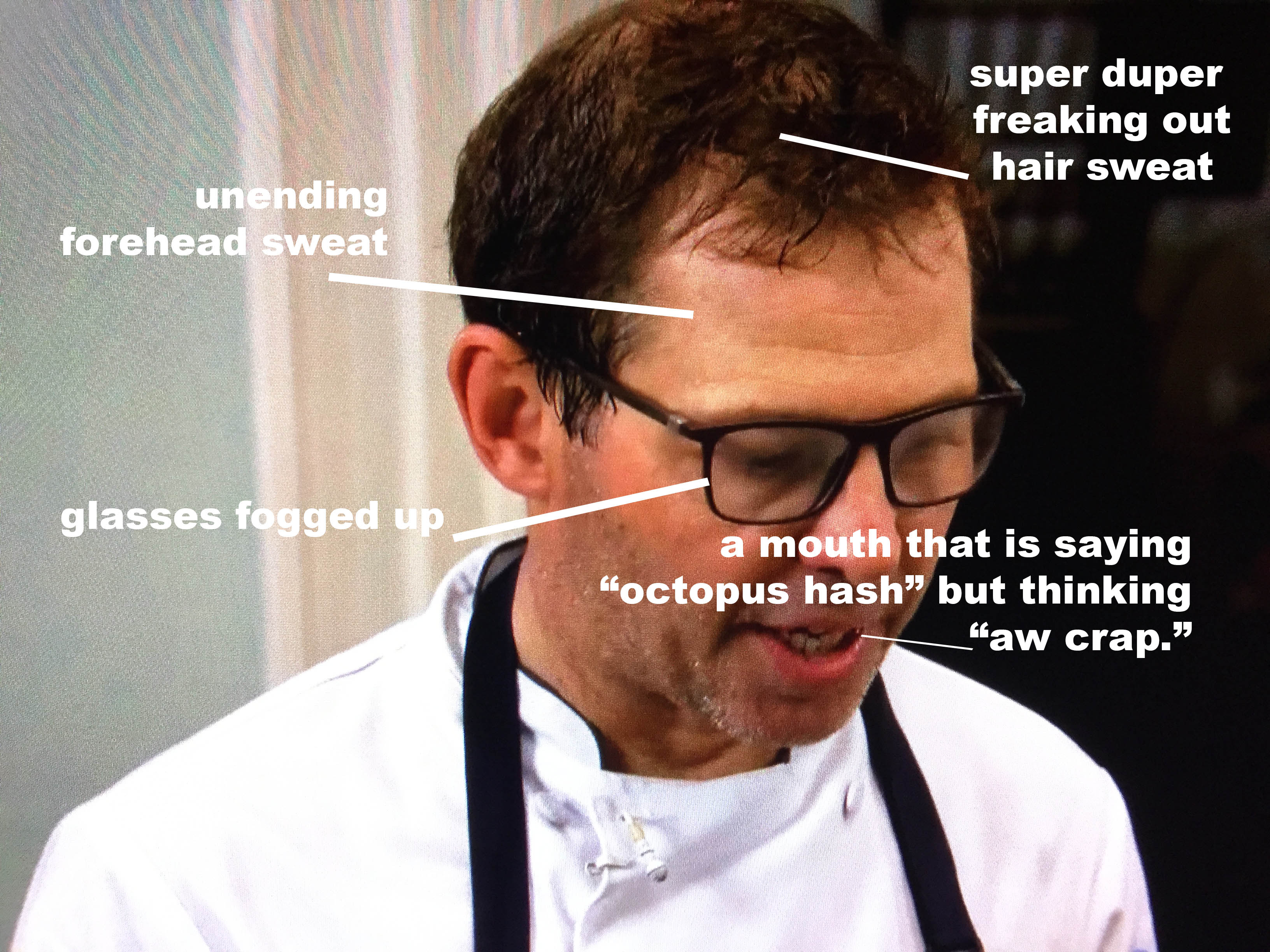 Brooke made a parfait, only she put it on a plate instead of in a cup. Sylva had a frittata that he turned into scrambled eggs because he ran out of time. Sheldon served his spin on chicken and waffles, which was basically just to serve badass fried chicken. And badass fried chicken is great, but it wasn't what the challenge was intended to be about. Thing is, nobody else came up with anything remotely interesting, so it works out for Sheldon and he wins. Which, if you're new to watching Top Chef, is a good lesson in the theory most Top Chef winners practice. Let's call it "Screw The Challenge." It means, you just serve the judges the best dish you can think of, whether or not it relates to the challenge—then find some small thread that brings it together (like calling it "chicken and waffles" when you just sprinkled waffle on top of your chicken at the end) and you're golden.
I really hoped Tesar would come to the table with some kind of breakfast + lunch mash-up with a great name. That's all the judges wanted—just one person to come up with a mash-up name for a dish. You could pretty much have gotten away with serving ANY dish if you could just come up with a solid name. Make a Chorizomlette or Jeggings Benedict or just make Haterade ("This beverage is made from the tears of my enemies, some infused vodka and lemons I grew out of my very own butt.)
Instead, he made octopus hash. The judges said it was mushy, but OK. He did not go home. With only 4 chefs left, we are getting closer and closer to the possibility that John F. Tesar wins this whole dang thing. And if he wins, there's a possibility that we'll get a Half Baked winner's speech, "Eff you, eff you, eff you–Gail Simmons, you're cool– eff you, I'm out!" Here's hoping.