Over the holiday break, I was out for dinner with my parents who were visiting from Seattle. My beer-enthusiast dad took one look at the restaurant's local draft list, pushed it aside, and asked me what he should order. It was a lot of pressure coming from a guy who, prior to living in the Emerald City, spent several years residing in Grand Rapids, Michigan (aka "Beer City, USA").
I thoughtfully scanned the menu before pointing to Peticolas' Velvet Hammer. It's a brew that, when offered, I recommend to people who truly appreciate beer. The award-winning malty imperial red ale has yet to tarnish my beverage-recommendation reputation. But would my fastidious father approve?
I held my breath as our server slid a snifter filled with the amber beer across the table. My dad took a sip.
"This is gooooooood," he said as I patted myself on the back.
Velvet Hammer has been a staple for the Dallas brewery since it opened in 2011 and was founder Michael Peticolas' first batch of beer. Until now, the only access folks had to Peticolas Brewing Company  was during tours offered on the first and third Saturdays of the month. But starting January 19, on Thursday through Saturday, beer lovers can belly up to the bar in the brewery's shiny new taproom. [Update from Michael Peticolas: "Due to the response we've received, we're moving up the taproom opening to January 12."]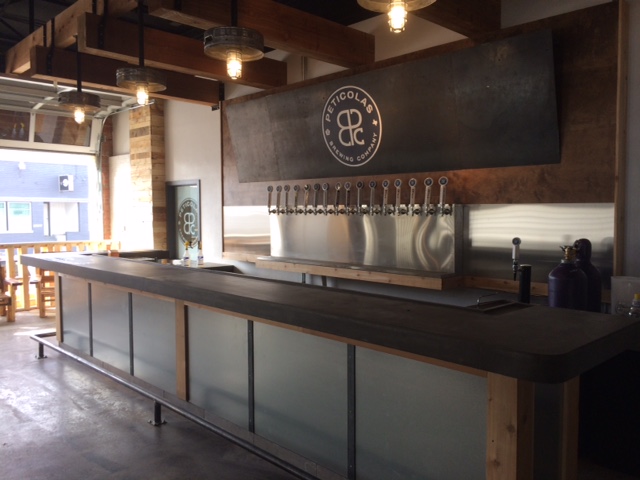 "I didn't plan on opening a taproom on day one because it wasn't legal at the time," says Michael Peticolas. "The laws changed in 2013 to allow it, at which point, I absolutely planned to open one at some point. I was in no hurry as our mantra is to do things properly, not quickly. Although off-premises sales (growler fills or to-go six packs) remain illegal, I wanted to be in a position to take advantage of off-premises sales should this measure pass during this year's legislative session."
So, aside from sipping beer straight from the source, what else can we expect from Peticolas in 2017?
"Beer drinkers can expect our first ever nitro beer: Turn Out the Lights, a dry Irish Stout," says Peticolas. "[It's] the most beautiful beer you could ever see poured into a glass. The gas cascading out of solution is a unique visual. You can also expect a few new beers, including Top Off, a session IPA, as well as a Velvet Hammer and Sit Down or I'll Sit You Down surprise. That's all I'll say about that for now."
Get the SideDish Newsletter
Dallas' hottest dining news, recipes, and reviews served up fresh to your inbox each week.