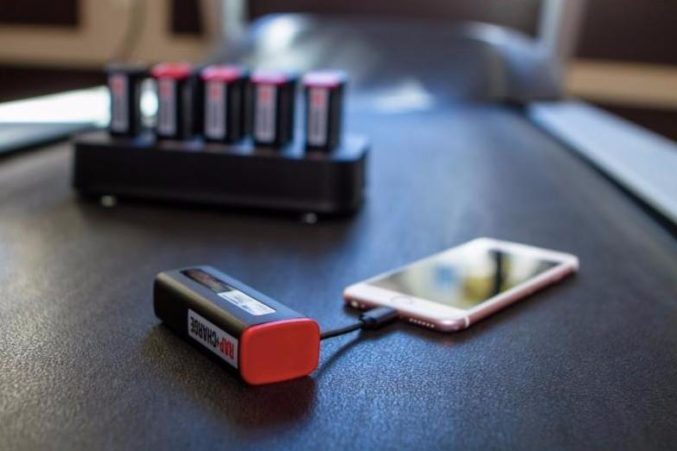 My Five Cents: Should Restaurants Enable Nomophobiacs?
Can you make it through a meal without checking your phone? If the answer is no, then you just hit the jackpot.
About a month ago, I received a press release from a local public relations representative. She wrote:
If you or someone you know has an interest in doing a story about how restaurants are constantly bombarded with requests from guests to "charge my phone" please let me know. I'm working on a project for a portable battery that is simply handed to guests to connect to their mobile device, allowing them to maintain complete control and rapidly receive an untethered charge.
My first thought was "who would ever do that, it's so rude?" It's not like busy restaurants don't have enough to do. Who would add the "charge my phone" duty to a server's job? I carry a portable charger, so certainly everyone else must, or should do the same. But I don't suffer from nomophobia.
Yes, there is an official condition for people who fear being without a mobile device. I'm sure support groups will be next. Or lobotomies.
The nice PR lady sent me a RAP Charger portable charging unit. There are ten units which, like my portable charger, can be used at the table or in a pocket or purse while someone dines.
I despise the use of cell phones in restaurants. Would this device enable nomophobiacs? There is nothing more annoying than my friend who holds his phone in his lap and sends texts throughout a meal. I could say "I think I am going to commit suicide tonight" and he would utter "that's cool" as he hit send.
Then I thought about the idea from the restaurant's point of view. This could be a hospitality tool. Another service to the almighty customer. A full battery could lead to a zillion more Instagram photos of food.
What do you think? Are we headed to "cell phone" or "no cell phone" sections of dining rooms? The reality is, we are headed to dining experiences that include the RAP Charger portable charging unit. The nice PR lady tells me they are already in place at many of the restaurants in The Shops of Legacy including: Bob's Steak and Chop House, Capital Grille, Village Burger Bar, and Mexican Sugar. You can also find them at Social House, Whiskey Cake, and Twin Peaks. In most of the restaurants, the service is free with a valid drivers license.
Advantage nomophobiacs. Order a pizza and play Pokémon Go all you want. Just don't sit near my table.